2021 CDI-W Wellington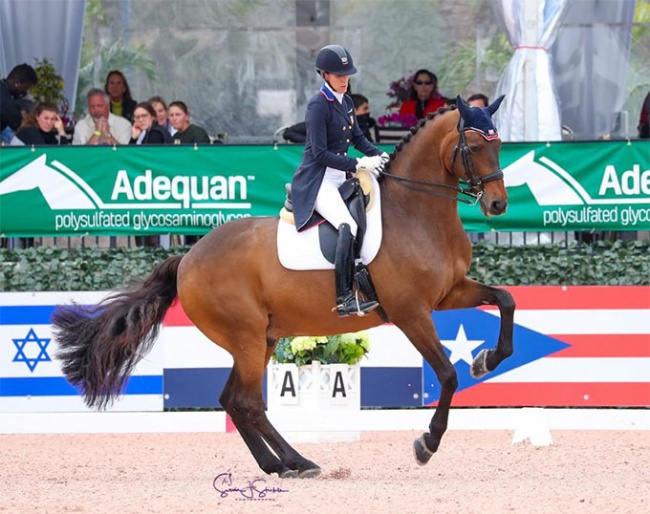 Olivia LaGoy-Weltz and Rassing's Lonoir danced to yet another victory on Sunday, January 17, concluding week one of the 2021 Global Dressage Festival in Wellington, Florida, with their personal best score, an 81.545% in the Grand Prix Freestyle CDI-W.
Second place in the class was awarded to Yvonne Losos De Muniz (DOM) on Aquamarijn, her own 16-year-old KWPN mare by United (78.165%); while third place went to USA's Anna Marek on Dee Clair, Diane Morrison's 13-year-old KWPN mare by Sir Sinclair, who earned a 76.100%, another personal best.
"It's great to get a personal best," LaGoy-Weltz began. "Whenever you've been out for a long time - it's been since February 2020 for us because of COVID - you always wonder if you'll remember how to do it. You're a little rusty, the test riding needs polishing, and the horse has to settle. It's nice to be coming out this strong, and that makes you feel good about the whole program."
Riding to pieces of the Simon and Garfunkel hit "Cecelia" with freestyle music created by Marlene Whitaker, LaGoy-Weltz and the 17-year-old Danish Warmblood by De Noir 3 owned by LaGoy-Weltz and Mary Anne McPhail perfected some of the suggestions given to them during the Grand Prix CDI-W on Friday.
"Last night I went over my test in detail," explained LaGoy-Weltz, "and went over judges' feedback from the last test to figure out where we are in the evolution of trying to allow more of this horse out, to look at the things I held back on Friday. For example, feedback on my last test was 'Open up more in the changes,' and I knew I could do that this time around. Here and there, taking the feedback and making the best of it is really important."
Related Links
Scores: 2021 CDI-W Wellington
Lagoy-Weltz and Lonoir Win Grand Prix for Kur at 2021 CDI-W Wellington
Lyle and Harmony's Duval Capture Grand Prix Win At First CDI of 2021 Wellington Season
Lyle and Harmony's Duval Find Their Groove in Grand Prix Special at 2021 CDI-W Wellington