Hanoverian Auction News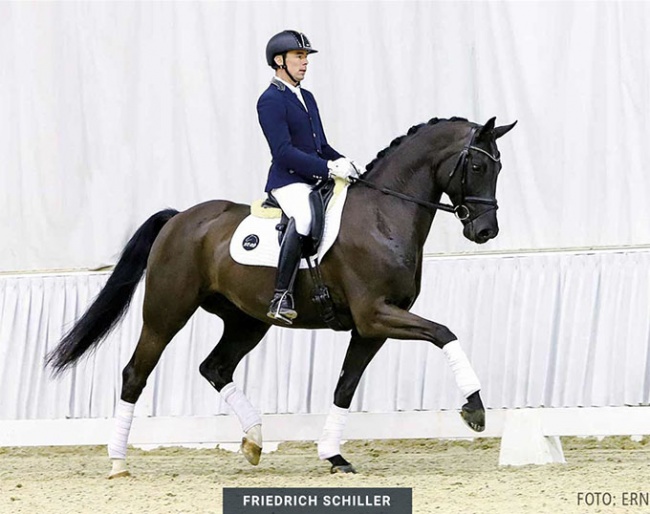 The 6-year old Friedrich Schiller became the top seller of the first Hanoverian Auction of 2021. Concluding on 23 January, this Verden online auction featured a collection of 60 horses of which 53 were sold.
Friedrich Schiller was discovered at the Hanoverian Foal Auction in Verden and purchased by Swedish invester, Aldrie Consultants. Six years later they sold the horse at auction and got  81,500 euro for it. The black by Finest x Desperados moves to Charlotte Chalvignac-Vesin's barn in France. 
The second highest price paid was 35,000 euro for two jumpers: Cornet XL (by Cornet Obolensky x Lex Lugar) and Lucky Luke (by Lord Pizarro x Callistus). The former stays in Germany, the latter sold to the U.S.A.
Diva (by Damon x Lauries Crusador xx) sold for 25,500 euro, while Fienchen (by Finest x Danone I) found a new owner for 25,000 euro. 
A Russian client had the highest bid of 23,500 euro on La Traviata HRH (by Livaldon x Hotline) and Florenz (by Furstbischoff x Don Crusador) for 18,500 euro. Donnerblitz (by D'Olympic x Loutano) stays in Germany for 23,000 euro.
A Swiss customer bought Bolt (by Bon Coeur x Lauries Crusador) for 19,500 euro. Lillyfee (by Lissaro x Furst Nymphenburg) moves to Canada for 16,500 euro.
French dressage entgusiasts shopped big at this auction. French clients secured Valpacos (by Viscount x Sandro) for 17,500 euro, Don King (by Don Principe x Rotspon) for 16,500 euro,  and Eddy (by Edward x Royal Blend) as well as Fine Chocolate TK (by Finest x Don Frederic) for 15,000 euro.
 A Spaniard bought Sontessa (by Scolari x Conteur) for 15,500 euro. Dark Pleasure (by Dancier x Rotspon) moves to the USA for 15,000 euro.
The average price for a horse at this auction was 19,519 euro, which was more than 2,000 Euros more than in January last year. 
"The customers feel comfortable in Verden, even though the final took place on the computer and without spectators. There were certainly many emotional moments at home with the buyers again," said Managing Director Wilken Treu.
More Hanoverian Auction News on Eurodressage
Photo © Tammo Ernst