Bits 'n Pieces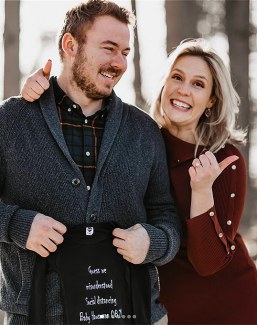 German based South African Grand Prix rider Gretha Ferreira is pregnant with her first child. She and her fiancé Patrick Hausmann are thrilled to welcome their baby in August 2021. They are based at Hofgut Sachtenhorst in Mülheim, Germany. "We are so happy! Our little unexpected surprise," an overjoyed Gretha (31) told Eurodressage. "Apparently Tokyo was not in my cards, but hopefully all goes well and i can soon after birth start working hard for World Games and Paris."
It's Corona Baby Time!!
German B-squad listed rider Carina Scholz (née Bachmann) gave birth to her first baby, a girl named Elena Sophie, on 31 January 2021. The girl weighed 4030 grams and measured 56 centimeter at birth. Carina was working for horse dealer Fabian Scholz when they fell in love. The couple married in October 2020.
Antoine Nowakowski, a French squad listed Grand Prix rider for the 2024 Paris Olympics, and his wife Yanna became first time parents of baby Victor on 8 February 2021 at 8h56. The boy was born at Delta's Chirec Hospital in Brussels, Belgium, and measured 49cm at birth and weighed 3.190kg. Both baby and mother are perfectly healthy.
Belgian Grand Prix rider Thibault Vandenberghe became a father for the second time. His wife Laurence Verstraeten gave birth to a baby girl, Pauline, on 8 February 2021. The baby was born a bit early, measuring 37 centimeters at birth and weighting 1.350 grams, but she is breathing independently and doing fine. Vandenberghe and Verstraeten already have a daughter together, Adeline.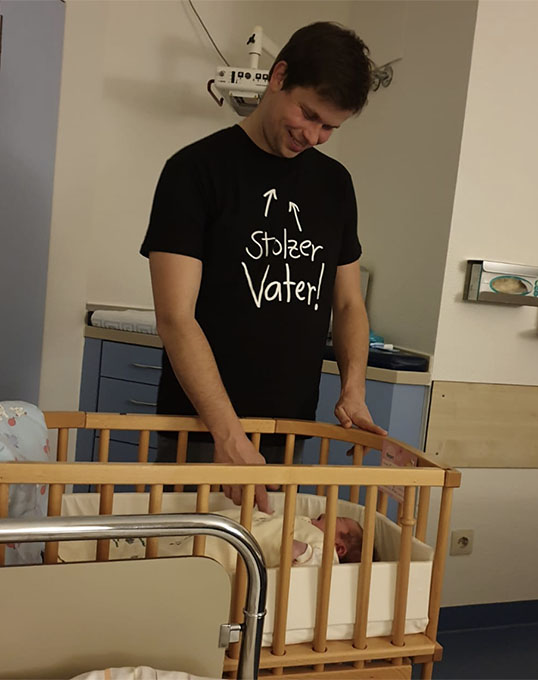 Also Beatrice Hoffrogge (née Buchwald) delivered her first child on 9 February 2021. Girl Mira Eileen Hoffrogge was born in the hospital in Dorsten, Germany. Both mom and child are in perfect health.
Dutch Grand Prix rider Nikki Schaap and her partner Jeroen van Uden became proud parents of a baby girl on 7 February 2021. The girl was born at 4.33 AM and has been named Jazz van Uden. 
At another Westfalian "second chance" auction (horses getting re-auctioned because they end up not being paid or not selling), Florenz A (by Furstenball x Rotspon) sold for 25,000 euro to 2019 European Junior Rider Champion Jana Schrödter.  The young Schone Zeit (by  Stanford x Fiorano) sold for 20,500 euro.
Long time American breeder and Trakehner enthusiasts Anissa Cottongim lost her  battle with cancer on 1 February 2021. Anissa was one of the biggest voices for the American Trakehner horse community. She operated Emerald Acres Trakehners and owned the stallion Tatendrang as well as a band of mares by sires such as Veneziano, Impressionist and Oskar. "The Trakehner community has suffered a huge loss and advocate," said Joe Pimenetel of Aqua Trakehners.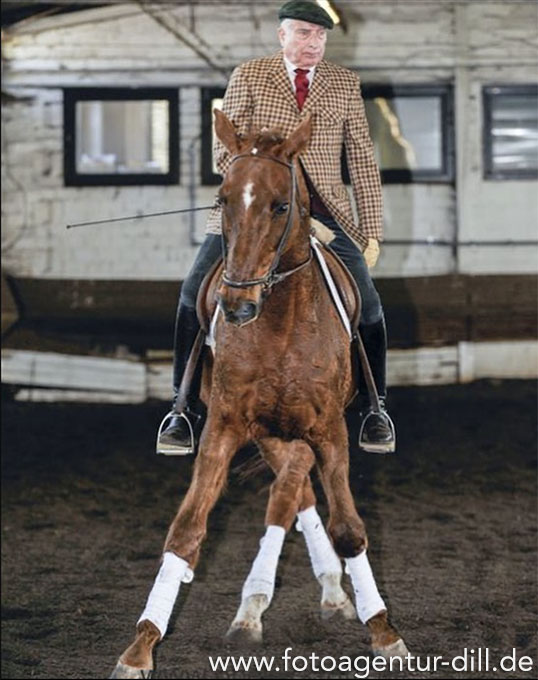 German riding instruct Gert Schwabl von Gordon has passed away on 14 January 2021. He was 92 years old. Schwabl von Gordon was the director of the riding institute in Nürnberg. Together with Bianca Rieskamp he authored several equitation books, such as "Die klassische Reitlehre in der Praxis." Schwabl von Gordon rode horses until he was 85 and then continued to teach from the ground until he was 91! (Photo © Rainer Dill)
Christoph Rowold continues to ride the job carrousel. Horses.nl reported that he has accepted a position as Paul Schockemöhle's wingman for show jumping at Gestut Lewitz. He is succeeding Heinz Meyer. The 31-year old Rowold, who is a veterinarian, jumping rider and breeder, worked at Lewitz before, but then held jobs at Gestut Sprehe, Stall Bockmann and was very briefly the auction director for the Oldenburg society, resigning after just nine months.  
Nieuws.horse reported that Cor Loeffen, chair of the KWPN stallion committee, underwent a second operation to his eye. Loeffen injured his eye when he unloaded a bag of horse feed from his car and ran into the tip of the car door. He was operated on at the University Hospital in Nijmeghen and there are five more surgeries planned. He's not allowed to drive a car for three months.