Media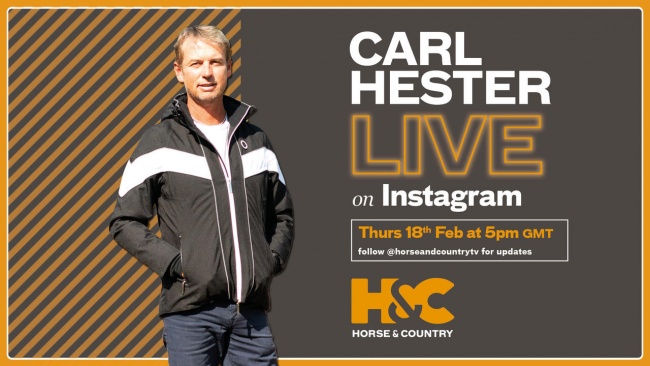 Carl Hester is the latest guest to feature in "In the Frame", the new series from Horse & Country (H&C) where presenter Alice Plunkett asks an equestrian legend to select five photographs that define their career.
Five Career Defining Moments Through Photos
Carl's selection spans his early days in Sark right through to the Olympics and beyond. As you'd expect with Carl, there's a great story behind every picture starting with Mitch, the horse he brought over from Sark. Carl tells of how the two of them in a trailer, along with all of Carl's furniture, were loaded by crane onto the ferry as they set of on the journey that changed both their lives.
Carl's other selections include an exuberant shot of him and Donnersong on their lap of honour after winning at Hickstead. Carl explains the importance of the stallion in his development as a true horseman, as it was the first time that he'd taken a horse from the bottom right through to Grand Prix level. Carl's enduring success at Championship level is reflected in the shot of the gold-medal winning team at the 2011 Europeans in Rotterdam. Carl describes how it felt to be favourites for the first time, and the confidence victory gave them for the forthcoming London Olympics.
Of course Carl had to have a shot from London but, rather than action from the arena, he's chosen a picture of himself and Charlotte Dujardin meeting the Duchess of Cambridge at Buckingham Palace. He describes it as an illustration of the extraordinary journey he's been on since those early days in Sark.
Live on Instagram Tonight
This evening 18 February 2021 at 5pm GMT Carl will join H&C's Jenny Rudall for an Instagram Live interview on the H&C Instagram page. Expect more great stories about Carl's choices and his extraordinary career.
Members of H&C's streaming service, H&C+, can watch Carl Hester: In the Frame on demand at any time, either online or with H&C's mobile apps, as well as on Roku, Apple TV, Android TV, and Amazon Fire.
Membership is just £5.99 per month and full details on how to join can be found at horseandcountry.tv