Canada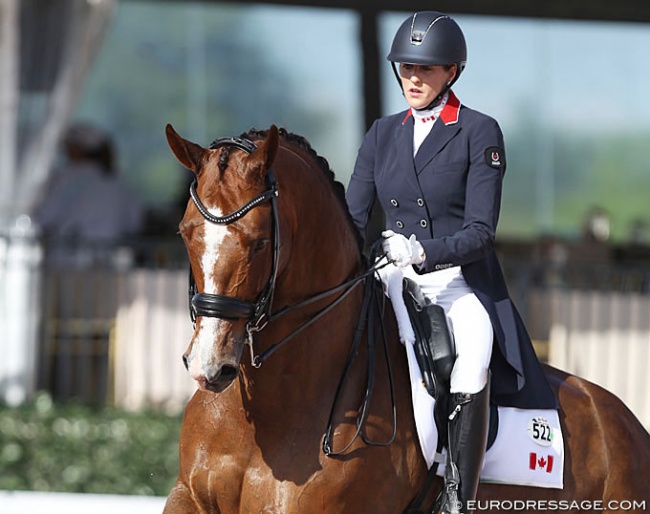 Canadian team rider Brittany Fraser-Beaulieu of Saint-Bruno, QC, has become the recipient of the $10,000 Brosda Olympic Bursary for 2021. This is the third year in a row that she has received the grant. 
Third Time Recipient
"The Élisabeth Brosda Memorial Fund was created to honour our exceptional daughter, who tragically passed away before she could realize the Olympic dream that meant so much to her," explained Élisabeth's mother, Marie-France Maisonneuve, and step-father, Sébastien Normand. "Time and time again, Brittany has proved that she shares Élisabeth's passion for excellence – both inside and outside of the ring – and dedication to being part of the Canadian Dressage Team. With continued support from EC and the Horsepower Foundation, we are pleased to award Brittany with this year's bursary as the 2020 and 2024 Olympic Games draw near."
Fraser-Beaulieu was also awarded the Brosda Bursary in 2018 and 2020. Her selection for a third year speaks to her demonstrated ability to make a mark for Canada on the Olympic stage aboard her trusted partner, All In (by Tango x Damiro), a 16-year-old Dutch Warmblood gelding that Fraser-Beaulieu co-owns with her father, Craig Fraser, and husband, Marc-Andre Beaulieu.
Highest FEI Ranked Canadian Rider
Fraser-Beaulieu and All In have been the highest placed Canadian combination on the FEI Dressage World Ranking for four years running and consistently make the EC National Team Program (NTP) Dressage National Squad. Coached by Canadian Olympians, Ashley Holzer and Jacqueline Brooks, the partnership recently scored within striking distances of the elusive 80% at the Adequan Global Dressage Festival in Wellington, FL.
In addition to Fraser-Beaulieu's consistency in FEI level competition, the Bursary High Performance Advisory Group selected Fraser-Beaulieu because of the thoroughness and leadership illustrated in her application.
"I am once again honoured to have received the Brosda Bursary in memory of Élisabeth," said Fraser-Beaulieu. "Élisabeth was an enthusiastic rider whom I had the privilege of coaching. She had dreams of also competing at the Olympics. This bursary will go towards training and competition costs leading up to the 2020 Olympics. I am very grateful to be back in the competition ring with All In during these unprecedented times."
As the successful candidate for 2021, Fraser-Beaulieu will be an ambassador for the Brosda Olympic Bursary, promoting the Olympic values of excellence, teamwork, leadership and fair play, and sharing her stories and experiences through public speaking engagements and on social media.
Related Links
Brittany Fraser-Beaulieu, Recipient of $10,000 Brosda Olympic Bursary for 2020
2019 Brosda Olympic Bursary Awarded to Tanya Strasser-Shostak
Brittany Fraser Inaugural Recipient of the Brosda Olympic Bursary for 2018