History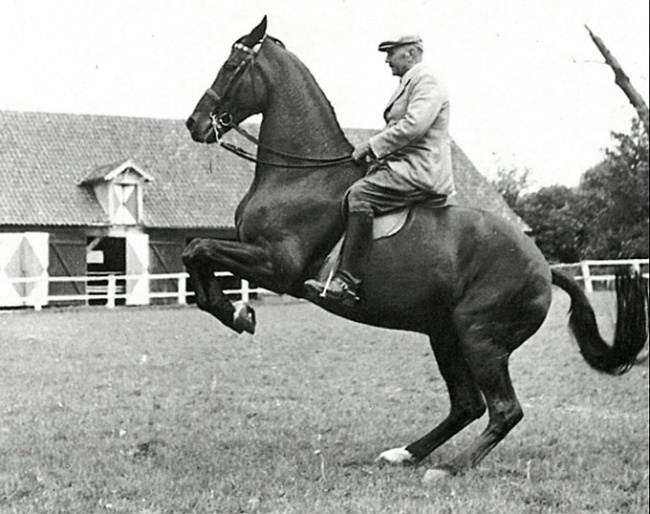 Fanal was a Trakehner gelding, whom the legendary dressage rider Otto Lörke bought for a considerable sum before World War II. Like all his dressage horses Fanal was good looking.
Lörke acquired Fanal (by Hausfreund x Wolkenflug x Viaduct) as a 5-year old in 1938 for 17,000 Reichsmark.
Lörke ensured a very versatile training for his horses, so aside from dressage Fanal was also hunted, something his peer Alois Podhajsky  distanced himself from after his first international horse Nora injured herself in the hunting field.
Show Career
Fanal competed in his first internationally at the 1938 CDI Wiesbaden shortly after he was purchased. Before the war Fanal also scored a "0.0" in an S-level dressage test, which would be 100% today.
In his career, Fanal recorded 58 wins at the highest level, which is a massive amount considered how few shows were staged. He won pretty much every class he was entered, except in the young horse (material) classes. At the time the judges weren't too impressed with his high knee action, something uncommon then for a dressage horse.
Vornholz
When Lörke had to flee at the end of the war he taught Fanal, amongst other of his dressage horses, to pull a cart. That way Lörke, his wife and their belongings reached safety.
Lörke found a temporary new home at Vornholz Castle, owned by Count von Nagel who bred the horses on the entire 1952 German dressage team. Lörke trained these horses to Olympic level, his master student Willi Schultheis supported him.
Schoolmaster
Fanal served as a schoolmaster for Ida von Nagel and Anneliese Küppers.
Lörke moved to the stables of Liselott Linsenhoff, the 1972 Olympic champion. There Fanal served as her schoolmaster and still won at a high age. In 1956 he still competed at S-level at at age 22. His students Linsenhoff and Küppers belonged to the all-ladies team at the 1956 Olympic Games; all were trained by Lörke and they won team silver.
When Lörke died in 1957, Fanal walked behind his coffin.
Related Links
Vornholz Stud: Birth Place of Post-War German Dressage