Belgium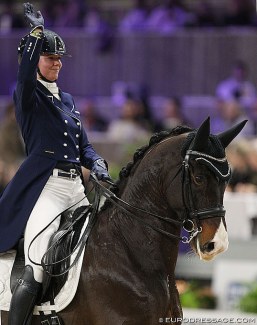 Belgian Grand Prix riders were briefed by the Belgian Equestrian Federation (KBRSF) on the Olympic selection process for the postponed 2021 Games in Tokyo.
The selection process had to be amended as the Games were postponed for one year. Belgium has one individual slot for a dressage rider, which was achieved by Laurence Roos on Fil Rouge in 2019. 
The KBRSF will select a candidate for the slot, but it is the Belgian Olympic Committee (BOIC) which has final say on who gets nominated to go.
Eurodressage inquired if Laurence Roos will retain the slot or if it's an open battle this 2021 show season for the best scoring Belgian internationally?
Selection Process
Only those combinations will be considered for the individual dressage slot if they scored at least 69% twice in a Grand Prix or Special at a CDIO-CDI-W or CDI 3* or higher between 1 January 2019 and 1 June 2021. One of those results has to be achieved at an outdoor show between 1 January 2021 - 1 June 2021. 
In addition, the team veterinarian will inspect the potential candidates and the horse needs to present a "fit to compete" on 30 June 2021. 
Internal Criteria
The BOIC and KBRSF have created "internal criteria" for the selection of the Belgian Olympic individual rider. 
The BOIC writes in its rules that "in case Belgium is qualified for dressage for the OG Tokyo 2020 with only individual combinations, that the selectable combinations are those which are "best ranked on the FEI Olympic Ranking on 31 December 2019" and that s/he "will be appointed as nominated combination(s)."
Combinations have to have achieved their FEI MER scores (Minimum Eligibility Requirement) at selected Events which took place between 1 January 2019 until and 21 June 2021.
A minimum 66% must be attributed twice to the Athlete/Horse combination by both a 5* star judge and as an average from all judges in the competition, and the score must be achieved in a Grand Prix test at two different CDI3*/CDI4*/CDI5*/CDI-W/CDIO events. The two 5* judges must be of a nationality other than of the Athlete.
Laurence Roos or Another Belgian?
The question is whether Belgian Grand Prix rider Laurens Roos, who unlocked the Olympic slot for Belgium aboard Fil Rouge and who was the highest ranked Belgian rider on 31 December 2019, will retain her Olympic slot or if the battle is open this 2021 spring show season for another Belgian to best her. 
Roos and Fil Rouge will have to prove they are fit and on form for Tokyo, but what if another rider is scoring above Roos' international scoring average 70 - 72%? Can s/he get nominated instead?
Eurodressage asked Mariette Withages, retired 5* dressage judge, former chair of the FEI Dressage Committee and current member of the KBRSF dressage committee. 
"Laurence will have to confirm her achieved selection in an outdoor show," Withages explained. "Reserves will be appointed who will also be sent to Aachen for quarantine."
"As long as Laurence and her horse don't get into trouble (stay fit), she keeps her ticket for Tokyo," Withages added. 
Photo © Astrid Appels
Related Links
The End of the Long Chase for Tokyo Places: Team and Individual Spots Known
Jeroen van Lent Appointed Belgian Team Manager, Succeeding Sjef Janssen
Larissa Pauluis: Flambeau and Valentin, Bright Lights after 2020 Annus Horribilis
Corona Times: Hit & Run with Laurence Roos
Belgian Dressage Squads for 2021 Announced