2021 CDI-W Wellington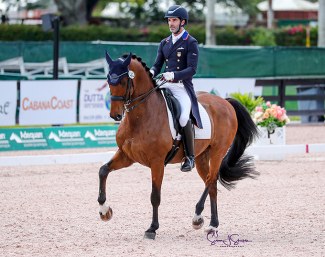 The 2021 Global Dressage Festival (GDF) resumed competition on Thursday 4 March 2021 - Palm Beach Derby week - and welcomed a victory in the Grand Prix for Special 3* for the USA's Nick Wagman and Don John. 
Wagman and Beverly Jean Gepfer's 2008 KWPN gelding by Johnson, Don John, notched their second personal best score of the 2021 GDF season with a 74.478%, almost four points higher than second place finisher Jessica Howington (USA) and her own Cavalia.
No Nerves
"He was really with me the whole time today," began Wagman. "Normally I get a few nerves in the Grand Prix because it's the first test of the show, but I didn't have any today. I even came out and said to Debbie [McDonald] that this is the first time I haven't had any nerves in a long time. DJ just felt solid, so I was able to actually think about my riding while I was in there and actually work on the details that I can sometimes gloss over because I'm just trying to get through it."
Wagman continued, "I haven't watched the video yet, but the piaffe and passage work felt pretty reliable today. My right pirouette felt super. I made the mistake in the ones today, and that was just all me. I got to the end and was like, 'Oh, don't make a mistake!' and I ended up overriding. But overall, it was a pretty honest test, so I am pleased with it."
Rotten Luck
The pair had a successful ride in the Grand Prix for Special 3* during GDF 5, but had to withdraw from the Special. After a lowkey week, Wagman picked training back up and has shifted his original plan for the remainder of the winter season.
Wagman explained, "We had rotten luck the past two shows, so hopefully we are done with that and we get to get through this show with some success. We extended our trip, and we'll stay through the end of March. Then we will go back home and if we need a third score, we will go out to Rancho Marietta in California."
Second place in the Grand Prix for Special 3* went to Jessica Howington (USA) on Cavalia, her own 2007 KWPN mare by Sir Donnerhall with a 70.913%, while Diane Creech (CAN) earned third on Chrevi's Christo, Louise Leatherdale and Diane Creech's 2003 Danish warmblood gelding by Chrevi's Cavallo, finishing their day on a 70.478%.
Kohmann and Wandres On Top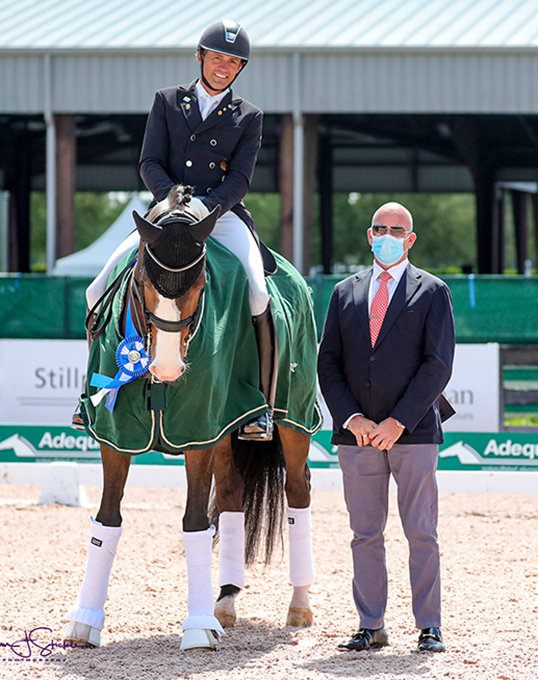 Earlier in the day, Kevin Kohmann (GER) and Equitas LLC's 2010 KWPN stallion by Amazing Star, Five Star, topped the Prix St. Georges 3* with a score of 71.275%. Second place went to the USA's Cesar Parra on Mr. Bumblebee, Equiventure LLC and John and Karen Blank's 2008 Danish Warmblood gelding by Sting, with 70.294%. Dong Seon Kim (KOR) rounded out the top three with his own 2012 Rhinelander stallion Lord Nunes by Lord Loxley I, with a score of 69.608%.
In the Prix St. Georges 1*, Germany earned the top two placings, first with Christoph Koschel on Imposant, a 2013 KWPN gelding by Charmeur owned by Holga Finken and Koschel Dressage GmbH, with 73.039%. Second went to Frederic Wandres and Quizmaster, Hof Kasselmann's 2012 Hanoverian stallion by Quasar de Charry. Third place was awarded to Steffen Peters (USA) and Boston Strong, Christina Vinios' 2010 Oldenburg gelding by Bordeaux, receiving a 72.108%.
Photos © Sue Stickle
Related Link
Scores: 2021 CDI-W Wellington