2021 CDI-W Wellington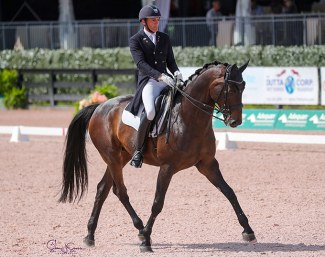 On Friday 5 March the 2021 edition of the renowned Palm Beach Dressage Derby took place at the Global Dressage Festival in Wellington, Florida. 
In this "knock out" style competition, in which riders are paired with unfamiliar, loaned horses and ride a Prix St. Georges test. Germany's Christoph Koschel once again proved that he is the "king of the derby" after notching his fifth win in a row, and having won Derbies in Hamburg, Munich, and Palm Beach.
Round 1, Round 2, Final
In the first round, Koschel went head-to-head with Sarah Lockman (USA), the pair both riding Helgstrand Dressage's 2011 Oldenburg mare Salis MR by San Amour I. Koschel scored a 70.992% and a ticket to the final round, while Lockman earned a 70.183% and third place.
In round two the USA's Anna Marek competed against Germany's Michael Klimke, both riding Bonita Coffman's 2009 Hanoverian mare Viveka by Viva Voltaire. Marek earned her spot in the final round after riding to a 69.742%, while Klimke earned a 67.609% for a tied third-place score.
The final round welcomed Koschel and Marek back aboard Hilfiger 3, Elm Creek Holdings LLC's 2007 Oldenburg gelding by Hotline. Marek rode to second place with a 69.374%, while Koschel sealed his victory with a 71.801%.
Fifth Title for Koschel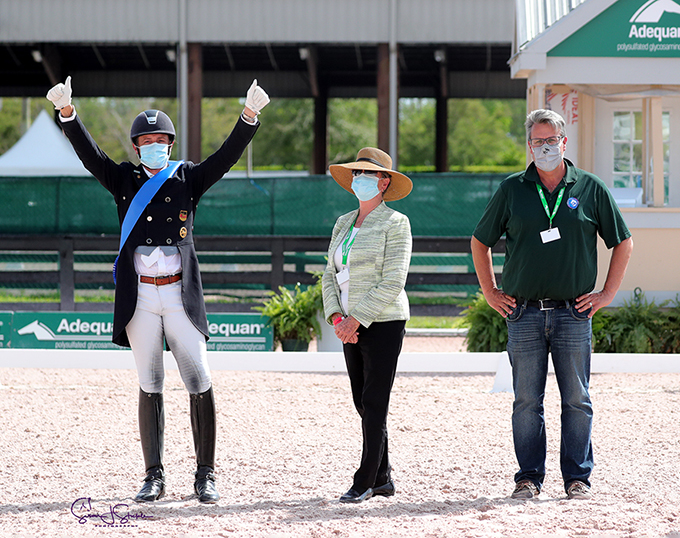 "You either like the Derby format, or you don't," explained Koschel. "I really like it and think it's really challenging, and this is what I like to do at home. I ride many different horses, from a young age and up, and surely that helps to get the experience. It is challenging that you only have a short amount of time to figure the horse out, and over the years I've developed a concept to really ride what I need to feel. I did that today, and with this heat we don't want to make them tired, so you do have to figure them out in an even shorter amount of time. It's so much fun, and I hope I'm allowed to come back next year."
Koschel also extended his thanks to AGDF Director of Sport Thomas Baur, who decided to implement the iconic Derby knock out format in 2015.
He said, "It was a great idea for Thomas to add a derby into this show, and I think it's great that we did get one. In Europe it's the same format, and it's nice for the spectators too. This year obviously we couldn't do it under the lights, which is always a pleasure, but it was still a good day!"
Baur added with a laugh, "As the title defender, Christoph can come back next year, but I promised him that I would fly in Isabell [Werth] to compete against him!"
 GDF Press release - Photos © Sue Stickle
Related Links
Scores: 2021 CDI-W Wellington
Fourth Palm Beach Derby Title for Christoph Koschel at 2020 CDI Wellington
Christoph Koschel Wins 2019 Palm Beach Derby, Third Title in a Row
Christoph Koschel Wins 2018 Palm Beach Derby Knock Out Final
Christoph Koschel Wins 2017 Palm Beach Dressage Derby Knock Out
Palm Beach Dressage Derby Celebrates 30th Anniversary
Adrienne Lyle Wins Inaugural Derby Class at 2015 CDI-W Palm Beach Derby