2021 CPEDI Wellington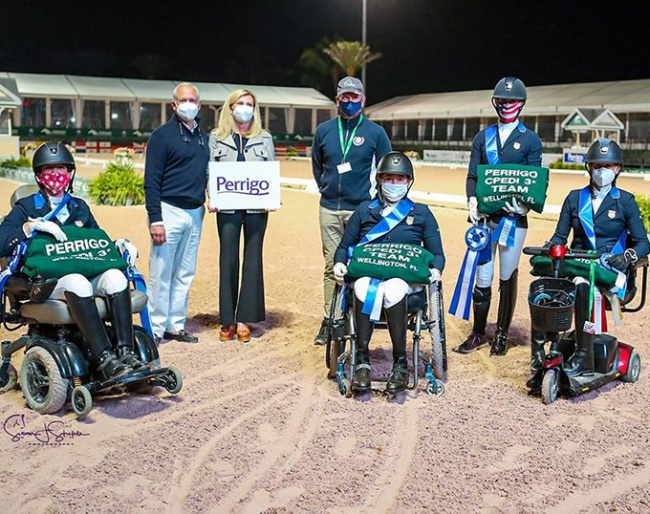 The U.S. Para Dressage Team continued with strong performances at the Global Dressage Festival in Wellington, Fla. in the CPEDI3* on 12 - 14 March 2021. 
With Chef d'Equipe Michel Assouline at the helm, the team of Beatrice de Lavalette (Loxahatchee, Fla.) and her new mount Clarc, a 14-year-old KWPN gelding owned by Elizabeth and Nicolas de Lavalette; Rebecca Hart (Loxahatchee, Fla.) aboard El Corona Texel, a 12-year-old Dutch Warmblood gelding owned by Rowan O'Riley; Kate Shoemaker (Wellington, Fla.) and Solitaer 40, a 14-year-old Hanoverian gelding owned by Kate, Craig, and Deena Shoemaker; and anchored by Roxanne Trunnell (Royal Palm Beach, Fla.) and Dolton, a 9-year-old Hanoverian gelding owned by Karen Flint and Flintwoode Farms LLC, rode to several personal bests and top placings. 
Only one foreign rider, Lauren Barwick from Canada, competed in this CPEDI. She took out all Grade III tests.
Grade I Individual Test Record Score for Trunnell
In a highlight effort of the weekend, Trunnell and Dolton, who are currently the top ranked para dressage combination in the world, executed a clean and relaxed test in the FEI Para Dressage Individual Test on Saturday evening to receive an 83.334% from the judging panel - the highest score ever recorded in the FEI Para Individual Test in any grade.
Of her world record-breaking score, Trunnell said, "It feels great to break a world record. Dolton is a very nice horse, and I am proud of him."
Next up, the combination will head to the June CPEDI in Tryon, like many other North American para dressage riders hoping to make it onto teams for the Tokyo Paralympics. Trunnell noted, "I am looking forward to Tryon. Dolton really likes to compete there, and Tokyo will be fun if we get selected for the team."
"I was really looking for consistency this week. It's too early for us to peak right now, so I said to our athletes, 'Let's be safe and make sure we have some decent scores,'" said Assouline. "Some of them performed higher than expected, but also it's important to keep in mind that some of them performed on the safer-side, so given all of those factors, the scores were just excellent. We have something very special happening right now within our program."
Under the Lights
Team competition began on Friday, March 12, and featured combinations testing the Team Test with Trunnell guiding Dolton to the best score of the evening, an 80.119% in Grade I. De Lavalette and Clarc placed second in Grade II with a 66.869%, while Hart piloted El Corona Texel to a 75.784% and second place in Grade III. Shoemaker and Solitaer 40 recorded a 75.292%, a personal best for the combination in the Para Team Test in Grade IV.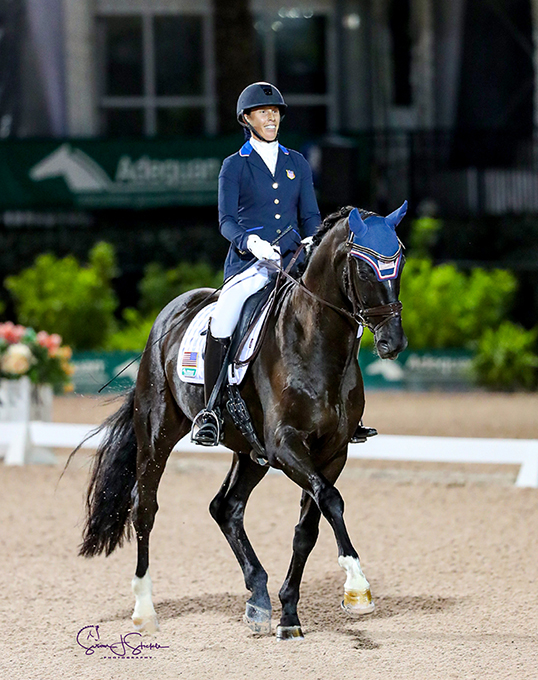 The team returned on Saturday evening to compete in the Individual Test held under the lights, creating a championship-like atmosphere to determine final team placings. Trunnell and Dolton wowed with record breaking mark of 83.334% in the first test of the evening, setting a strong tone for the three remaining combinations. De Lavalette and Clarc earned a 69.461% to win Grade II competition before Hart and El Corona Texel received a 71.618% in Grade III competition to help build the overall team score. Shoemaker and Solitaer 40 earned their second career-high score of the weekend with a 74.390% in Grade IV to round out the team's performance.
"The first two days were a bit tricky for us," admitted de Lavalette. "Clarc was nervous in the ring, but today I was able to work through it with him in the warmup, and it really paid off in the show ring." The pair rode to a musical freestyle composed of music from the "Aquaman" soundtrack, which de Lavalette chose after watching the movie. "I am a big fan of the DC Universe," she said, "and I was watching the Aquaman movie and thought it would be the perfect music for a freestyle. It works well with my horse, along with our floorplan."
"It's been a really breakthrough week for my horse and I," said Shoemker. "We've been working on finding the next level within the gaits at home, and this is the first time that we've really seen that reflected in the show arena, so I was really excited that he was able to give that to me. The feeling was just incredible throughout the weekend. To finish on the freestyle with such a top score was really rewarding, and I'm just really happy with it all overall!"
Work to be Done
"It still remains that we have work to be done, particularly in our Freestyles, and there's still improvements we can make. It is a big challenge because there are not many opportunities to ride and practice the Freestyle, but we're working on providing more opportunities because that's what we need to prepare," continued Assouline. "Overall, I'm very pleased with the week and where we are at the moment as a team."
--- USEF press release
Related Link
Scores: 2021 CPEDI Wellington