Saddlery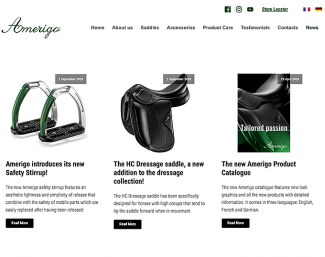 Amerigo is pleased to announce that its new web site has been launched!
New Website Launched
www.amerigo-saddles.com has now completely renewed content to highlight the values of the brand and its products. From the brand profile, the saddles themselves, the accessory collections, to the customization and the store locator, every section is rich in information and user friendly.
For all visitors who wish to learn about Amerigo there is a wealth of information and the possibility to watch videos and tutorials about all aspects of Amerigo Saddles.
Atelier Amerigo
The 'nerve centre' of the Amerigo brand is located in Herisau, a small town in the eastern part of Switzerland. This is the base of the Menetsattel company, owned by Lisa and Peter Menet. The company's' dedicated team of experienced horse people work with saddle customers in Switzerland and is also responsible for the Amerigo Brand worldwide.
Peter Menet
Behind the Amerigo saddle concept and design is the scientific approach of the talented and experienced Peter Menet. He has created a professional Saddle Management System that improves performance while keeping the horse healthier too. 
His extensive knowledge on how saddles can influence the horses' performance has enabled the Amerigo brand to become a household name in the international equestrian world.