2021 CDI Wellington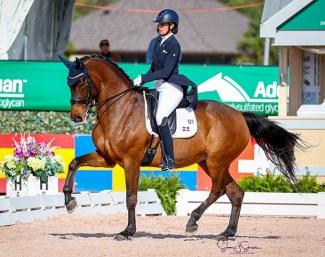 The final week of competition at the 2021 Global Dressage Festival in Wellington continued on Friday, April 2, with a win for Yvonne Losos De Muñiz (DOM) and Aquamarijn in the Grand Prix for Freestyle 4*.
Personal Best 
Losos De Muñiz and the 2005 KWPN mare Aquamarijn (by United) rode to a personal best score of 74.196%.
"I'm through the roof," she began. "I think it's one of the first times in my riding career with her that I've actually gone in and have had the control, the relaxation, the activity, all of those words that we use and search for in dressage, I actually went in there and went 'WOW, I've got it. Now what do I do with it?'"
The pair was originally supposed to be competing at the 2021 World Cup Final in Sweden this week, but after it was cancelled, Losos De Muñiz and the mare regrouped.
"Because we had all of that time off last year due to COVID," she explained, "our buildup was for the World Cup Final. It's such a satisfaction for me to see that my training, my planning, is peaking now when the Final would be taking place. I never thought I'd get a 74% with her; she's a bit of a difficult character, but it all fell into place today. It's just years and years of practice and trial and error. It all just lined up for us. She was in there saying, 'Yes ma'am, how much do you want from me?' and that was an amazing feeling."
Tentative Euro Tour
Though Losos De Muñiz originally tried the mare while searching for a horse for a client, she quickly decided to make the purchase with her husband.
"In the beginning," she remarked, "she gave me a lot of power, and I knew that if I could get that on my side it would be amazing. We decided to try, but I never saw her as my top horse. I always saw her as my backup, because we always need that, but I thought she'd be a cool one to bring up the levels. She's gone from my backup [horse] to my number one. She's very opinionated, but I am too. In the beginning we did clash, but I got over that quickly. It's the coolest thing when you've got such a powerhouse with such an opinion, who is on your side going, 'Let's do more!' She's there knowing her job and wants to do it right, and that's a great feeling."
When the GDF season concludes, Losos De Muñiz's tentative plan is to head to Europe.
"The plan right now is to head to Europe at the beginning of May," she commented. "Fingers crossed that we can go there and train. We want to keep the system going and keep everything in line leading up to the Olympics. We may try to do two more shows in Europe riding in the Special and just keeping us both fit and in shape."
Second place in the Grand Prix  for Freestyle went to Kelly Layne (AUS) on Samhitas, Kelly Layne and Nori Maezawa's 2009 Oldenburg gelding by Sir Donnerhall I, with a 71.326%. Third went to Christoph Koschel (GER) on Eaton, Unitechno, Inc.'s 2009 KWPN gelding by Wynton, earning a 65.913%.
Tarjan Wins 3* Grand Prix Special
Earlier in the day, the USA's Alice Tarjan topped the Grand Prix Special 3*, riding her own Candescent to a score of 72.702%.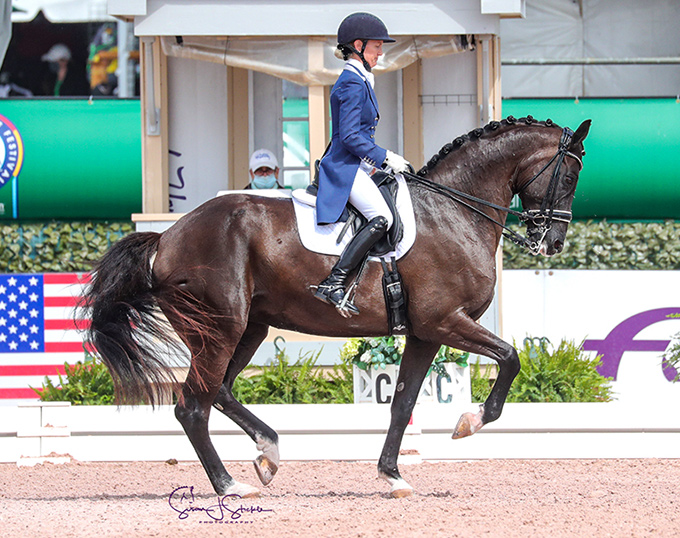 "The warmup was a disaster," admitted Tarjan "I was actually considering scratching because she was a bit wild and in a mood, so I was nervous it would be a disaster. I was really happy that the test was clean, and I was not expecting this win at all, so I'm very happy with her and the result."
Tarjan has been partnered with the 2010 Hanoverian mare Candescent (by Christ) since she was four years old and explained that though the horse is a "freak of nature" physically, their journey together hasn't been without ups and downs.
"It's been fun bringing her along, but the horse is a bit of a monster," she stated. "She's super cool and a lot of fun, but she is funny because she's hot and cold all at once, so it's been a bit of a challenge to get her trained to this level and then to get it to be a bit more harmonious. Physically I think the horse is just a freak of nature, but it comes with its issues. In some ways she's incredibly gifted, but in some ways it's a lot to hold together and [have] working for you."
Tarjan also elaborated on her process this season with the mare to try to get her more comfortable with the atmosphere in the competition arena. "We've been doing a lot of national shows this season," she said, "trying to get her more experience in the ring and trying to get her to settle a bit. She's been very electric and hot in here [International Stadium], and [has been] a lot of horse to deal with, but she's very honest. It's been a struggle to get her to relax and have her show everyone what she can do in the competition arena. For now we will just try to get her a little more comfortable in the arena, and we'll see where it goes."
Second place in the class went to Jennifer Williams (USA) on Sueno Hit, her own 2008 Oldenburg gelding by Sandro Hit, with a 71.170%. Third place was captured by Jessica Howington (USA) on her own Cavalia, a 2007 KWPN mare by Sir Donnerhall, with 71.149%.
Jorst and Nintendo Win 3* GP for Kur
The Grand Prix for Freestyle CDI3* welcomed a win for the USA's Charlotte Jorst and Kastel Denmark's 2003 KWPN stallion by Negro, Nintendo, after riding to a 73.456%.
Second went to Dong Seon Kim (KOR) and his own 2007 Hanoverian stallion by Brentano II, DSK Belstaff, notching a 68.065%.
Third was rounded out by Mikala Munter (USA) on Salsa Hit, a 2009 Oldenburg gelding by Samba Hit III owned by Cara Broderick and Mikala Munter, with 67.609%.
Molina Wins Inter I 1*
The FEI Intermediaire I CDI1* was won by Spain's Pablo Gomez Molina on Servus, Cristina Danguillecourt and Yeguada De Ymas S.L.'s 2013 Hanoverian gelding by San Amour, with 73.383%.
Second place was awarded to Sarah Lockman (USA) on Balia, Summit Farm's 2012 Westfalian mare by Belissimo %, riding to a score of 69.500%.
Third went to Sarah Daehnert (USA) aboard her husband Robert Price's and her own 2009 KWPN gelding by Vivaldi, Evander, with 65.324%.
GDF press release, edited by Eurodressage
Photos © Sue Stickle
Related Links
Scores: 2021 CDI Wellington
Kim and Lord Nunes Score Fifth Trophy in Final Week of 2021 Global Dressage Festival
Lyle and Salvino Return after 13-Month Hiatus to Score 80% at 2021 CDI 4* Wellington