The Netherlands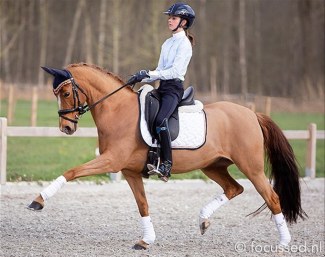 The internationally competed FEI dressage pony Morning Sky will be campaigned by the 13-year old Britt Buijzen. Already a year ago the pony was allocated to Buijzen.
Morning Sky is a 13-year old Welsh pony mare by Kielshoop Honeyhill out of Stella (by Orchard Boginov). She is bred by E. van de Voort.
Dutch Young Pony Champion
Morning Sky has been a successful sport pony in The Netherlands from the start. Under Paulette Kral she won the Dutch Young Pony Championships as a 5 and 6-year old. She also claimed Dutch Champion's title at at L2, M1 and Z1 level with scores over 70%.
Two CDI's
Under Lauren Neville, the mare made her international show debut at the 2016 CDI Le Mans, the pair's only CDI.
Morning Sky disappeared from the international show scene for almost three years, to return in 2019.
Seasoned Dutch pony rider Maud van Walstijn competed Anjershof Memoire, Bodethal's Kosima and Heidehof's Don Diego, before getting the ride on Morning Sky. The new duo made their international show debut at the 2019 CDI Exloo, also their only international as a pair.
Van Walstijn moved on with new pony Topsvoorter Monopoly, while Morning Sky was allocated to Buijzen almost a year ago.
Britt Buijzen
Morning Sky's latest rider, Britt Buijzen, is no new comer to pony sport. 
From a very young age she began competing, in 2018 with Dimph, Hoppenhof's Nick, Cookie and Nina (Demy Kurstjens' former FEI pony). More recently has been riding Heidehoeve's Orkaan as well as Che Bello de Luxe, who is also stabled with Morning Sky's owner Lauren Neville.
Britt used to train with Demy Kurstjens, but is now being coached by Morning Sky's owner, Lauren Neville.
Photo © Focussed.nl
Related Links
Dutch FEI Ponies Reedborder Amazing and Morning Sky Sold
Pippin's Pride, Den Ostrik's Marah, Morningsky Win 2014 Dutch Young Pony Championships
Don Ducky C-Two, Morning Sky, Boldermans Brasil Win 2013 Dutch Young Pony Championships