Westfalian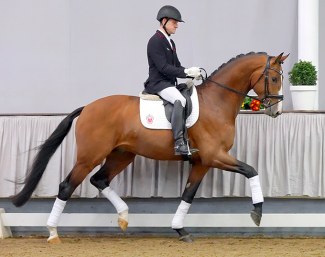 The 3-year old licensed stallion Zaunkönig became the best seller of the 2021 Westfalian Spring Elite online auction which had a collection of 56 dressage and jumper horses of which 46 sold. 
Best seller
Zaunkönig (by Zack x De Niro x Florestan) is bred and owned by Klaus Große-Lembeck and was licensed in Munster in November 2020. The bay stallion sold for 205,000 euro to a German dressage stable. 
The second most expensive dressage horse was Lovely Girl W (by Livaldon x Florestan), which sold to a German for 93,500 euro. She will be trained and developed by Katrin Burger. The chestnut mare is bred and owned by Jörg Winterscheid. Burger will also get to ride the 3-year old Zumba (by Zoom x Rocky Lee), which sold for 60,000 euro.
Theresa Romberg-Rochelt's 10-year old Austrian warmblood bred (!!) small tour mare Bezaubernde Jeannie (by Boston x Wenzel) fetched 87,000 euro and will also stay in Germany.
The 3-year old Vision (by Veneziano x Dimaggio) sold for 41,000 euro and Firmino VS (by Furstenball x Belissimo M) for 40,000 euro. 
Baumgurtel Horses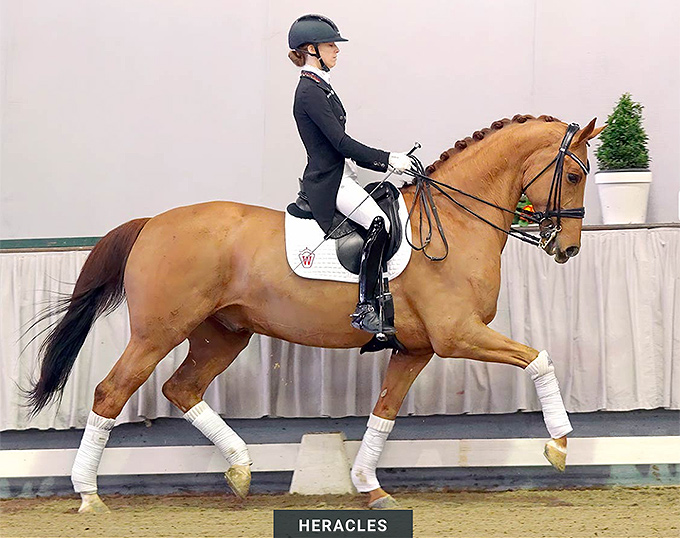 Freiberger Hof, home of triple European Pony Champion Lucie-Anouk Baumgurtel and international pony rider Lana-Pinou Baumgurtel, offered a few horses for sale through this Westfalian auction.
Their best seller was the 9-year old small tour level trained Heracles (by Jazz x Don Schufro) which sold for 62,000 euro to a German bidder. 
Their 4-year old Fine Sophie (by For Romance x Sir Donnerhall) fetched 49,500 euro. A Swiss client acquired their  4-year old Beautiful Bonnie (by Bon Coeur x Daddy Cool) for 23,000 euro. 
Modest International Interest
All top prices dressage horses sold to German bidders. Surprisingly at this elite auction only a small number of dressage horses sold abroad.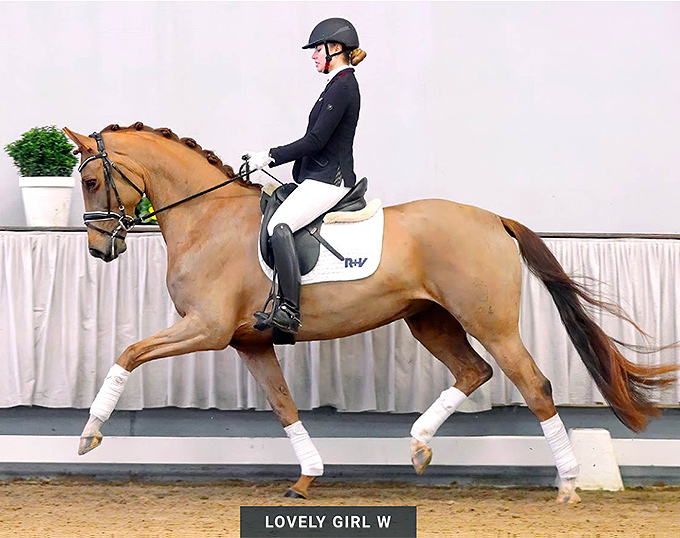 The most expensive one that moves abroad is the 3-year old licensed Danny de Vito (by De Beau x First Final), which relocated to the UK for 34,500 euro.
The 3-year old Financial Investment (by Feinrich x Dream On) moves to Austria for 34,500 euro and he will be joined by Rapunzel (by Real Grandios x Don Frederico) which sold for 28,000 euro. 
An American secured Spectre KP (by Sezuan x Damon Hill) for 25,500 euro, a Swede bought Friedemann (by Finnigan x Londonderry) for 23,500 euro. American amateur GP rider and breeder Marne Martin-Tucker secured Eivy (by Escolar x Diatano) through the auction from Jill Jessica Mieleszko-Vekens for 11,000 euro.
The average price for a dressage horse in this auction was 39,643 euro.