Holtwiesche Online Auction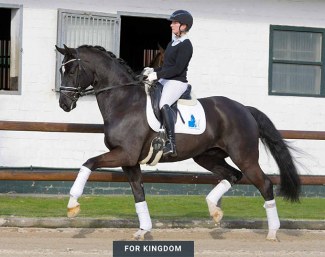 Training Stable Holtwiesche is proud to present its first online auction of riding horses on 13 - 18 April 2021. Seventeen top class dressage horses between the ages of 3 and 5 have been carefully selected for this auction. 
Conveniently located in Gescher, Westphalia (GER) "Ausbildungstall Holtwiesche" has dedicated itself to the breeding and training of young horses for the past decade. Stefan and Rebecca Holtwiesche are specialised in the rearing and training of young sport horses. Their success can be measured in the numerous champion mares and licensed and award-winning stallions they have produced at their yard. 
Their first online auction of 17 carefully selected youngsters stands proof of the quality and expertise Holtwiesche has to offer.  The majority of the 3 to 5-year-old horses were reared and trained at the farm. 
Young Talents with Modern Pedigrees
This is a unique opportunity to secure a carefully trained, talented young dressage horse with a modern pedigree. 
The collection includes offspring by proven top producers Vitalis, For Romance, Dream Boy, Blue Hors Farrell, and Furstenball, as well as by dressage makers Londontime, Veneno, Quaterhall, Tuschinski, Franklin, Fürst Wilhelm, Emilio, Fashion Maker, and Donatus.
Lot nr 1, For Kingdom (by For Romance x de Niro x Argentinus) is a charming piece of jewelry and one of a kind in the collection.  With his desirable uphill tendency, very energetic hind leg and good rideability, this black beauty trots his way into the hearts of the spectators.
For Kingdom is just one of many wonderful young talents in the collection.
Vet Check by Whatsapp
Veterinary reports and X-rays of all horses are available online after registering. Interested parties can also request a video of the vet check by Whatsapp.
Registered users have automatic access to the vet reports and X-rays on the website and can send a direct a link to their veterinarian. 
Send a request by Whatsapp to + 49 177 8331 225 with the name and the lot number of the horse you are interested in, and you will receive the video that was recorded during the clinical examination. 
Register for Free, Easy Bidding
All 17 horses in the collection have something unique to offer and there is a match for every type of buyer.
It is easy to bid to the horses in the Holtwiesche Online Auction. All you have to do is register for free, to get access to the bidding platform.
The auction closes on 18 April at 19h30 CET.