2021 CDI Rancho Murieta
Ten years after last cantering up the centerline in the international arena, American Chelsey Sibley made a long-awaited to the CDI stage at the 2021 Golden State Dressage CDI in Rancho Murieta, California, on 9 - 11 April 2021. 
Sibley is a well known dressage rider, trainer and breeder at Sky Ranch in Sonora, CA. While her riding predominately focuses on national level competition sport, she has been a familiar face at the CDI's held at Rancho Murieta near Sacramento, CA.
Last weekend she made her international come back on Don Francisco.
Riding in the Streets
Born and raised in Oakland, California, Chelsey fell for dressage through serendipity.
"When I lived in Oakland, my neighbour was Inez Fort," Chelsey told Eurodressage. "I lived in a very normal neighbourhood and Inez and I were the only houses that had horses, we had to ride our horses on the street, on some very busy streets to get to an arena. We also trail rode our horses a lot. In the Oakland hills the trails are wonderful. Everyday when I got home from school I would tack up 2 horses and ride one and pony the other to the arena in the Oakland hills, I would tie one up to the fence and then switch and ride the other."
Sibley came in contact with her trainer for live, Jeff Moore, through Inez. 
"Inez rode, bred and trained Dutch Warmbloods and her trainer was Jeff Moore. I'm not quite sure how I got so lucky to have been her neighbour, but, Inez is basically how I became the rider I am because she introduced me to Jeff. He doesn't really like to teach kids, but Inez told him, "just try to teach her". And so he did. He said "ok, she can come back," because I listened and did what he said. That was the beginning for me."
U.S. Young Rider Champion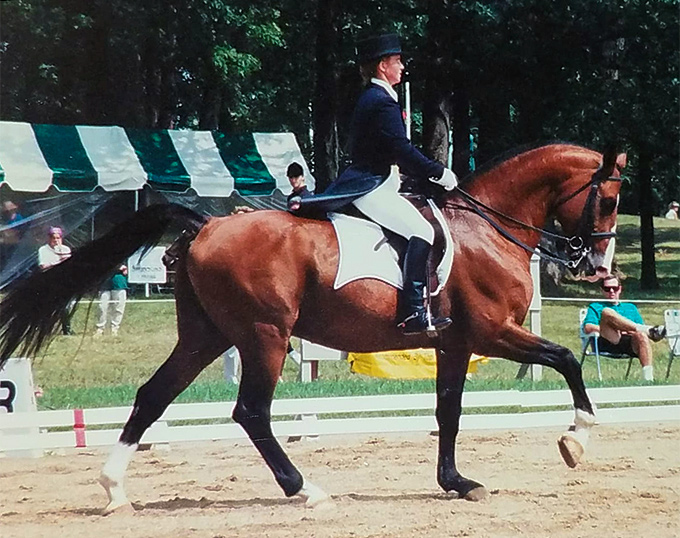 Chelsey made her first claim to fame was immediately a big one. Aboard the Gelderlander stallion Taxateur (by Obelisk x Commandant), she won team and individual gold at the 1994 North American Young Riders Championships at Tempel Farms in Wadsworth, IL.
Taxateur was the first approved Dutch Warmblood stallion in North America. Both him and and Gelderlander stallion Vosmaer were imported by Jeff Moore, the founder of the KWPN-NA.
Chelsey knew a career in horses was her path in life and her collaboration with Moore, as well as with Deborah Harrison of 'Lio Lomas Dutch Warmbloods' farm, became instrumental in the start of her business as a professional.  In the 1990s and early 2000s she competed Gelders stallions Taxateur, Vosmaer, Ijsselmeer and Lauwersmeer successfully up to national Grand Prix level. 
After Taxateur, Chelsey showed the Gelders mare Chaam (by Goudsmid x Commandant) at Young Riders level. 
"Chaam was an absolutely incredible mare but she was hot and very spooky so I never quite knew what would happen in the show ring," she admitted.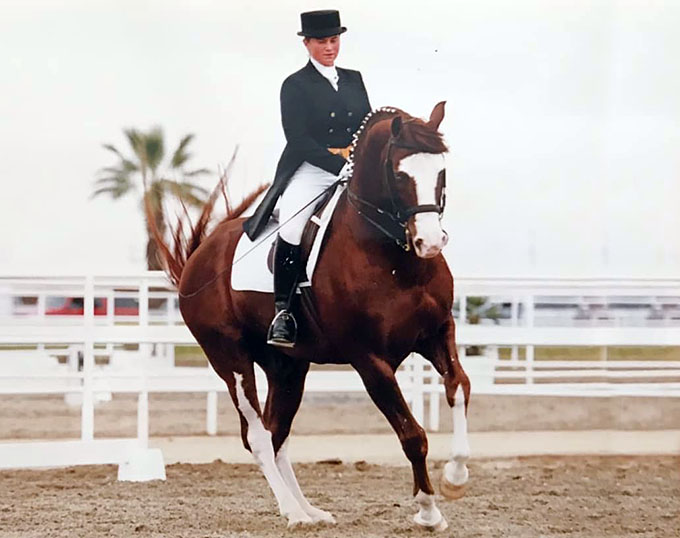 In 2005 she took the KWPN-NA bred and approved Ijsselmeer (by Vosmaer x Taxateur) into the international Grand Prix ring.  In 2005 Sibley also competed Cindy Snow's KWPN bred Landmark (by Uniform x Symphonie) at the CDI Rancho Murieta.
Josephine Walsh's Holsteiner stallion Contester II (by Contender x Lancetto) became her next FEI horse. After scoring bronze at the 2010 U.S. Developing Prix St Georges Horse Championship, she took him into the small tour and rode her last international competition at Rancho Murieta in 2011. Sibley ended up owning Contester II and he's still at her farm retired to breeding.
National Focus
Sibley never truly disappeared from the competition scene.  She bought Sky Ranch in Sonora, California and has been busy running it as a training and breeding business. 
Chelsey has competed nationally for the past decade on a plethora of horses, including several Arabians owned and bred by her friend Carol Di Maggio.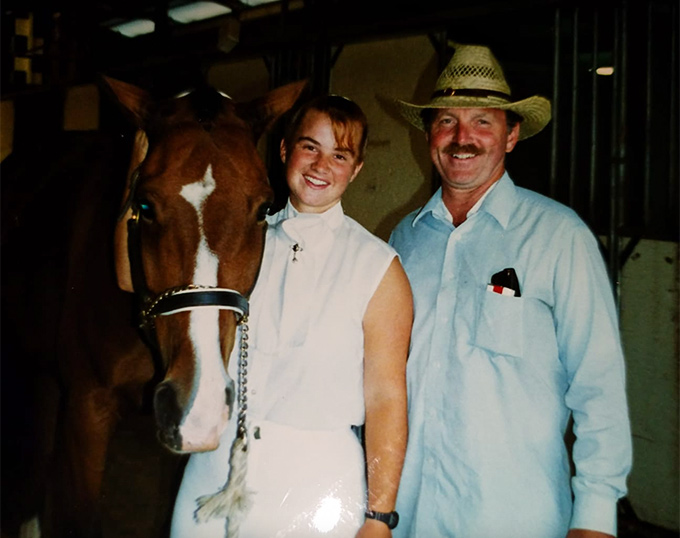 "Jeff Moore is absolutely why I can train just about any kind of horse to the Grand Prix," she confessed. "I have trained numerous different types of horses to Grand Prix, quite a few Arabians. Jeff is a master at biomechanics for both horses and rider. He has taught me how the horse needs to operate in order for them to be able to do the movement. If horses are allowed to go in that manner, they are mostly very happy to try for the rider."
When asked why she waited to so long to make an international come back though, she  replied, "I have just been very busy with the farm and also breeding horses. It takes a long time to make a horse that is ready for that caliber of showing. I have always made my own international quality horses. I have never bought one that has the training already. And that takes a long time. Running a breeding business and taking care of the ranch is a lot of work, but of course I love it."
Don Francisco
Chelsey has been riding Don Francisco for Carol Di Maggio, with whom she has been collaborating for twenty plus years. She received the ride on the liver chestnut when he was four, trained him for a period of time before he returned home.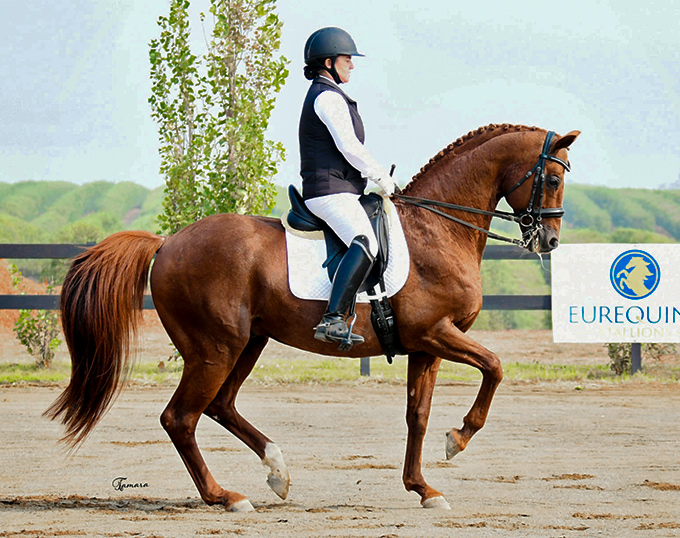 Don Francisco was licensed for breeding by Oldenburg Horse Breeders Society - GOV by achieving his sport test at Prix St. Georges dressage. The stallion was sent back to Sibley to prepare him for this licensing; 
"He needed to show PSG for his stallion approval and I had about 3 months to start showing because he needed to have 4 scores at PSG of 64% or better for the stallion approval," she reminisced. "Well, he barley knew how to do a clean change, and so i said all I can do is try, I really didn't think I could get that done with him, but this guy is such a wonderful horse and tries his heart out that I did get it done. So after that I said to her if you really want him to be the best he can be he has to stay with me."
In 2018 moved to Intermediaire II level and in 2020 they bumped up to Grand Prix.
International Come Back
The 2021 CDI Rancho Murieta was their first international. They placed third in the Grand Prix with 63.109%.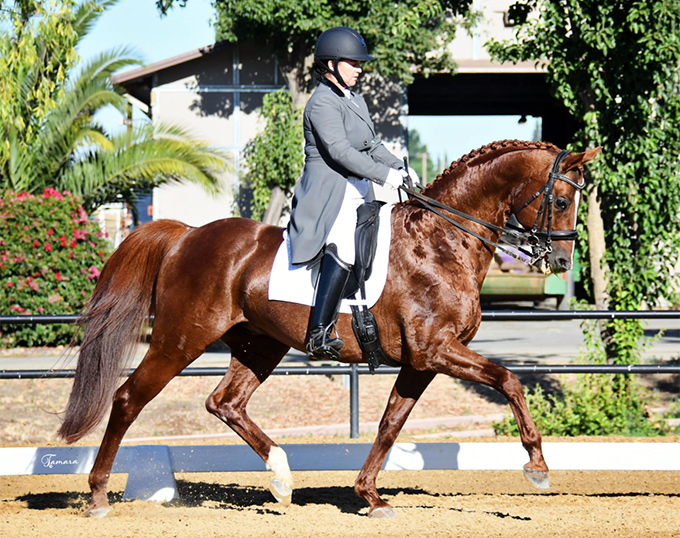 "Carol decided to keep him with me and now look where we are," Chelsey joked.  "I just recently showed him in March at the same venue and he was awesome and was very relaxed in the ring," said Chelsey. "So, at this show I was expecting the same with him, but as I came into the arena for my test he was super tense and nervous , which has been unlike him for the last year. So, I thought oh no, and then I thought to myself maybe I'm nervous and so I told myself to just relax, and I did, but he was still super tense and nervous. I think it was just the atmosphere and energy of the CDI which I do know is for sure a different energy than a regular show. My test was good, but not my best test for sure. We made a few silly mistakes and some of his movements he was tense in , but I was so incredibly proud of him and how we did in the ring for his first CDI."
In the freestyle they were able to push their score up to a winning 66.820%. 
Don Francisco is Chelsey's highest level trained horse in the barn but she has the stallion Finale (by Contester II x Vosmaer) coming along. He is showing at Intermediaire II level and ready for Grand Prix too.
"I am hoping I will continue to be back in the international ring with these 2 horses in the Grand Prix," said Chelsey.
Photos © Tamara Torti - Patty Wilding - private
Related Links
Scores: 2021 CDI Rancho Murieta
Scores: 2011 CDI Rancho Murieta
Scores: 2010 U.S. Young Dressage Horse Championships
Louise Labrucherie has New Horse for Young Riders
Scores: 1998 CDI-W Rancho Murieta
KWPN-North America Horses Among the Best in the World