Hanoverian Auction News
Sympatico, the top seller of the 2021 Hanoverian Spring Elite Auction, which concluded on 17 April 2021, received no less than 105 online bids to sell as the auction price highlight. 
The Verden auction online in April developed into a lively market place. Sympatico was auctioned off for 105,000 euro to a dressage trainer from Hessia.
105 bids were placed until Sympatico (by Secret x Don Crusador) sold. Bred by Dr. Elke Standeker in Austria and owned by Swedish Carsten Johansen, the black found a new owner in Hessia for 105,000 Euros. From the first day on, the black three-year-old out of the dam line of Anitschke was the most popular horse in the collection and impressed at each of his presentations with auction rider Heiko Klausing.
Sympatico will be accompanied on his journey by Totilas Erbin (by Top Gear x Benetton Dream) who sold to same stable for 75,000 euro. The gorgeous liver chestnut mare was presented under saddle by Jacob Schenk 
Chumany (by Cornets Iberio x Stanley) became the top priced jumping horse. The five-year old sold for 65,500 euro to a customer from Lower Saxony, who has already successfully brought numerous young horses into international sport.
Three other horses cleared the 50,000 Euro hurdle: Sir Arthur Carrus (by San Amour x Davignon II), bred and owned by Finnish Helena and Jukka Niiranen, found a new owner in France for 73,500 euro.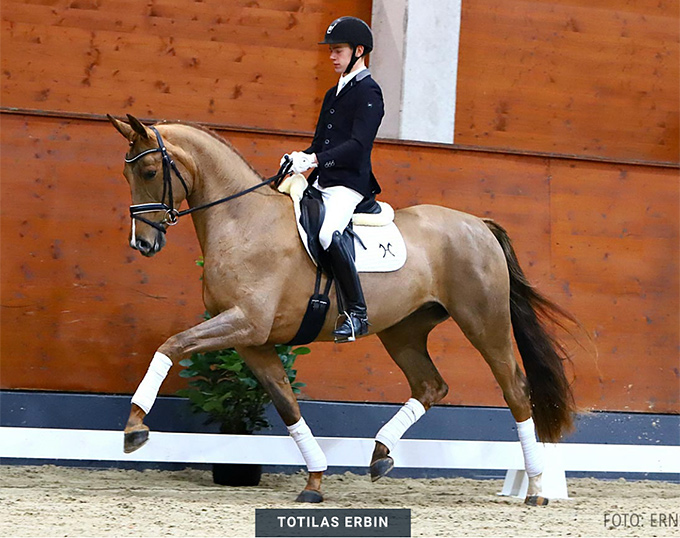 Fantastica (by For Romance x Franziskus) sold to Austria for 56,000 euro. Baronderry (by Baron x Londonderr) will also move to Austria, for 67,500 euro.
A German client paid 55,500 euro for Belisare Royale (by Bordeaux x Sir Donnerhall), while Americans purchased Dark Nobless (by Don Nobless x Scolari) for 35,500 euro. A Canadian bought Fantastic Girl (by Franz Ferdinand x Locksley II) for 22,500 euro.
Fashion Girl (by Fursten-Look x Sandro Hit) moves to France for 30,000 euro. 
Buyers from all over Europe and North America appreciated the high-class offer. 36 horses will stay in Germany, 31 have a further journey ahead of them. The average price of 25,634 euro meant an increase of over 3,000 euro compared to the previous year. The largest contingent was bought by customers from the USA (eight horses) followed by France and Spain (four horses each).
Photos © Tammo Ernst