Horse Sales and Training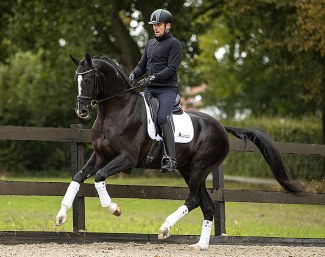 Dressage and sales stable Van den Heuvel Dressage offers the elite dressage sport an excellent service with the training and sales of talented dressage horses.
With a highly skilled team and an extensive international network, Van den Heuvel Dressage can offer every client a suitable dressage winner. In addition to a high-quality dressage horse, clients can also expect excellent aftercare, whereby Van den Heuvel Dressage guides new riders in building a strong relationship with their new mount.
How it all started…
The passion for dressage is in the blood of owner Roy van den Heuvel and international dressage rider Bianca Koenen. For example, Roy studied "Equine Management, " he trained several horses to Grand Prix level, and learned the skills for horse trading at various renowned dressage stables.
In 2008 he founded the international dressage and trading stable Van den Heuvel Dressage with great ambition and has since sold horses to top riders such as Dorothee Schneider and Charlotta Kiki Rogerson. Dressage rider Bianca Koenen has several beautiful titles to her name. In 2014 she switched to Van den Heuvel Dressage as a stable rider. Together with the rest of the team, Roy and Bianca guide dressage horses and riders to excellent (sports) performances.
Van den Heuvel Dressage
Because Roy and Bianca have been active in the equestrian sector for many years, they have built a large international network and are specialized in the purchase, training and sale of top quality dressage horses. They guide clients in the search for a suitable horse and beforehand identify the desired quality characteristics. Van den Heuvel Dressage strives for a perfect match between the client and horse and strives for a long-term cooperation.
Training program
According to Roy and Bianca, the match between the client and horse is only fully established when there is an excellent aftercare. After purchasing his or her new horse, Van den Heuvel Dressage offers the rider the opportunity to follow an individual training course. During this process, the combination is guided towards better performances by building a strong bond of trust.
Quality is of paramount importance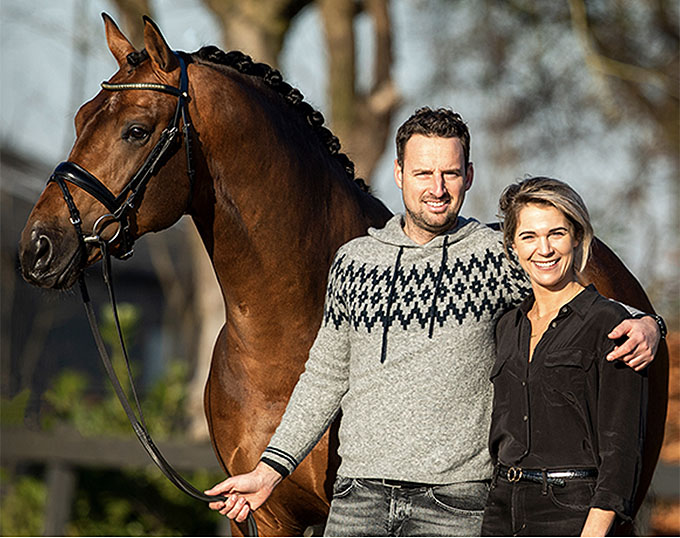 Roy van den Heuvel: "Quality is our top priority. This is reflected in the fact that our horses are in our stables for a longer time of period for extensive training. The well-being and the own learning pace of the horses are our number one priority, and we draw up a personal training schedule with a lot of variety in the training. In good weather, the horses also go outside for at least 2 to 3 hours a day.
Per horse we look at what he or she needs. The aim here is that the horse learns a strong basis, moves with balance and on its own feet and is able to make quick transitions. From here we start on the heavier exercises. By focusing on this, we guarantee quality and that's why our clients always ride our horses with a big smile."
Accommodation
The Van den Heuvel Dressage stables have various modern facilities and is located in Berlicum. Bianca Koenen: "Because we have a small-scale accommodation, our horses get the opportunity to develop skills for the higher dressage sport under the best conditions. Giving them a personal approach and sincere attention, we build a good relationship with both our clients and our horses. Aftercare is the key to success. Here we prepare new horse-rider combinations for exciting new challenges in the near future."
Get to know Van den Heuvel Dressage at www.vandenheuveldressage.com