Canada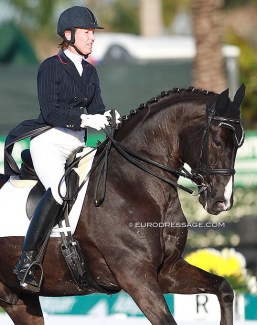 Canadian Grand Prix horse Hallmark has been retired from sport at the age of 17. The black gelding competed internationally from 2009 till 2020. 
Hallmark is a 2004 born Hanoverian by His Highness out of Lapislazuly (by Lancier x Akzent II x Absatz). He is bred by Hanke Meyer in Germany. 
Start in Germany
Purchased by Louise Leatherdale and her late husband Doug in Germany as a youngster, Hallmark was first based at Jens Meyer's stallion station in Dorum. 
He was saddle broken and first competed by Steffen Frahm as a 4-year old in 2008 before he moved to Canada.
With Creech in Canada
The Leatherdales allocated the ride on Hallmark to their long-time sponsored rider Diane Creech. 
Diana Creech made her international show debut on Hallmark in the young horses classes at the 2009 CDI-W Blainville. Their small tour level debut followed at the 2012 CDI West Palm Beach in Florida.
Creech kept him at small tour through 2015. The pair showed at CDI's in Florida, but also at Saugerties, Devon, and Rockwood, where they won the PSG and Inter I in 2013.
Between the summer of 2015 and the autumn of 2018, Hallmark did not international competitions. He made his CDI Grand Prix debut in Devon in September 2018, where he won the Special with 65.936%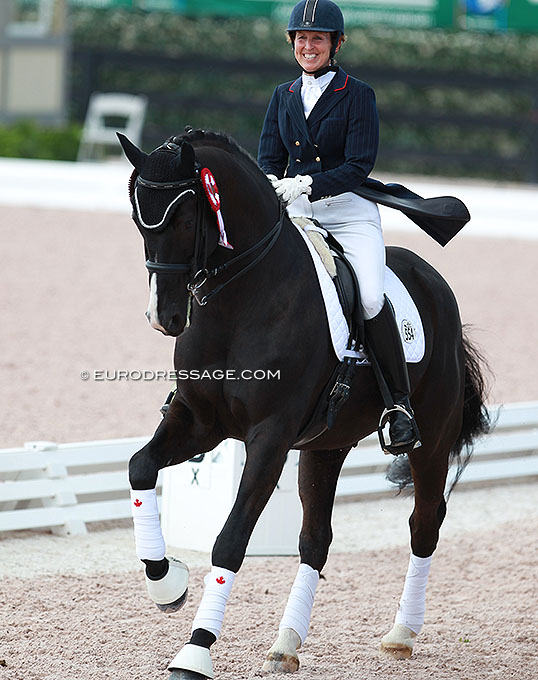 As of 2019 Diane's daughter Vanessa Creech-Terauds began campaigning the black gelding in the Under 25 division. Their first start was in Wellington, and they went on to show in Thornton and Devon. At the latter show they won the Short Grand Prix.
In 2020 Hallmark and Vanessa had their last international season together at the Global Dressage Festival in Wellington. The CDIO-U25 in March 2020 was their final competition in the international arena. 
Retirement
The Creeches have now announced the retirement of Hallmark. He will spend it in the field at Louise Leatherdale's farm in Minnesota. 
"Thank you Hallmark for the past two years together and for everything you have taught me," said Vanessa. "Because of you I was able to make the leap into the open Grand Prix (and quite a leap with a 70% winning the class) and I have loved every moment growing a partnership with you. You will have the most amazing retirement at Leatherdale Farms."
Photos © Astrid Appels
Related Links
Diane Creech Named Dressage Canada's Athlete of the Month for February 2012
Canadian Dressage Talent Hits Big at 2013 CDI Saugerties Sweeping First Place across the Board
Mother-Daughter Duo: Diane Creech and Vanessa Creech-Terauds
Leatherdale Moves Four Stallions to the U.S.A.
Doug Leatherdale Passed Away