F.O.C.U.S.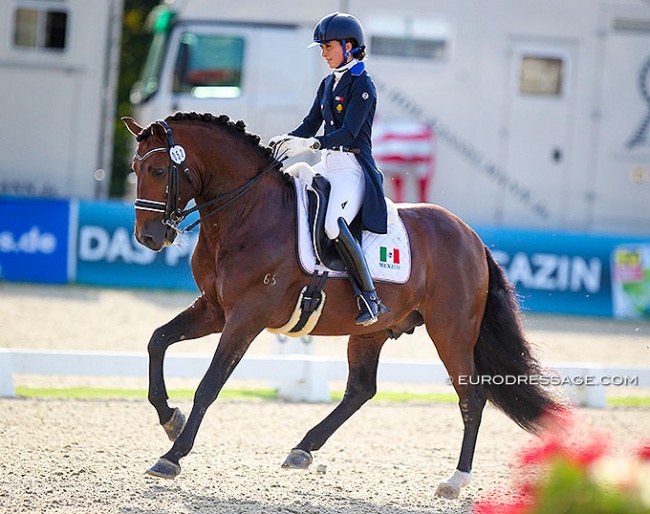 As the highest ranked Mexican rider on the FEI World Dressage Ranking, Martha Fernanda del Valle Quirarte is en route to the Olympic Games in Tokyo on 23 - 28 July 2021. 
In preparation of her ultimate dream, "Mafer" has gone all the way to gain mileage and expertise, using stop-offs in Wellington, Germany and Portugal to fine-tune her partnership with her home bred Grand Prix horse Beduino LAM.
Individual Olympic Spot
In 2019 Mexico obtained an individual slot to compete at the 2020 Tokyo Olympics through the efforts of the country's long-time leading rider Bernadette Pujals. The latter recently moved back to her roots of origin, Spain, and declared for her birth country. Furthermore she has not competed since 2019, which left the door wide open for Martha to claim that highly coveted Olympic spot with current and relevant scores.
The 32-year old Mexico City born rider decided to prepare for the 2020 Games by moving to Wellington and compete at the Global Dressage Festival. With the now 15-year old Lusitano Beduino LAM (by Dardo II out of Queta Van, by Urco), who is bred by her father Juan Jose del Valle Alvarado, she competed in four CDI's in Florida, posting 69.478% as a Grand Prix high score. At the time she had Ton de Ridder and João Sarsfield Fialho as her eyes on the ground in Wellington.
Martha then flew her horse to Germany for the spring months before travelling Tokyo, but Covid-19 came and turned everyone's life upside down. 
Corona Times on Germany
Del Valle had chosen Hof Kasselmann as her base of preparation for the Tokyo Games, but when they got postponed and entirely new plan had to be drafted.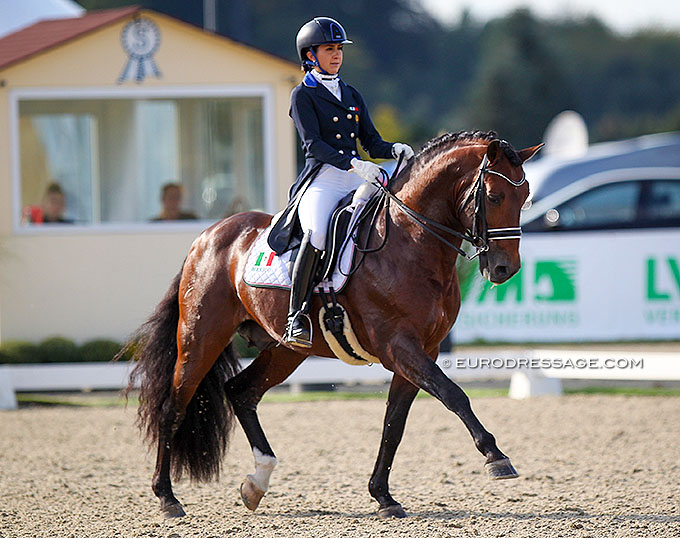 "The plan was to be in Germany for 3 months before going to the Olympics," Martha told Eurodressage. "Then covid came and everything was postponed. I decided that being in Germany would allow me to be in the middle of everything and the showing would be easier. However, almost everything was cancelled, there were lockdowns everywhere and competing was not easy."
Martha decided to stay at Hof Kasselmann, ride her horses and work there for her upkeep. 
"I must say how grateful I am with the Kasselmann family who where always very nice and supportive with us," she said.
Martha competed Beduino at the 2020 CDI Hagen in September in between lockdowns, an achievement in its own right as it was her first ever international competition in Europe. She finished 12th in the Grand Prix on 67.717% in an impressive field of European competitors.  In October 2020 they competed at the CDI Le Mans in France. 
With Miguel Ralao in Portugal
As the corona pandemic continued to run rampant across the globe and the Tokyo Olympics were postponed to the summer of 2021, a new battle plan had to be drafted.  Mafer decided to join her long-time, Miguel Ralao Duarte, in Portugal this spring.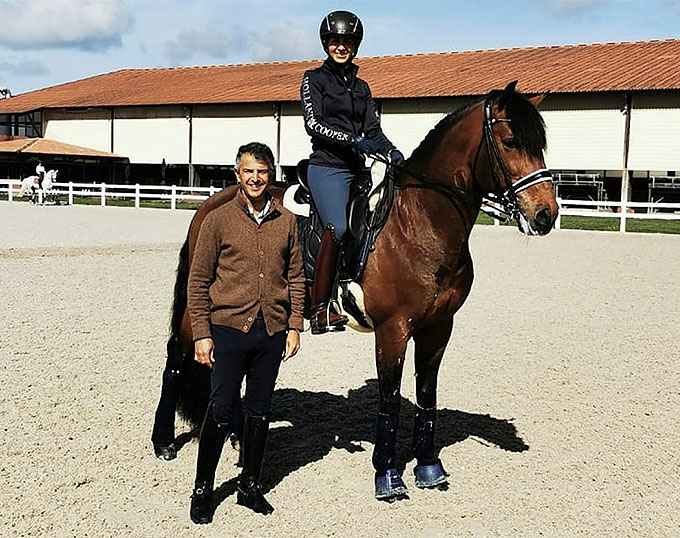 "Miguel has been my trainer the last six or seven years. He used to go to México many times to train us and he always believed in my horse," Martha explained. "He has certainly been very important in my career, not only as my trainer, but also as friend and someone to look up to in so many ways. We wanted him to come to Germany to follow the training but with Covid flying was really a complicated thing all the time, so I decided to move to Portugal so he could continue helping us until the Olympics."
Portugal has that Iberian lifestyle and warmer climate similar to Mexico, so Martha felt straight at home. 
"It's definitely a great experience, I love being here," she added. "I love this country and we feel so welcome here, it's a really nice feeling."
Training for Tokyo
Del Valle is now based at Centro Hipico Beloura in Sintra (POR) with three horses. She brought Beduino LAM, which she has ridden "from zero" to hero "together all the way," as well as the 13-year KWPN gelding and Grand Prix level competed Dynamic RS (by Dramatic x Ferro)n and the 3-year old Lusitano stallion Olimpo MT (by Rubi AR x Campeador), bred by Monte da Tramagueira.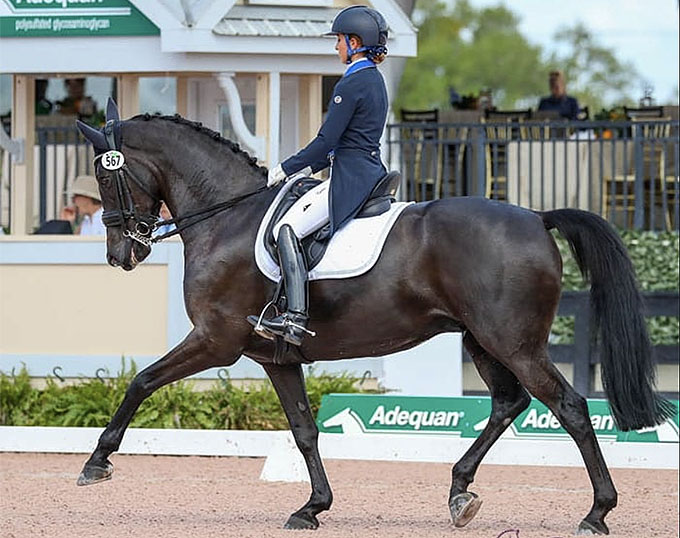 "Olimpo MT is a project I am so excited to start now," she said. "We will see what the future brings but I like this horse so much."
Martha and coach Miguel have gone back to the drawing board, concentrating on the basics and keeping the horses motivated. 
"It's the details that make all the difference," she said. "Miguel adapts the training to what each horse and rider needs. This has definitely been what made a huge difference with Beduino. He allowed us to explore his potential. We work a lot on the basics, having the horses on the aids, and do a lot of gymnastics. All of this keeps the horses motivated and willing to work with us. Miguel is always about listening to the horses, understanding what they need."
Martha has not yet competed in 2021 but is already certain of her nomination for the Games. The Mexican Equestrian Federation closes the MER qualification period in May and, aside from being the highest ranked rider on the FEI list, Martha is the only Mexican to have achieved those required MER scores.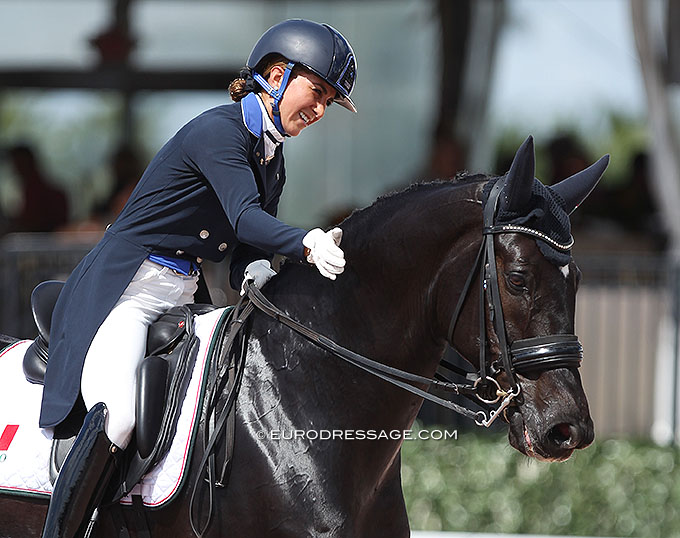 She has her eyes set on the prize, hoping to achieve the best preparation possible for herself and her horse to fulfil that Olympic dream.
"I am really focused on the training with Miguel and looking forward to compete in Tokyo," she said. "I do miss my family, my friends, and my home in Mexico, but I have to say I am so grateful for the experience I am having here. It has been definitely full of learning and growing in so many ways."
Photos © Astrid Appels - Sue Stickle - private
Related Links
The End of the Long Chase for Tokyo Places: Team and Individual Spots Known