2021 CPEDI Mannheim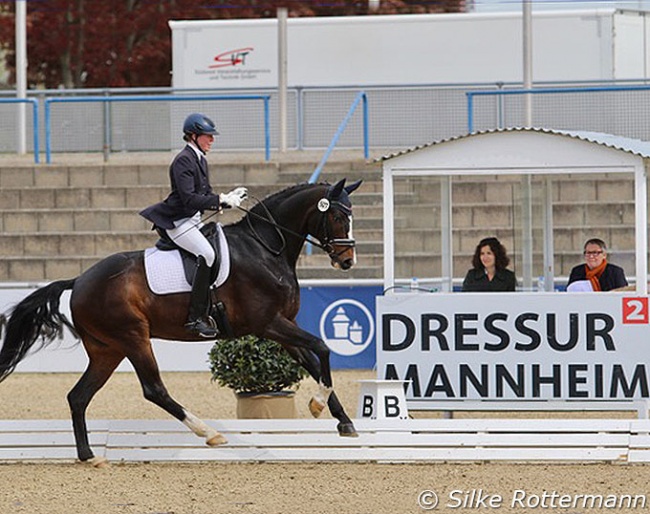 The Mannheim Maimarktturnier "maker" Peter Hofmann, who is well known for his remarkable engagement over countless years as organizer of this traditional spring show, was determined not to let Covid rule out his traditional Maimarkt show a second year running.
While the adjacent Maimarkt Outdoor Fair was once again cancelled, Hofmann succeeded in having all three of his usual disciplines (jumping, dressage, para dressage) held on the show-grounds next to the motorway; not simultaneously, but for health safety reasons one week after the other, with the CPEDI being the last show of three.
Thanks to the commitment of Elke Mattes alongside Peter Hofmann a number of sponsors could be attracted to support the para show which was also backed by the "Stiftung Deutscher Spitzenpferdesport" (German Top Sport Foundation) The fact that it could take place was of special importance this year.

CPEDIs Thinning Out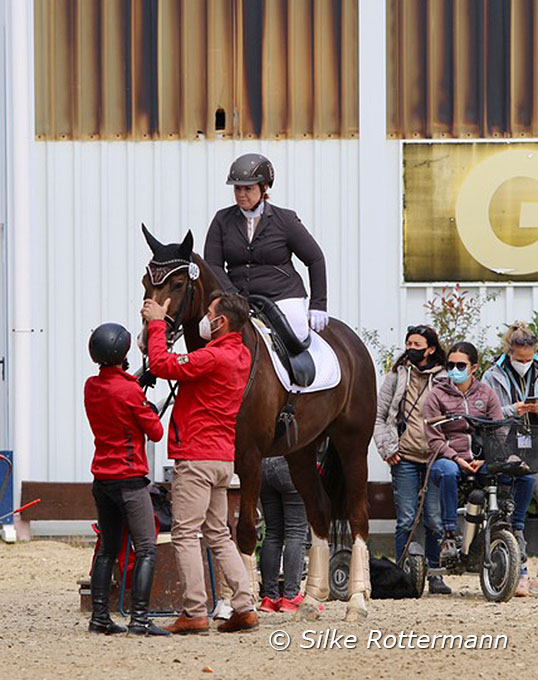 Mannheim in a way saved the day for many of the German Paralympic hopefuls and riders from abroad as the possibilities to contest internationally had became increasingly small after the traditional para shows in Deauville (France) and Stadl Paura (Austria) were cancelled. This leaves Mannheim on the calendar, alongside Munich at the end of May, Kronenberg (The Netherlands) and Grote-Brogel (Belgium) in June as remaining international show to compete in Europe before the Paralympics in Tokyo. 

Twelve nations decided to send riders to Mannheim. Possible German Paralympic candidates Elke Philipp (Grade I), Claudia Schmidt (Grade III) as well as Germany's para legend Angelika Trabert (Grade III) started in Waregem in Belgium two weeks before to make sure to leave a first impression on the international stage in this Paralympic year.
 Trabert and Schmidt reappeared in Mannheim while Elke Schmidt stayed home after promising high placings in Waregem, where she rode her Rio team silver medalist Regaliz (by Rubinero).
Strict Sanitary Protocol
The comparatively little field of riders had one big advantage: It made it easier to stay in check with the strict sanitary protocol with which Mannheim certainly set a high standard.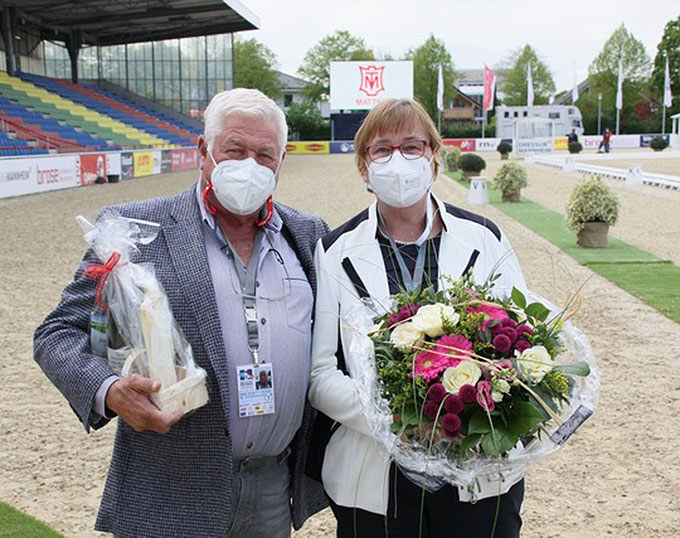 It was obligatory for all participants, may it be riders, trainers or journalists, to get tested daily in a small testing station at the entrance. The whole procedure took about 45 minutes at whole, from getting tested, waiting for the result, paying and getting accredited with a passport, although everybody involved acted very professionally. However ,it is the nature of things that riders, grooms, trainers and last but not least press members try to get on the show-grounds as soon as possible and that this would take its time. While the daily testing surely gave quite a high security that nobody infected would spread the nasty virus during the show, it should not be forgotten that the strict sanitary measures for humans and horses alike caused considerable extra costs for the organizer and also for all participants in this very special season. 

While health security measurements for humans were on a truly high level, the same could be said for the horses regarding herpes virus prevention. Horses had to present a recent negative PCR test on arrival, with a log of documented temperatures days before and throughout the show. Furthermore they were stabled in smaller numbers than usual in the big permanent tents on site.
Peter Hofmann drew a positive conclusion: "The sanitary concept with daily tests for all involved in the show was appropriate and made the show-grounds the safest location in Mannheim these days."
Para Dressage in Mannheim
With the jumpers and dressage riders all having competed the weeks before, para dressage took centre stage in Mannheim on 7 - 9 May 2021.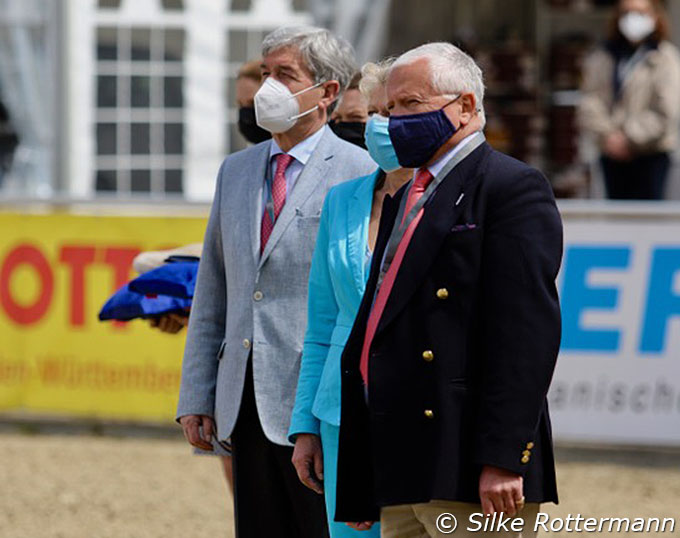 For the very first time since Hofmann integrated the discipline into this international show in 2003, the para riders got the opportunity to compete in the huge and beautifully decorated stadium which hosted the European jumping championships twice so far.
"It was super important for riders and horses because they had to master a completely new situation in Mannheim: To compete in this huge and great stadium, in storm and rain, in the heat on Sunday and with flapping flags,"  German national coach Bernard Fliegl remarked on the additional opportunities arising from being forced to separate the disciplines this year.
Although the numerous small airplanes and helicopters which occasionally took off noisily from the nearby Mannheim city airport, the horses did not bat an eyelid. 
Already missing the hustle and bustle, happy atmosphere of the outdoor fair, which usually attracts many visitors that pass by to watch horses, the empty stands in this big stadium were still a rather sad sight, although CMH covered the classes with live streaming.
A Few Observations
The show kicked off on a rainy Friday with the team test in all 5 Grades, followed by the individual tests on Saturday and the freestyle on the boiling hot Sunday.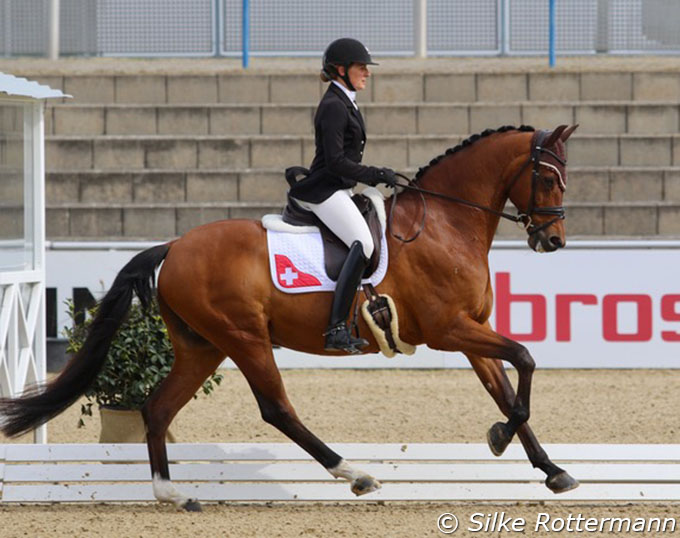 On Saturday, the day I attended the show, the programme started with Grade V in the morning and finished in the afternoon with Grade I. In between the classes there was always a certain time window in which I had the opportunity to leave the stadium for the nearby warm-up ring and observe the different training techniques and different ways of preparations.
First of all: The times when para riders could compete internationally with a Haflinger, a Fjord horse, or an average mover are not only long gone, but now the sport requires the same high quality and big moving horses like in regular dressage competition. Depending on the Grade the rider is competing in, three excellent to outstanding gaits or just a phenomenal walk are necessary. This in turn does not come for free and shows the quandary a few talented para riders are in: The need to have serious sponsorship, personal financial assets, or a generous patron to finance those horses has become considerably bigger.
Para dressage has become much more professional than it was back in the 1990s. Until the Sydney Paralympics 2000 para riders competed on horses of the hosts which were drawn before the competition started. Unthinkable today!


Grade V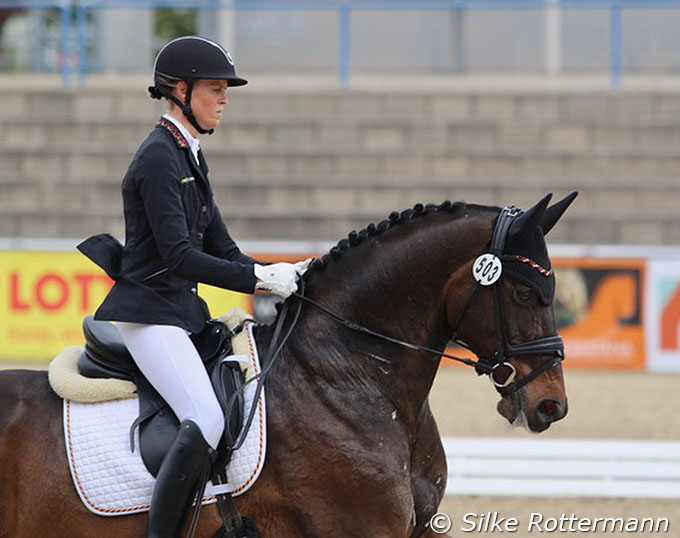 The competition day started with Grade V which is the grade with the highest difficulty test (about M level in regular dressage sport) while the riders have the least restrictions compared to the other four grades. 
They are classified by the FEI according to the severity of their handicap- from Grade I (=more severe handicap) to Grade V (=less severe handicap). The tests for each grade are adapted to the level of the handicap. Riders aren't allowed to compete in a higher grade than they got classified.

German Regine Mispelkamp who suffers from multiple sclerosis and runs her own training and competition stables dominated this grade on the Mannheim weekend with her two horses Look at me Now and Highlander Delight's. The petite and extremely elegantly sitting blonde is not only a trained riding instructor, but also carrier of the German riding badge in gold due to her successes in jumping and dressage at the highest levels and has only began competing in para dressage in 2018.
 Her team debut at the WEG 2018 in Tryon brought her the first individual (bronze) medal on the Rhinelander gelding Look at me Now (by Lord Nobel x Solo Dancer xx). The dark brown is 16 now, but showed convincing form in both classes  in which he started in Mannheum. He came third on the first day, but redeemed himself with a win on Saturday, beating his younger stable mate who won for Mispelkamp on Friday and Sunday.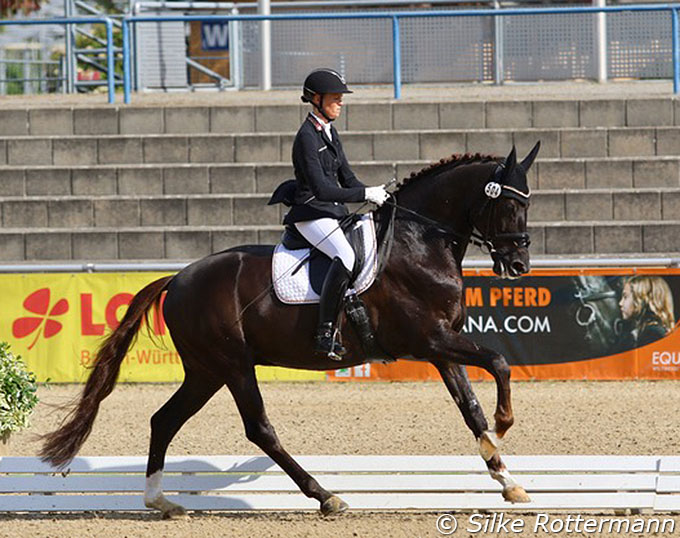 Highlander Delight's is a 9-year old, very dark liver chestnut with burnt red mane and tail, bred in The Netherlands. He is by former young horse World champion Florencio out of a Jazz dam. The horse is brimming with talent and expression and made his debut in international competitions just before the Covid restrictions set in at the beginning of 2020.
 Mispelkamp spent a long time quietly suppling the horse in walk in the warm-up, something hardly to be seen anymore in international dressage competition. 
There was not one bad moment during their whole warm-up, the horse always in an exemplary frame and harmony with his rider. 
In the stadium Highlander Delight's got a bit more animated, but remained beautifully on his rider's aids and impressed with the energetic yet soft fluidity of his movements, over all in all the lateral work.
This pair is certainly one to watch out in the future in Grade V and based on the results to come at the CPEDI in Munich at the end of May may even outclass the much more experienced Look at me Now in regards of Tokyo qualification.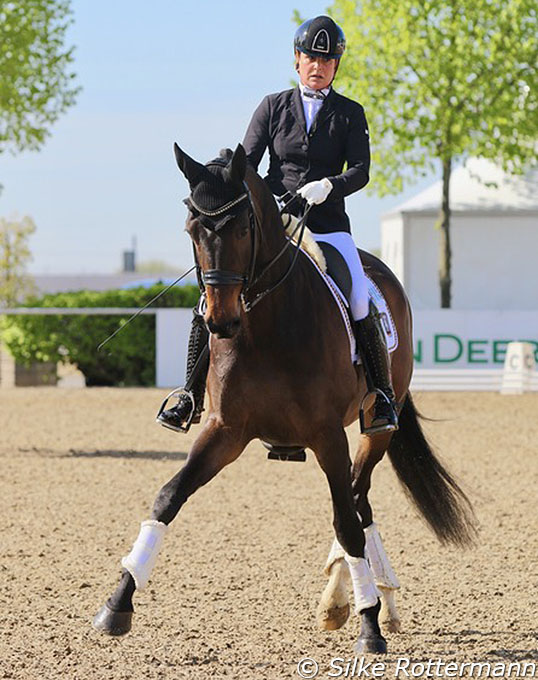 Two other relative newcomers to para dressage competed in Grade V: Isabell Nowak with her mares Fürstin H.B. (by Fürstenball x Rascalino), second on Friday and Sunday behind Mispelkamp and with Fayola Db (by Fahrenheit x Roh Magic) as well as Andrea Lahmeyer on her homebred gelding Quinsam L (by Quarterhall x Stedinger).
 While also in para sport the tendency to sometimes reward spectacular movements cannot be denied, Lahmeyer showed an equitation which put the focus on the horse's relaxation and correctness. Her dark bay Hanoverian was up and open in the frame throughout the ride and developed impulsion correctly from back to front. An error of course and a few flaws in the walk work cost them valuable points on Saturday, but with more experience they are a pair to watch for the future.
Swiss top para rider Nicole Geiger had a satisfying weekend. The double bronze medalist of the 2017 European Para Championships achieved her best placing with a third one on Saturday. Her 16-year-old KWPN Amigo warmed up beautifully under the watchful eye of owner Romuald Kaiser and showed a polished program in which the horse's positive submissiveness and relaxation reigned.
The sole representative of North America, Florida based Cynthia Screnci, achieved placings from 3 to 6. The Lloyd Landkamer Memorial Sportsmanship Award winner of 2020 competed her latest addition, the cute KWPN chestnut Sir Chipoli (by Sir Donnerhall x Carabas) who is one of three horses she competes for her country.
 Screnci, who won the Grade V classes at the CPEDI in Wellington in March on Eragon VF, has first ridden the gelding just weeks prior to Mannheim and they seem to have clicked straight away. 
She sourced the horse through American Under 25 rider Lauren Asher. 
Grade IV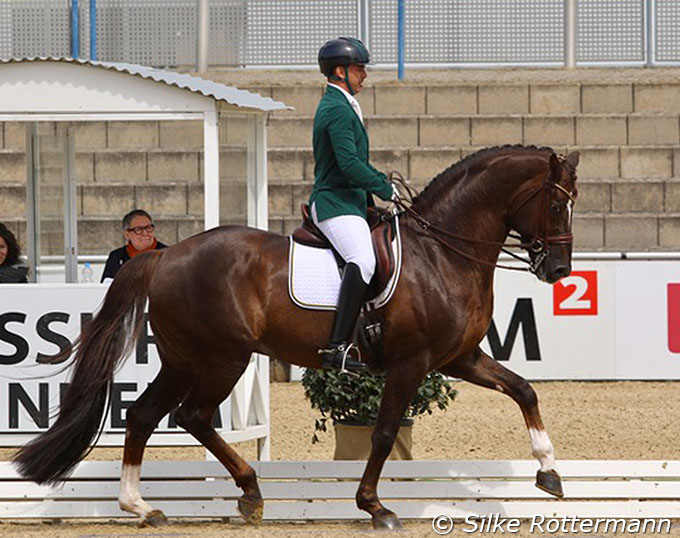 Grade IV was the grade with the highest number of starters in Mannheim. Eight starters from six different nations competed, amongst them the clear favourite, Brazilian Rodolpho Riskalla who has become a popular figure in para sport and beyond and who splits his time between his work in Paris (FRA) and his training stable with Holga Finken in Hagen (GER). After a bacterial meningitis infection hit his life in 2015, resulting in the loss of several limbs, the former Grand Prix rider managed to compete at the Rio Olympics just a few months after and has remained at the top of the sport ever since. The two chestnut half brothers, Hanoverian stallions Don Frederic and Don Henrico (both by Don Frederico), enable Rodolpho to compete successfully at para sport as well as in regular dressage competitions at the small tour level, like recently in Hagen.
In Mannheim the sympathetic Brazilian had a rather unlucky start when he retired his impressive liver chestnut Don Frederic on the first day.
"It was just bad luck, my horse was a bit tense in the ring. After medium canter I felt him being super light because he had put the tongue between the bits which he never did before. But that's life, we learn from it," Rodolpho told Eurodressage. On Saturday the impressive 12-year-old Don Frederico x Wolkentanz offspring was more relaxed and won the class ahead of the sole Dutch rider of the show, Neel Schakel with her tall chestnut gelding Edison. The 12-year-old KWPN could not deny his pedigree of Vivaldi x  Ferro in the big way he was moving and after two 2nd places they won the freestyle with over 76%, in the absence of Riskalla.
After his retirement in the first class, German Saskia Deutz and her dark brown Hanoverian mare Soyala took on the opportunity to secure a probably unexpected win which was followed by excellent 2nd and 3rd places over the next days, riding precise and mature programs.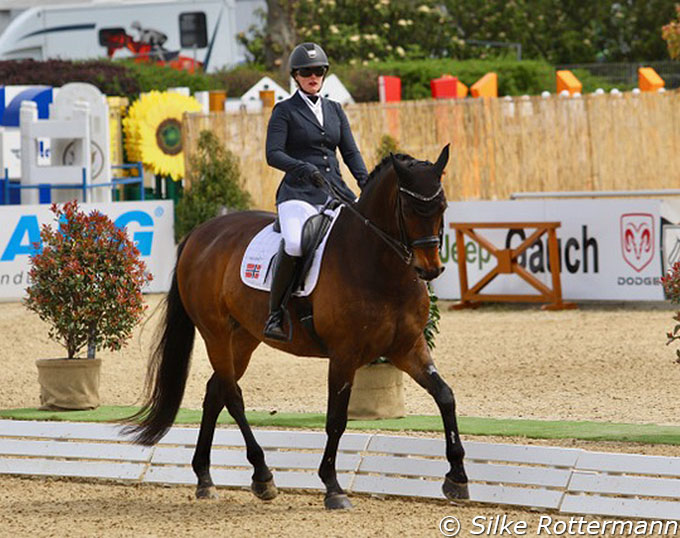 Germany's multiple Paralympic champion Hanne Brenner had probably hoped for more than her two fourth and one fifth place with the elegant and light footed Rhinelander mare Belissima M (by Belissimo x Weltmeyer) who was slightly tense on Saturday and therefore couldn't completely show the positive development she had taken since she first appeared on the para scene.

The two Scandinavian riders in this grade, Norwegian Hege Störseth and Swedish Louise Etzner Jakobsson had different luck. While Störseth and her dark brown Danish gelding Honnerups Force (by the Grand Prix winners Romanov x Midt West Ibi Light) two times reach the top three with 3rd places, Etzner Jakobsson's KWPN gelding Goldstrike was eliminated. The double bronze medalist from the Rio Olympics and the dark brown by Dreamcatcher x Jazz are a comparatively new pair together and warmed up beautifully on Saturday, so the gelding's spooking even before the first halt was doubly regrettable. However, that's horses and there will come another opportunity for them, hopefully soon.
Grade III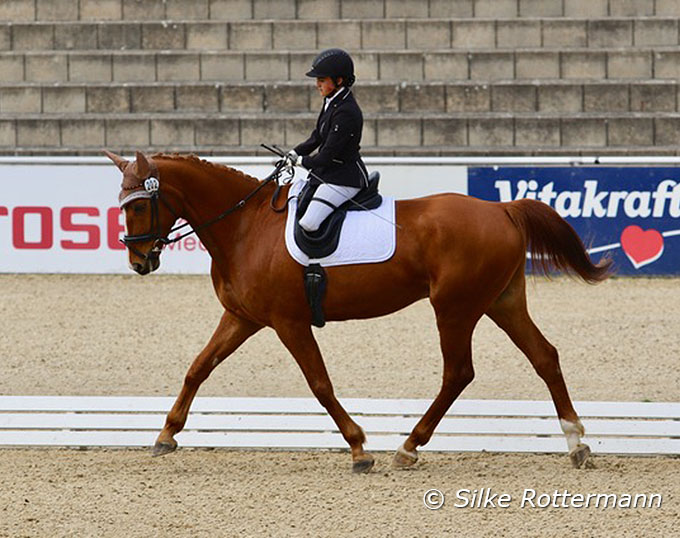 Grade I to III differ from Grade V and IV not only regarding the movements and gaits ridden but also in the severity of the riders' disabilities, as well as in two more aspects: Firstly the horses are allowed to be warmed up within a strict time limit by the trainer before the rider mounts them. Secondly there is the possibility to have a so-called "friendly horse" to stay outside the ring to have a calming effect on the horse inside the ring. In Mannheim it had been Grade II rider Julia Porzelt's Bruno and Andrea Lahmeyer's Quinsam L who had the responsibility of being the "friendly horses"—-a job they did just as well as competing.

Grade III saw a small field of four starters of which three were Germans. Multiple Paralympic medalist Steffen Zeibig and his very experienced 17-year-old Hanoverian mare Feel Good lived up to the horse's name and won two out of three classes. The highly elegant Arogno grand daughter, owned by Gut Auric in Krefeld, showed all her routine and that she is still loving the game. Only in the freestyle Claudia Schmidt on the 15-year-old former small tour horse, the purebred Trakehner gelding Rosso by Connery x Anduc was able to beat Zeibig by a hair's width. Mannheim was only their second show together after a successful first outing in Waregem.

German para legend Angelika Trabert who won three medals at the 2012 Paralympic in London showed her relatively new ride, the only 7-year-old Hanoverian mare D'Agustina (by Don Juan de Hus x Dauphin) whom she had already ridden at the Belgium CPEDI a few weeks earlier. With a 2nd and two third places the liver chestnut showed her potential, but also that she needs more maturity to fully live up to it.
Grade II and I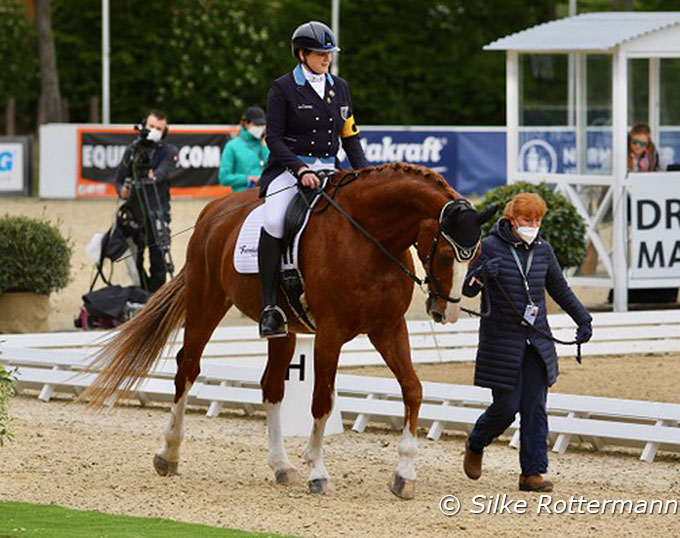 Grade I was dominated by the Scandinavian riders Katja Karjalainen from Finland and Danish Tina Jensen Ljumström Chabert who shared the places 1 and 2 in turns.
Karjalainen is Finland's most successful para rider of the past years and her now 18-year-old Hanoverian gelding Dr. Doolittle (by Don Primero x Grand Cru) has accompanied her to numerous championships, including the Paralympics in Rio. The solid strong boned and tall chestnut fits his blind rider very well and knows his job inside out, walking like a metronome, earning him a win on Saturday and two second places on the weekend.
A different type of horse is Tina Jensen's 12-year-old Danish stallion Skovens Rosselli (by Romanov x Solos Landtinus) who's a modern, refined looking bay with an equally big, regular and rhythmical walk.

As expected Grade II was dominated by former Olympic eventer Pepo Puch who starts for Austria, but lives and trains with his Swiss wife near Zürich. He has been competing in para dressage since his accident while competing in eventing.
 Puch's horses, no matter which one in the past ten years, always stand out with their beautiful training and the correctness in which they execute their programs, earning Puch wins, titles and medals in series.
It was no different in Mannheim where Puch had chosen to compete the Hanoverian Fürst Chili (by Fürst Romancier x Rotspon), his second and probably equally good horse besides Sailor Blue. The Hanoverian gelding executed precise programs in a beautiful frame and contact.
Another outstanding Hanoverian (liver) chestnut placed second behind the entire weekend: La Boum, an 8-year-old mare by Londontime x Crazy Classic whose talent and harmony with her rider Heidemarie Dresing could equal those of the first placed. Both form an eye catching pair.
 Dresing already had a very successful weekend before in Waregem where she also took three 2nd places with her more experienced horse Responsible for Me (by Royal Blend).
Two upcoming young German riders, Julia Porzelt with the Breitling W-offspring Bruno and Gianna Regenbrecht with the liver chestnut Westfalian mare Selma Stromberg (by Soliman de Hus x Florestan I) shared the next places over the three days of competitions.
 

Looking towards Tokyo
Mannheim also held a Nations Cup during the CPEDI. This year only two nations, Poland and Germany, sent complete teams. So the Nations Cup went to the host nation with Heidemarie Dresing / La Boum, Steffen Zeibig / Feel Good, Saskia Deutz / Soyala and Regine Mispelkamp / Highlander Delight's well ahead of Poland with Dominik Ast / Femme de Macho, Maciej Bigaj / Liverpool and Magdalena Cycak / Sybilla.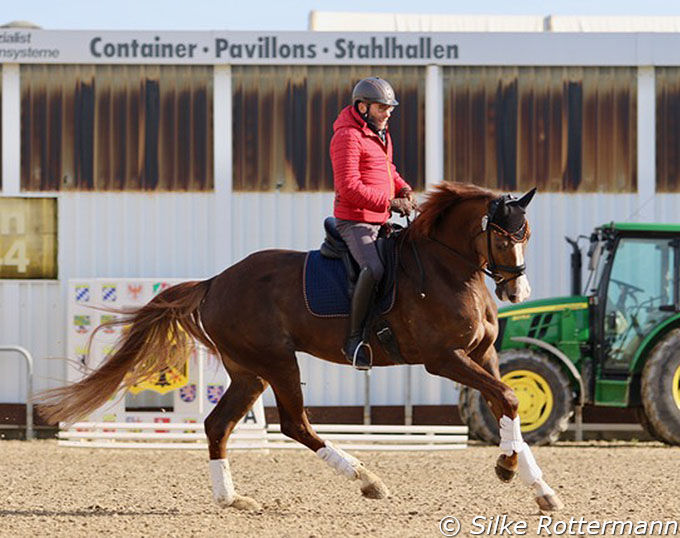 "
We are obliged to thank Mannheim very much that they pulled this show through," German national coach Bernard Fliegl explained and expressed what many were thinking, also with regard to the upcoming Paralympics in Tokyo in late August.
Four riders per qualified nation are allowed to be nominated and start as individuals in Tokyo of who three need to be named for the team competition. 
The strongest para nations at the moment, Great Britain, The Netherlands, Denmark and the USA, will all meet each other in Tokyo.
Japan promises exciting para dressage competitions as the level of the sport is ever rising. However, an uncertainty will remain the expected hot and humid weather conditions and how horses and riders will deal with them.


Text and Photos © Silke Rottermann for Eurodressage

Quotes from official Mannheim press releases