The Netherlands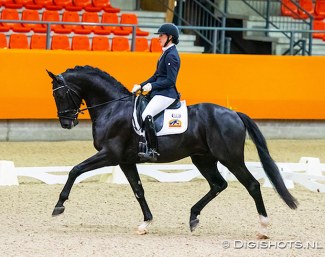 The Dutch Equestrian Federation has announced the horses that are eligible to move on to the second Dutch team selection trial for the 2021 World Championships for Young Dressage Horses in Verden, Germany, on 26 - 30 August 2021. 
The Dutch NF and KWPN society held two selection "moments" before the first observation trial  on 19 - 20 May in Ermelo. 
A group of 24 five-year olds, 20 six-year olds and 14 seven-year olds have been selected for the second trial on 21 - 22 June, where 12 horses will be picked per age group. The final selection will be made on 19 - 20 July. 
Invited to the second selection trial are:
5-year olds
Adelinde Cornelissen - Luqiedo (by Aqiedo)
Adelinde Cornelissen - Lloyd (by Governor )
Aitor Escamilla Bravo  - First Lewis (by Ferguson)
Beni Pachl - Hexagons Luxuriouzz (by Johnson)
Charlotte Fry - Lantanas (by Sir Donnerhall)
Curro Benitez Sanchez - Lord Platinum (by Ferguson)
Curro Benitez Sanchez - La Luce (by Glamourdale)
Curro Benitez Sanchez  - Le Grand Ayden Hb (by Grand Galaxy Win)
Dinja Van Liere  - Labarron (by For Romance
 Dinja Van Liere -  Leonidas (by Trafalgar)
Emma Laarkamp  - Lexus O (by Fürstenball)
Franka Loos  - Las Vegas (by Ferdeaux)
Gerdine Maree  - Levinus (by Dream Boy)
Gerrel Vink  - Livius (by Bordeaux)
Jeanine Nieuwenhuis  - Liverpool TC (by Toto jr.)
Jill Bogers  - Lennox W (by Grand Galaxy Win)
Kirsten Brouwer. - Lightning Star Rr (by Ferguson)
Kirsten Brouwer -  Lennoxwaard (by El Capone)
Lisanne Veenje  - Crystal Jede (by Alwin 469)
Marije Van Kersbergen  - Lakewood Tarpania (by Charmeur)
Nicky Snijder -  L'Unique Sth (by Boston)
Renate van Uytert - van Vliet  - Ladignac (by Zonik)
Robin Heiden. - Lakewood (by Jazz)
Saskia Van Es  - Lord Romantic (by Don Romantic)
Marielle Spierings - Linskymorijke (by Negro)
6-year olds
Antonio Laiz Zandio - Kevin Costner Texel (by Negro)
Bart Veeze  - Kyton (by Ferguson)
Charlotte Fry  - Kjento (by Negro)
Chiel Van Bedaf  - Key-West Texel (by Toto JR.)
Diederik Van Silfhout  - Kyando (by Arlando K.)
Dirk-Jan van de Water. - Konfucius (by Charmeur)
Emmelie Scholtens -  Koning (by Governor)
Femke De Laat  - Kind Pleasure (by Governor)
Hans Peter Minderhoud -  Kardam's Whisper (by Toto JR.)
Jeanine Nieuwenhuis - King van het Haarbosch (by Spielberg)
Jessica Leijser  - Kashmir (by Glamourdale)
Judith Ribbels - Kunz (by Ferguson)
Marieke Okkema - Eppinga - Wibout (by Thorben 466)
Marieke Van der Putten - Keano (by Governor)
Maxime Osse  - Duval's Kapri Son (by Capri Sonne Jr.)
Miranda Rongen - Kir Royaal O (by Desperado)
Nicky Snijder - Knight Rider Sth (by Wynton)
Rosalinde Heck - Karanto-Pomona (by Negro)
Thalia Rockx - Koko JR de La Fazenda (by Toto JR.)
Thamar Zweistra - Hexagons Kaygo (by Capri Sonne Jr.)
Lotje Schoots - Kingdance (by Expression)
Jose Kouwenhoven - Verhoef -  Kasanova (by Lord Leatherdale)
Marieke Van der Putten - Kuvasz (by Glamourdale)
7-year olds
Bennie Van Es  - Tizian fan Ass (by Epke474)
Eva Van der Linde  - Jerenzo Texel (by Enzo Ferrari Texel)
Febe Van Zwambagt  - Jillz Lonka Rt (by Sir Donnerhall)
Kim Noordijk  - D´Joep (by Desperado)
Kimberly Pap  - Just A Dream (by Dream Boy)
Liesbeth Geven  - Jamaica (by Jazz)
Marieke Van der Putten  - Jameson v Blue Hors Zack)
Marijn Van Dijk  - Journalist (by Charmeur)
Nicky Snijder  - Jongleur Sth (by Expression)
Nicky Snijder. - Joyful-Sth (by Boston
Renate van Uytert - van Vliet - Just Wimphof (by De Niro)
Renate van Uytert - van Vliet - Johnny Depp v Bordeaux)
Saskia Van Es - Jaccardo (by Desperado)
Theo Hanzon  - JFK (by Forty)
Diederik van Silfhout  - Johnson's (by Sir Donnerhall)
Kimberly Pap - Jersey H (by Vivaldi)
Related Link
Eurodressage Coverage of the 2021 World Championships Young Dressage Horses