Horse Sales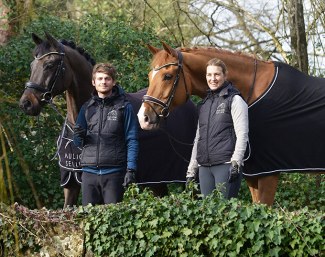 French Grand Prix riders Camille Judet Cheret and Corentin Pottier are the driving forces behind Pamfou Dressage, a family-run gobal dressage training and sales centre near Fontainebleau, France.
Founded by international 5* judge Isabelle Judet and her husband Jean Claude Cheret, Pamfou Dressage has been managed by Camille and Corentin for the past eight years. While dressage training is the core business, the scouting, development and sales of dressage horses has taken up a central position in the daily runnings. 
Training and Sales
Camille and Corentin have been member of the French national dressage teams from pony level to Under 25. The French Equestrian Federation has now placed both riders on the Olympic list for Paris 2024. 
Both saw the importance of obtaining an academic degree alongside their riding to weapon themselves for their professional careers in the future. Camille studied Politics and International Relations in Sciences Po Lille and at the University of Kent, UK, while Corentin got a degree in corporate finance from University Paris Dauphine.
Camille began selling dressage horses as a "hobby" while studying. She quickly got an appetite for more, loving the challenge of finding the perfect horse and rider match. "There is so much satisfaction in pairing up a new happy combination," said Camille. 
The sales leg of their business has become a joint effort as Corentin usually test rides the horses, while Camille works on videos, the promotion on social media and the internet, and establishing contact between buyers, sellers, and veterinarians. 
Holistic Approach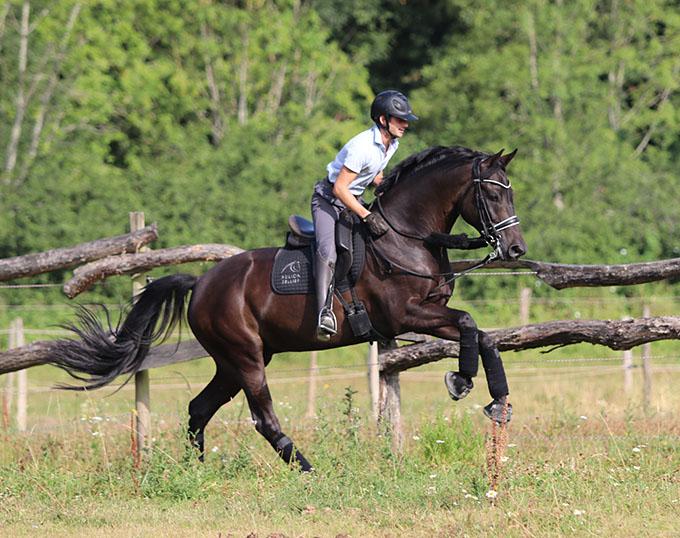 Pamfou Dressage runs their training and sales with a holistic approach: the scouting, training, promotion and sales of the horses are all intertwined. 
"We focus on hand picked horses available for sale in France," Camille explained. "All horse are being test ridden by our team before they are offered for sale. It is essential to us to ride the horses ourselves before recommending them to any client. Some of them we have in training in our stables, but we also offer horses from other professional or amateur riders throughout the country. X-rays are available for each horse and, as much as possible, we provide a detailed history and show record of the horses."
Rideability is a Priority, Transparency is Key
The key to their success as horse dealers is that Camille and Corentin aim to find horses with great rideability. A good character and willingness to work are the foundation on which a good dressage can be trained. 
"Character is the most important aspect," said Corentin. "We direct our attention to the horses' potential and quality of training and we try to offer horses in all price ranges, from foals to youngsters to Grand Prix horses, suitable for amateur rider, young riders, professional riders aiming for top international sport. We pay attention to breeding, conformation, gaits and of course health."
Camille rung in, "our key word is transparency ! Transparency about price. Transparency about vet check. Transparency about the horse's level of training. Our goal is to create long term contacts around the world and aim for 100% satisfied clients. We strongly believe it takes twenty years to build a reputation and one bad sale can ruin it. In each and every deal, we keep this in mind and try to make the best choice possible for our client. Of course, we work with a living animal and don't always control everything, but our philosophy is to move forwards with a sale if and only if we believe in our hearts it can work out for both parties, horse and rider. We always share all the informations we have on a horse because we know how important it is as a rider to know your horse inside out. "
International Network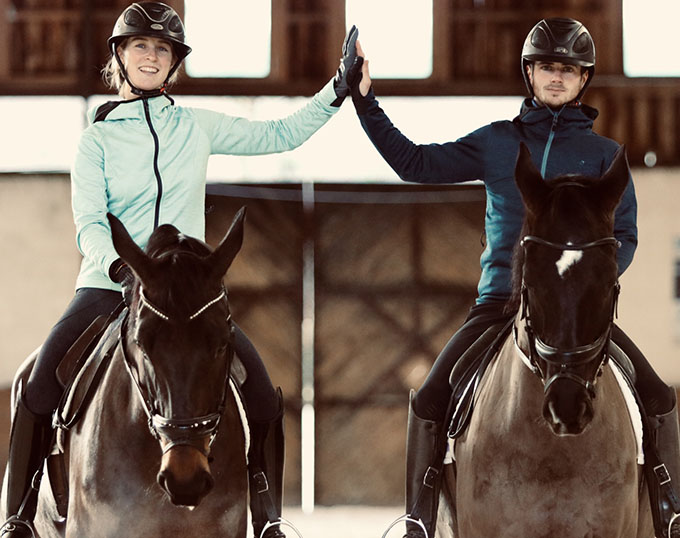 Pamfou Dressage has now exported horses world wide with happy customers in Korea, Singapore, Thailand, South Africa, Canada, USA, Mexico, Sweden, Greece, Luxembourg, Switzerland, United Kingdom, Russia, Spain, and many more.
"We work very closely with the best veterinarians, laboratories, transport companies to make the experience of buying a horse just as easy and smooth as possible," Camille confirmed. "Each horse sold is a new adventure, not only from equestrian perspective, but also from a human level. We love meeting people from all around the world who share our passion for horses and dressage. We like to organise a nice horse shopping trip, with comfortable hotels and friendly dinners to get to know our customers better and welcome them warmly in our country. After the sale, we usually keep in close contact with our clients and love to follow their journey with their new horse."
Judet Cheret and Pottier also arrange shopping trips for customers from abroad who don't like to drive thousands of miles across Europe to be disappointed on the long journey. Instead they bring together a group of sales horses, that potentially match the requirements of the client, to one location at their yard, just one hour from the Paris airports.
"Last month, we gathered no less than 15 horses from 10 different professionals in our own stable for an Asian trainer to test ride during a horse shopping trip in Europe. This type of reunion was of course very comfortable for our client who waisted no time driving around. He tried a large number of horses in a record time."
Bought Sight Unseen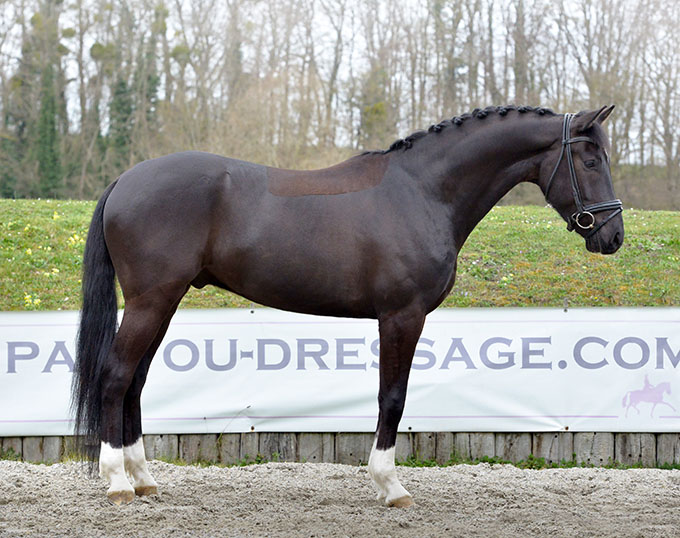 In light of recent corona pandemic and the global difficulty to travel, my horse shoppers have refrained or been able to travel abroad to test ride horses and have switched to buying horses sight unseen. Pamfou Dressage saw an opportunity in the market for sales "sight unseen."
"In these corona times the sales sight unseen have multiplied," Camille explained. "To make this possible, we produce as many videos as necessary to answer all of our customers' questions. We make several training videos with different riders, indoor and outdoor, hacking out, longing, grooming, the vet check.  We are fully aware that buying a horse is a very important decision and a big financial investment. We want our clients to be totally convinced when picking a horse and are prepared to spend as much time as necessary on presenting the horses we offer for sale."
Testimonials
Pamfou Dressage has knitted a global network of clients stretching out to North America and Asia, where happy customers enjoy their horses sourced in France. 
"Camille was super responsive and came up with three amazing horses on short notice," said American buyer Renee. "They all had recent X-rays. This was the first time where the seller's information was listed on the sales receipt so they knew exactly what and who I was paying. This is something the US Equestrian Federation recommends to protect the seller and buyer. Camille also gave supportive and encouraging words when I updated her about my journey with Vinnie."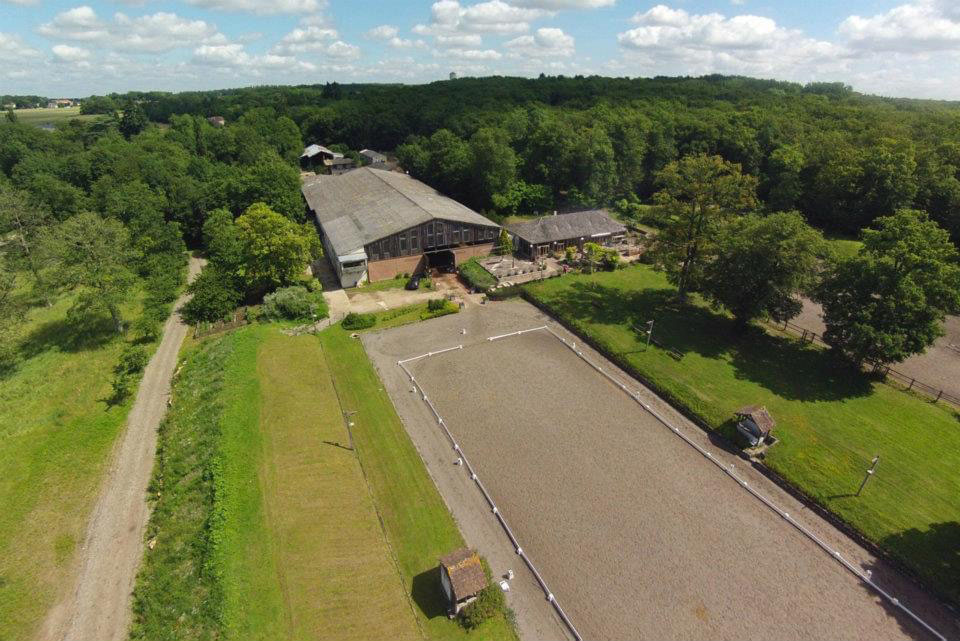 Jutta, a licensed professional from Germany with a dressage business in Pennsylvania, USA, explained that, "buying a horse can be an exciting but equally challenging time in the life of any enthusiastic horse person. Importing a horse can be an even more daunting and overwhelming experience especially during the time of a pandemic, where it is not possible to go see and ride the horse in person to find out if this has the potential to be a rewarding long term relationship. I contacted Camille initially through Facebook and it proceeded from there. She was professional, highly responsive to all my questions, and sent me videos of the horses she had available. I requested to see additional footage to show certain elements and movements from the horse for which I was most interested. I had it within a day or two.  We decided to move forward with the purchase of a 5-year-old KWPN gelding. Camille offered to have the PPE videotaped. She was forthcoming, and at this point, I had developed an excellent business relationship with her and trusted her fully. Our new horse passed the PPE.  Pamfou Dressage organised the shipping to the airport and additional blood testing needed for international travel. Our new equine partner arrived at our facility happy and healthy. He is what we were looking for, and exactly how Camille described him to be. We are very happy with him and are looking forward to the future with our new equine partner. We are currently in the process of purchasing another horse from Camille for one of my clients."
Therecia from Singapore confirmed the same experience. "I'm super grateful to Pamfou Dressage for matching me with my beautiful and super talented partner Cicero. It was a good leap of faith in trusting their judgement and professionalism in their selection of horses for me, despite not being able to travel. They clearly delivered."
Vivian and Kayla from Singapore are thrilled with the whole sales process that Pamfou Dressage provided. "They helped us select the most amazing horse for our 12 year old daughter. Buying a horse can be stressful, let alone buying one sight unseen from so far away. Camille has made this experience such a positive one. From selecting to shipping. She handled everything perfectly. She was always open and accommodating to all our concerns and questions. She tirelessly provided custom made videos that in the end really convinced us that the horse she picked for us is indeed a good match for our young daughter. We couldn't be happier."
Get in Touch 
Follow Pamfou Dressage on Facebook and Instagram, or subscribe to their Youtube channel, where most horses for sale are listed. 
"Feel free to contact us with your specific request as some horses are not listed online and new ones come in regularly," said Camille with a smile. 
For more info: