2021 CDIO Compiègne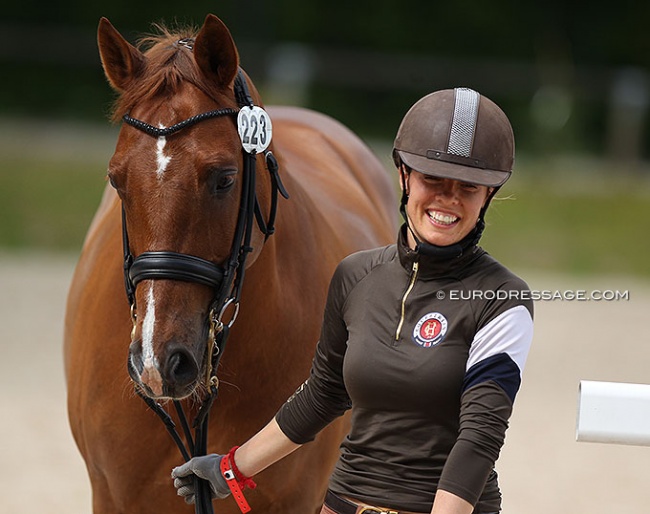 For the first time in nine months I'm back at an international dressage competition outside my home country Belgium. The last foreign event I covered was the 2020 European Youth Championship in Budapest when entire Europe had the impression that the corona pandemic was waning. WRONG !
Lockdown 2 came and social and sport life were literally locked up until early spring of 2021. USEF did not want to give press admission to their American CDI's so I had to wait until the 2021 CDI Sint-Truiden in April to cover my first international again. I was a lucky hattrick at the start of the 2021 show year as I covered three internationals in Belgium, all within a 50 km radius from my home (Sint-Truiden, Opglabbeek, Grote Brogel).
Compiègne Mon Amour
But nothing beats Compiegne. I have been attending this event, I think, 9 times so far, religiously ever year since 2012, having only missed the inaugural event in 2011. I don't like to name favourites because there are so many incredible shows, but it is no secret that I have a personal favour for this French show. Set in the most gorgeous, green equestrian park in the historic French town of Compiegne (where the armistice of World War I was signed!), this event is just fabulous in so many ways.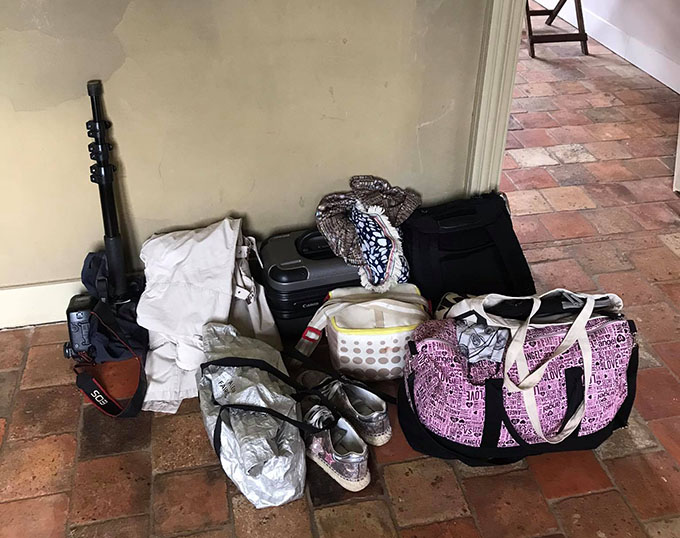 In 2020 the show was cancelled due to the onset of the corona pandemic and this year the event is held behind closed doors, but very little is to be noticed of that with a trade fair set up and even more catering than ever before to service the riders and staff as France has a 21 'o clock curfew where all restaurants and bar close. It's early dinners or eating at the show this time. 
Buzzing with Excitement
Yesterday and on Tuesday riders were flooding social media with photos and videos of their arrival. I told my Spanish colleague Lily Forado that I couldn't wait to get there and has a serious case of FOMO, Fear of Missing Out. Especially when the weather forecast turned out to be fabulous - dry and 20 C° - and the master list revealed some of Europe's best riders attending as the show has been marked as an Olympic qualifier, I was bopping in my seat and decided to pack early and be organized.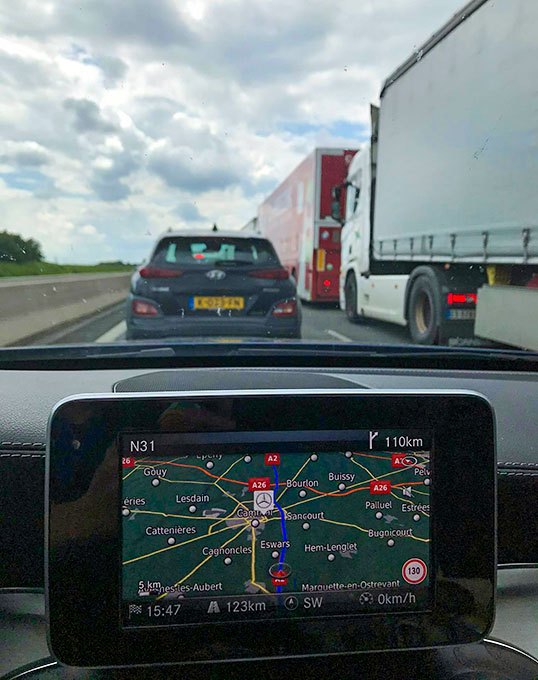 I gathered all my stuff - cameras, computer, clothes for all weather conditions, just in case permafrost or rain sets in. The only type of weather I'm not prepared for is a heat wave, but I did bring sun screen. As I looked at the pile of stuff on the floor I felt a bit embarrassed that I was taking so much stuff, for just 3 days. 
I also decided last minute to have two tyres on my car replaced as I had driven the profile off the rubber and I wanted to drive to the show in a safe vehicle. My local garage is about 4 km from my home and they always lend me a bike to drive back and forth to the garage. This morning I really struggled to make it up the hill to the garage, those pathetic 4 kilometers into the wind. I arrived at the garage, dead ! Totally out of breath, my heart racing and gasping for air. Gosh, the lockdown has hit my stamina hard. I didn't gain any corona kilos but my endurance level has been reduced to zero. 
Horse inspection on the go
The drive to the show went fine with two road constructions adding 10 minutes to my planned driving scheduled. Each time when I drive to France I realise how beautiful this country, especially now in spring.. The rolling hills, the vast fields with grain crops, the Somme valley, so gorgeous that it makes you forget it was there, where a WWI massacre took place. So much history in France. I love driving as it's my meditative moment. No moment better than driving to sort one's thoughts, mull them over, discard ideas and brood on new plans for the future.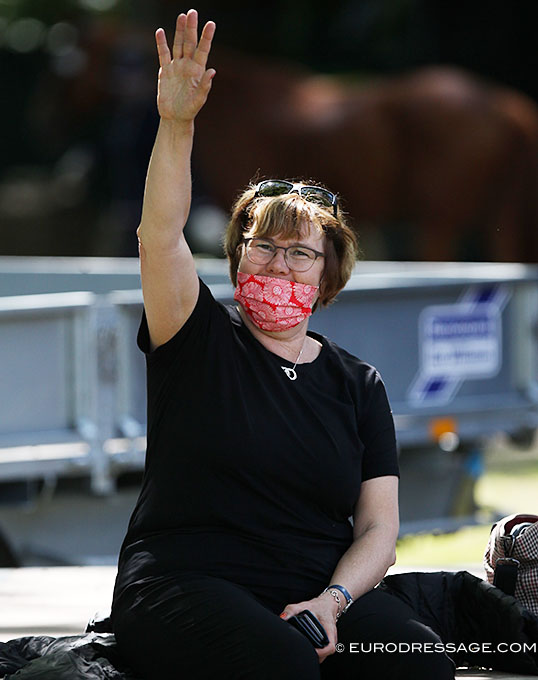 I parked my car in the usual spot at the show grounds and saw that the horse inspection was in full swing. I had to change clothes immediately as my winter outfit with winter shoes, jeans and cashmere sweater was so overdressed for the sunny spring temperatures in France. I pulled off my jumper and just put on a wrinkled rain jacket over a shirt. That'll do for that. Tomorrow I'll make more of an effort to look decent. 
I photographed the young riders; small tour and 3* big tour horses at the jog, while chatting with some judges and friends. I was disappointed to see how few riders make an effort to present horses in braids. Most horses just looked plucked from the box, hair flying all over the place. They looked dishevelled and the carelessness about detail, beauty and presentation is a very sad developent. Can you imagine an eventing trot up the way dressage riders do it. It would be an outrage.
That being said, I was immediately in the flow of the show and can't for the competition to start tomorrow. After the jog I walked to the press centre to get my accreditation and wristband and watched some of the training in the main stadium, before heading out and catching an early tapas dinner in town.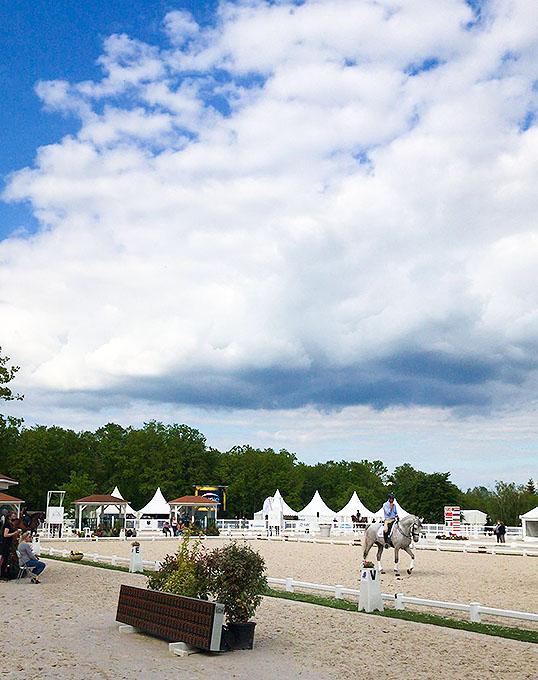 Then it was back to the hotel to edit, select and organize photos non-stop. It was 0h15 h when I finished doing that and still had to write this blog and upload the photos (for the record, I finished working at 1h27). It is sometimes exhausting knowing that it will take at least another small hour to upload all the photos in a gallery. Where are the old days when I was 18 and didn't need any sleep? I used to work until 4 AM to get up at 6 AM and start the show.. Now, twenty years later, I feel like a zombie past midnight.. but I persevere. At least I still have that stamina left in my body, even though I admit I hate proof-reading and often post articles full of typos. My bad!
-- Text and Photos by Astrid Appels - NO REPRODUCTION ALLOWED
Eurodressage was on the scene at the 2021 CDIO Compiegne and we try to photograph all riders from ponies to Grand Prix. If you are interested in prints or photos for social media, send us an email with your name.