2021 Bundeschampionate Qualifier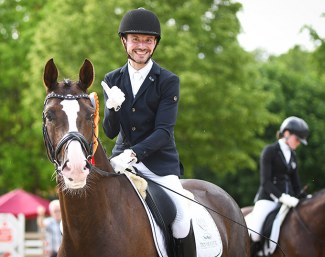 Zenturion, Bellissimo's Bob, Bon Voyahe and Sir Graditz became the winners of the Bundeschampionate qualification classes held at the regional shows in Riedstadt and Moritzburg the past weekend. 
Wolfskehlen: Zenturion and Bellissimo's Bob
At the regional dressage show at the Burghof stable in Riedstadt/Wolfskehlen, the 5-year old Zenturion and the 6-year old Belissimo's Bob took highest honor. The Bundeschampionate qualification classes were ridden on 5 June 2021. 
In the 5-year class, Stefanie Lempart rode Michael Wiedmann's Wurttemberger stallion Zenturion (by Zalando x Rubin Royal) to the top of the board. 
Steffen Frahm and Ulrike Gasser's Hanoverian gelding Dancing Rocket (by Dancing World x Hofrat) were the runners-up with XXX, while Mariusz Kihm and Petra Hoffmann's Hanoverian gelding Filandro (by Finest x Rotspon) finished third with XX. 
In the M-level dressage horse test for 6-year olds Italian Rocco Di Pierro and Petra Wessels' Oldenburg gelding Bellissimo's Bob (by Belissimo M x Delatio) reigned supreme. Judges Stitz, Symader and John rewarded the duo with 8.5 for walk and trot, 8 for canter and submission and 8.5 for general impression. Di Piero, who bred the gelding together with his wife Marsha, placed first with 8.30 points in the horse's first ever M-level test.
Birgit Hild and Josef Kathmann's Oldenburg stallion Lexicus K (by Licotus x Davignon II) tied in second place on 8.0 with Hannah Rother aboard the French owner Golden Romance Malleret PF (by Governor x Sir Donnerhall). Lexicus received 8.5 for walk and trot, 7 for canter, and 8 for submission and general impression, while Golden Romance Malleret PS received 8 for walk and canter, 8.5 for trot, 7.5 for submission and 8.0 for general impression. 
Mortizburg: Bon Voyage and Sir Graditz
The smaller qualifier at the state stud in Moritzburg was a clean sweep for Susann Göbel who won both the 5 and 6-year old division. 
The trophy in the 5-year old class went to Göbel aboard the state stud owned stallion Bon Voyage (by Bon Coeur x Rohdiamant) with an 8.0 score. The dark bay stallion got 7.5 for walk, 8 for trot, 8.5 for canter, and 8 for submission and general impression. 
She also swept the 6-year old category with the state stud stallion Sir Graditz (by Sezuan x Sir Donnerhall) on an 8.1 final score. The aptly named Sir Graditz scored 7.5 for walk, 8.5 for trot and canter, 7.5 for submission and 8.5 for general impression. 
Photo © Nau Fotografie & Webdesign
Results - 2021 Bundeschampionate Qualifier - Riedstadt
5-year olds
1. Zenturion (by Zalando / Rubin-Royal) - Lempart,Stefanie - 8.00 8.50 7.50 8.50 --- 8.10
2. Dancing Rocket (by Dancing World / Hofrat) - Frahm,Steffen -  8 8 8.50 7.50 8 --- 8.00
3. Filandro (by Finest / Rotspon) - Kihm,Mariusz - 7.50 7.50 7.50 7.50 7.50 --- 7.50
3. Mattheo (by Morricone I / Dancier) - Klenk,Sabine - 7.50 8.50 7.50 6.50 7.50 --- 7.50
5. Dein Freund (by De Niro / Sir Donnerhall) - Laier,Leonie -  7 7.50 7 6.50 7.50 --- 7.10
6. Beyond Two Souls (by Bon Coeur / St. Moritz Junior) - Kühler,Corinna - 7.50 7.50 7 6 7 --- 7.00
6. Fee Royal (by Fidertanz / Royaldik) - Lugge-Kerner,Stefanie - 7 7.50 7.50 6 7 --- 7.00
8. Für alle Zeit (by Fürsten-Look / Grand Cru) - Kihm,Mariusz - 7.00 8.00 6.50 6 6.50 --- 6.80
8. De Niro Junior (by De Niro / Sarkozy) - Steigauf,Björn - 7.00 8 6.50 6 6.50 --- 6.80
10. Quadrogold (by Quadroneur / Sungold) - Zimmermann Rothermel,Karina - 7.00 7.00 6.50 6 6.50 --- 6.60
Donna Levita (by Don Frederic / Lone Star) - Richard Meininger,Eva - RET
6-year olds
1. Bellissimo's Bob (by Belissimo M / Delatio) - Di Pierro,Rocco - 8.50 8.50 8.00 8.00 8.50 --- 8.30
2. Lexicus K (by Licotus / Davignon II) - ild,Birgit - 8.50 8.50 7.00 8.00 8.00 --- 8.00
2. Golden Romance Malleret PS (by Governor / Sir Donnerhall ) - Rother,Hannah  -  8.50 8.00 8.00 7.50 8.00 --- 8.00
4. D'Avina (by Don Index / Likoto xx) - Kihm,Mariusz - 8.50 8.00 7.00 7.50 7.50 --- 7.70
4. Discover Me (by  Dancier / Rascalino) - Thomas,Kevin - 7.50 8.00 7.50 8.00 7.50 --- 7.70
6. Sir Mokka Rocker (by Sarotti Mocca-Sahne / Dancier) - Mayer,Jula -  8.00 8.50 7.50 6.50 7.50 --- 7.60
7. Second Sister vom Rosencarree (by  Sandro Hit / Royal Diamond) - Garai,Mate - 7.50 7.50 7.00 7.50 7.50 --- 7.40
8. Sir Picasso (by Distelzar / Pretty Dancer) - Thomas,Kevin -  7.50 7.50 7.00 7.00 7.50 --- 7.30
9. Eliano (by  Edward / Don Crusador) - Kihm,Mariusz - 7.50 5.50 8.00 7.00 7.00 --- 7.00
9. Eclipse (by Equitaris / Florestan) - Platzdasch,Andreas - 7.00 7.50 6.50 7.00 7.00 --- 7.00
11vZapato (by Zalando / Don Diamond) -  Öhrstam,Antonia 7.00 7.50 7.00 6.00 6.50 --- 6.80
12. Fleur de Soleil  (by Franziskus / De Niro) - Lieb,Johannes - ???
Quietschfidel (by Quadroneur / QuandoQuando) -  Fraikin,Rena - RET
Results - 2021 Bundeschampionate Qualifier - Moritzburg
5-year olds
1. 1 Susann Göbel - Bon Voyage (by Bon Coeur / Rohdiamant) -  8 7.5 8.5 8 8 --- 8
2 Katrin Knetsch - Maximus (by Millennium / Hotline) - 7.5 7.5 8.0 7.5 7.5 --- 7.6
3 Franziska Ehrich -  Melman (by Morricone I / Quaterback) - 7.5 7.5 8 7.0 7.5 --- 7.5
4 Laura Casper - Florisburg (by Floriscount / Diamond Hit) - 7.5 7.5 7.5 7 7.5 --- 7.4
5 Patricia Munz - Mia la Rouge OLD (by Foundation / Sir Donnerhall) - 8.0 6.0 7.5 7.0 7.5 --- 7.2
6 Andrea Hanisch - Kronos (by Ivanhoe / King Arthur) - 7 7.5 7 7 7 --- 6.9
6-year olds
1. Susann Göbel - Sir Graditz (by Sezuan / Sir Donnerhall I) - 8.5 7.5 8.5 7.5 8.5 --- 8.1
2 Alexandra Struzynski - Dante's Luca (by Dante Weltino / Royal Diamond) - 7.5 7.5 7.5 7.5 7.5 --- 7.5
3 Patricia Munz  - Daily Crocket (by Grey Flanell / Dancier) - 7.5 6.5 7.0 6.5 7.0 --- 6.9
4 Patricia Munz - Franziskuss (by Franziskus / Eskardo) - 6.0 6.5 6.5 6.5 6.5 --- 6.4  
Related Link
Eurodressage Coverage of the 2021 Bundeschampionate and qualifiers