2021 CDIO-PJYR Hagen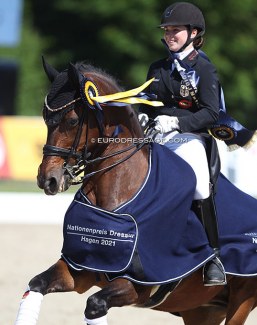 I have a confession to make. Never before have I been so behind on work, so early in the season. Normally by the end of August, when all the summer Championships are over, I have this feeling of running on depleted batteries with my inspiration run dry. We're now in the middle of June and I do not know why, but I can't seem to stay on track. 
The Burden of Unfinished Work
My To-Do list with daily chores seems to grow instead of diminish. After loitering in my house for a whole year thanks to a full show stop due to the corona pandemic, international dressage competition sport kicked into full gear, 250 Km/h, in April and has been going at terminal velocity.
There are so many shows every single weekend, last weekend there were four CDI's and three national championships to cover. I have already travelled to 5 CDI's myself in less than two months time (Sint-Truiden, Opglabbeek, Grote Brogel, Compiègne and Hagen) and this is the root of the root of my current distress. I love photographing horse shows, but it puts me desperately behind on computer work and writing articles. Hire staff, I have been told a million times, but then the control freak in me rears its ugly head and questions why hire expensive staff if this bottleneck in my work schedule usually no longer takes more than two months.
I'm feeling incredibly guilty and burdened that I haven't written my Compiègne CDIO Grand Prix report (yet), and that show was two weeks ago (!!). I have all these beautiful photos organized in a folder, but no text to put them to. I also still have a folder of Young Riders photos from the CDI Sint-Truiden that has gone unused.  Show reports eat such big chunks out of my time schedule; as you all know I'm very long winded and just can't keep things brief. There was so much to say about the riding in Compiègne; so many interesting horses, such interesting judging, and a few unexpected bobbles that make this sport so amazing. 
Red Bull Breakfast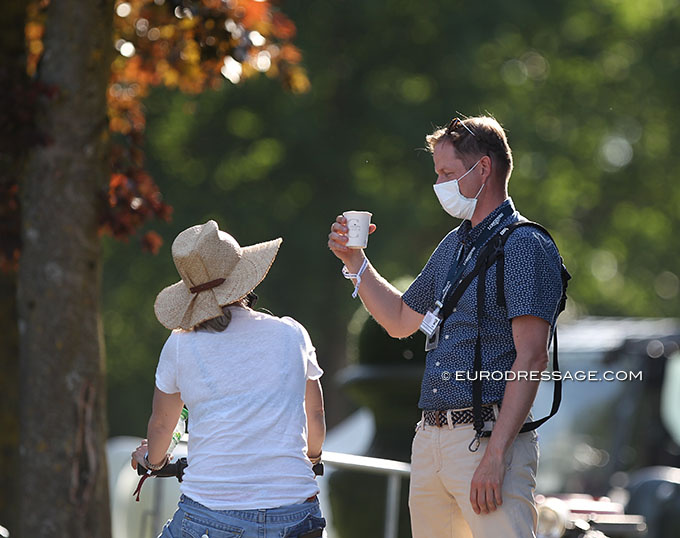 On Thursday morning 10 June it was another 4 AM wake up call to get up, dressed and ready to drive to Hof Kasselmann in Hagen, Germany, which takes me about 2h30. Not that bad. I avoided rush hour traffic and had a smooth drive over, breakfasting on Red Bull zero, something I only drink when I drive to a horse show to stay awake. 
The classes started at 8 AM and two rings were going simultaneously, so there was no rest for the weary. My goal is always to photograph as many riders as possible and with the two competition rings next to each other, work can be done very efficiently at Hof Kasselmann. Because there was still a corona protocol in place, there was no trade fair and the space around the arena was empty. The weather was absolutely brilliant - full sunshine and 25 c° - so the riders and their teams were sitting in the grass and chilling in between rides. 
Realising there is no point for me to make detailed notes for a show report as I haven't even done Compiègne yet, I decided I would do a different type of photo report with more candids, playing the all seeing paparazzi. 
Long Hours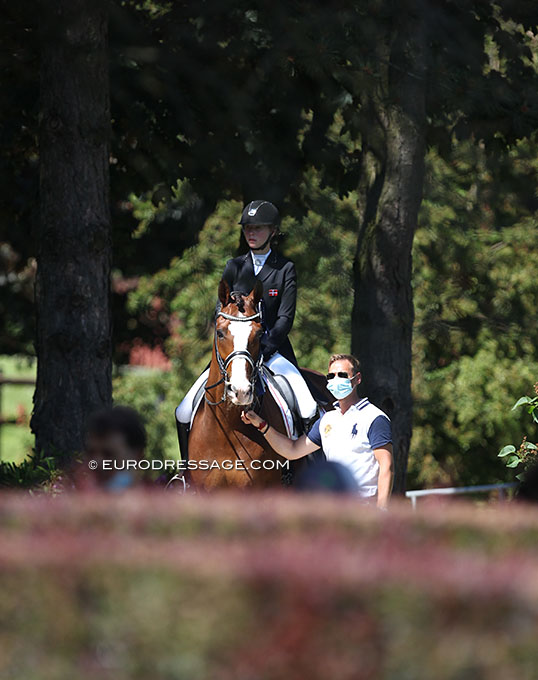 The day was very long and hot. I put plenty of sun screen on, but my skin hasn't properly had a tan for two years (my last holiday was in October 2019). Travel hasn't really been possible with corona and I don't escape to Dubai like a bunch of people in Europe who like to sit on an artificial beach in an artificial city, sorry. So my pale skin was soaking up the rays and I ended up burning my ankles as that was the only spot I forgot to put protect. 
By the end of the Young Riders nations cup and prize giving ceremony it was 20h15 and I had been shooting non stop for 12 hours. There was only one 20 minute lunch break at noon, which I spent eating an avocado that I brought from home. 
Knackered by the heat and the long standing I drove to my hotel in Bad Iburg. I booked late this year so my usual digs were full and therefore tried out hotel number 8 or so of all the ones I have been to in the area over the past 17 years I have been covering shows in Hagen. The hotel left nothing to the imagination.. It had traditional German interior decorating from the 1980s and in desperate need of refurbishing. However, the only thing that matters if the room is clean, the bed good and the wifi connection strong.
Due to corona there was no real dining out so I decided to order take away from the local kebab shop (which came recommended by the hotel). It was my second take away of the corona pandemic and twice it has been pizza.  The one I got in Germany was tasty but so greasy that the cardboard box it came in was soaked through. Of course after one bite I already regretted ordering it, but the lure of grease is greater than sensible thinking about one's health when you are tired. I gobbled it down, questioning every bite. I should have stuck to a bland salad.  I ended up working until little past midnight and was happy that on Friday morning I could sleep a bit longer as the pony tests only started round noon. 
Love the Sound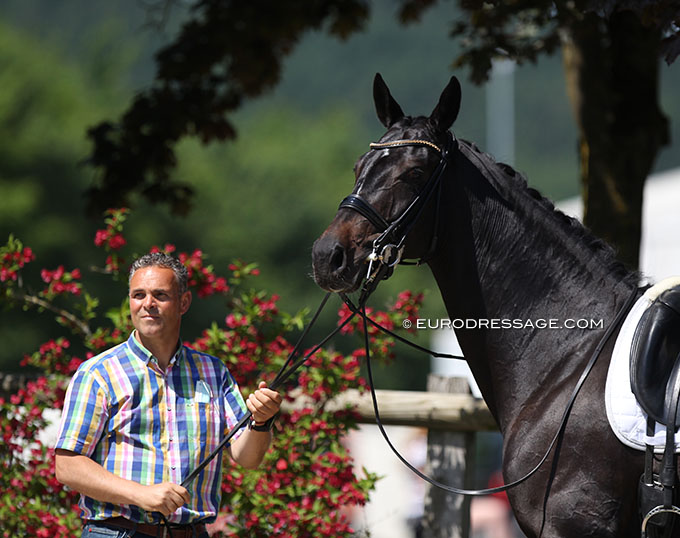 I love the sound of a demolition jack hammer in the morning at 7 AM when you feel exhausted.. The noise from the construction site next door to the hotel was so overwhelming that I was forced to get up and work some more. 
Better prepared for the hot sunny weather on Friday, I put on shorts and a light top, but as soon as I arrived at the show, I noticed it was actually cloudier than the day before and there was a mild breeze.. It's not easy to dress for horse shows when you have to carry all your stuff around alongside a 10 kilo camera and lens. I'm notorious for making the wrong fashion choices, my worst being at the Rio Olympics where I was ready for some tropical temperatures and it ended up raining. I wore poncho all day, just to be warm.
The ponies were fabulous and there was super riding. The only thing that really made me wonder is why at such a big international, a youth CDIO and for several nations a team selection trial, there was no proper tack check after each ride. Only a few CDIO riders were checked here and there, no nosebands were loosened, bits checked, nothing. I asked around and was told the FEI has decided on a new protocol: because of the EHV-1 risk, horses can no longer be touched out of fear for EHV-1cross contamination (stewards wear new gloves for each horse?). At the four previous CDI's I did the past 1.5 months, there was a full and proper tack check happening, with spurs even being measured on the spot, and there was also an EHV-1 protocol out there. Not in Hagen.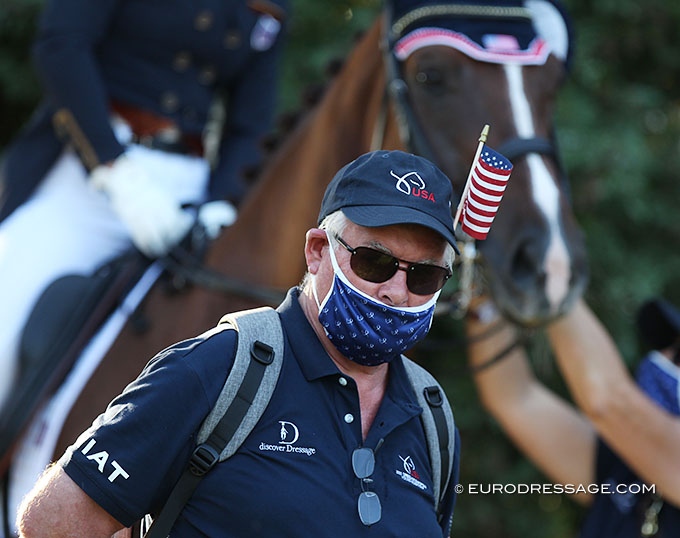 The class finished again at 20h00 and immediately after the prize giving I bolted to my car to drive back home. It was a midnight arrival, but I ended up working on the computer until 3 AM, with another 8 AM wake-up call forecast as my local farmer hayed my fields and he texted me that we would be loading 165 bales of hay on a trailer at 8h15 to bring them to the stable for storage. No rest for the weary!
-- by Astrid Appels - Photos © Eurodressage - NO REPRODUCTION ALLOWED
We took photos of all riders competing at the 2021 CDIO-PJYR Hagen. If you are interested in photos for social media use or prints, just send us an email with your name and we'll send you the selection we got. 
If I wrote a wrong caption underneath a photo here in the gallery, just email me. It's not always easy to recognize all the parents and members that are part of a rider's team.
Related Links
Scores: 2021 CDIO-PJYR Hagen