2021 CDIO-PJYR Hagen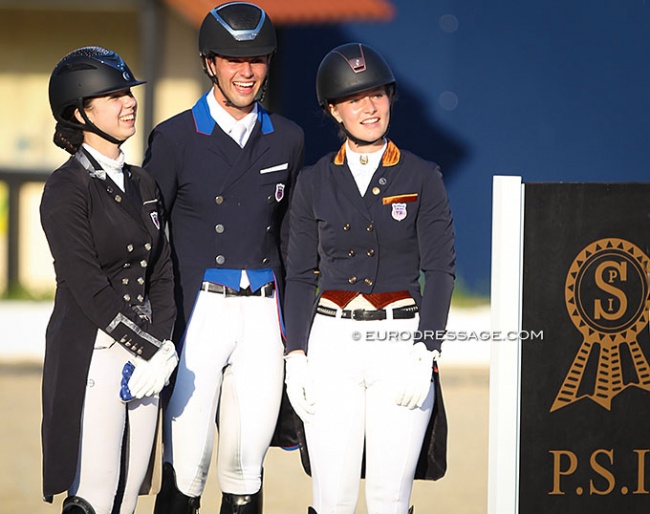 A trio of young riders representing the United States took third place at the CDIO-Y Nations Cup competition hosted at Future Champions in Hagen, Germany, from June 10-13, 2021.
This result marked the highest finish in program history for the U.S. Young Rider Dressage Team at Future Champions. Ten countries with 25 horse-and-rider combinations competed in the CDIO-Y, which featured talented young athletes from across Europe.
U.S. Dressage Young Rider European Tour
Doughty, Mathews and Simonson were the three lucky ones selected for this year's U.S. Dressage Young Rider European Tour. 
The Tour is part of the Discover Dressage USEF/USDF Emerging Athlete Program, which offers an opportunity for the athletes to gain experience in a team competition format abroad.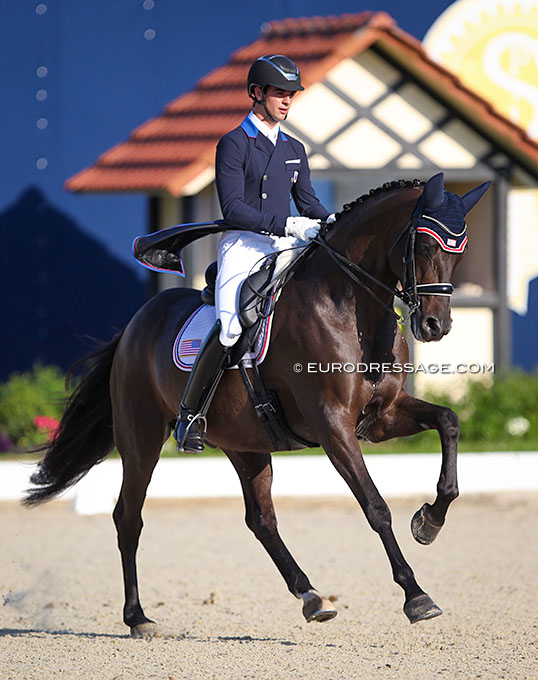 U.S. Dressage Youth Coach George Williams serves as Chef d'Equipe and chaperon for the Young Rider European Tour. The team arrived in Europe mid May and set up camp at Rob van Puijenbroek's Begijnhoeve in Mol, Belgium. 
EHV-1 "Adverse" results
The three riders had planned on competing at the first of their two Europeans shows in Compiègne, France, on 27 - 30 May 2021, but were forced to withdraw when one of the horses tested positive to EHV-1. 
"All U.S. horses were tested for EHV-1 prior to departure from their layover base to the competition venue (Compiègne). A limited number of PCR tests returned with adverse results. Horses within the U.S. contingent have not shown any symptoms or clinical signs of the virus, are not febrile, and are all vaccinated," a USEF press release stated
This major set-back temporarily dampened spirits, but the team regrouped and looked ahead to Hagen for their first start. 
 Third Place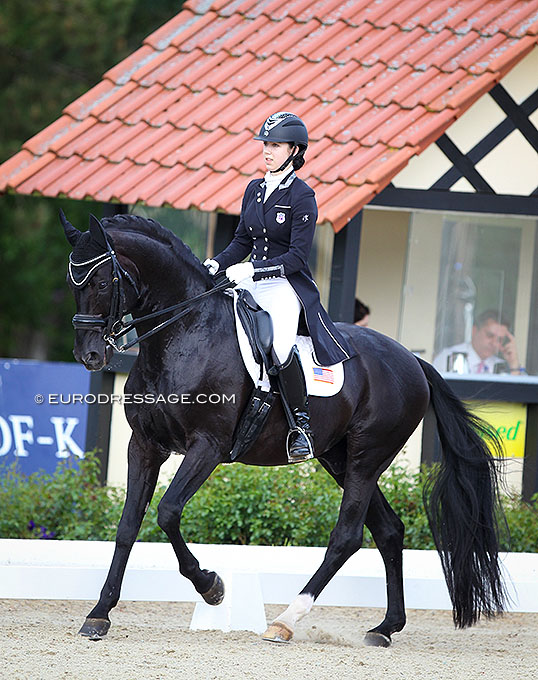 At the 2021 CDIO-YR Hagen at Hof Kasselmann, Christian Simonson (Ventura, Calif.) and Christina Morgan's 9-year-old Danish Warmblood gelding, Zeaball Diawind (by Furstenball x Zardin Firfod) led the American charge and produced the team's top score of 72.010%, which was good enough to put the pair in second place individually overall. 
Katherine Mathews (San Marcos, Calif.) posted a 66.667% with Soliere, a 17-year-old Hanoverian stallion by Sandro Hit x Donnerhall, owned by Peridot Equestrian LLC.
Melanie Doughty (Cocoa Beach, Fla.) rode to a 65.883% with Fascinata, her own 13-year-old Rhinelander mare by Fidertanz x De Niro. 
"It was a huge team effort today to secure podium and without everyone coming together it would not have been possible," said Simonson. "After everything that this group has been through these past few weeks coming together today was so special."
Taking Challenges in Stride
Chef d'Equipe George Williams was proud of his team's efforts in their first overseas outing and the first European competition for the Young Rider program in more than two years.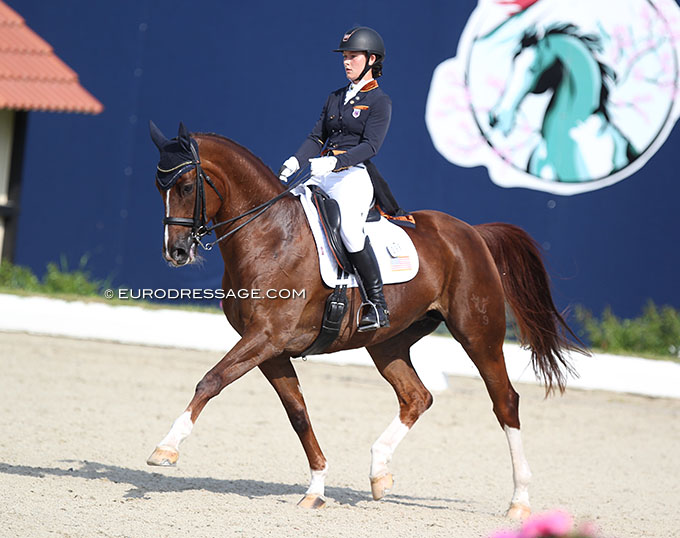 "I have been impressed with how this team has taken all the challenges in stride. Today they all rode well, putting their hearts into their rides, with a focus and determination to do their best," said Williams. "Christian's ride on Zeaball was beautiful, harmonious, and mistake-free. It was very moving to see our team on the podium, receiving their bronze medal and to think that today was their first time ever competing in Europe. I couldn't be more thrilled or more proud of them."
With the CDIO-YR Hagen "Future Champions" show the American euro tour comes to a close with one European competition down their belt. The horses will ship back to the U.S.A on 15 and 17 June 2021.
The next challenge this trio will face are the 2021 North American Youth Championships in Traverse City on 10 - 15 August, followed by the 2021 Festival of Champions in Wayne, IL, on 24 - 29 August. 
Photos © Astrid Appels
Related Links
U.S. Team Withdraws from 2021 CDIO Compiegne after PCR Tests with "Adverse" Results
Doughty, Mathews, Simonson Selected for 2021 Discover Dressage Emerging Athlete Euro Tour