Westfalian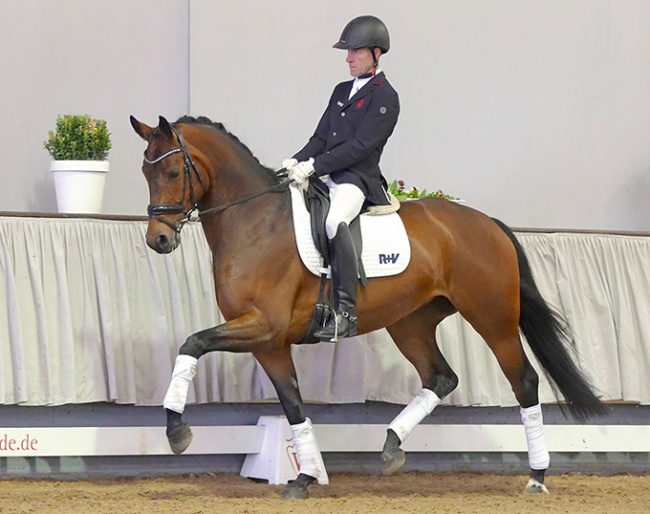 The show jumper Cosima became the price highlight of the 17th Westfalian Summer Auction, which ended on Sunday afternoon 13 June 2021. The best selling dressage horse was Anna von Schlotterstein.
A collection of 51 was up for sale, 46 of them ended up going into the auction and 39 were successfully sold to new owners for an average price of 23,019 euro.
Cosima (by Cordynox x Lancer III) changed into Chinese ownership for the top price of 60,000 euro. The same buyers also acquired Quidado van de Helle (by Diarado x Cassilano) for 38,000 euro.
The most expensive dressage horse was Anna von Schlotterstein (by Apollon x Furst Grandios), which was bred and presented by Frederik Vekens. Named after the main character of the "The Little Vampire" book series, the bay mare sold for 41,500 euro to the U.S.A. She will move to the stables of Olympian Dr. Cesar Parra.
Just Magic (by Johnson x Belissimo M) stays in Germany for 34,000 euro, while Zion (by Zhivago x Licotus) found a new owner for 32,500 euro.
Dark Lady (by Dante Weltino x Fabriano) moves abroad for 31,000 euro.
Fantabulous (by Foundation x Furst Romancier) sold for 28,000 euro, just like Lucia (by Lord Loxley x Conteur) and Follower (by Fahrenheit x Florenciano). Girasole (by Goldberg x Lissaro) sold for 27,000 euro. 
A total of 18 horses will continue to be promoted outside of Germany. customers from Sweden were particularly successful, securing three young talents from the dressage lot.