Global Dressage Auction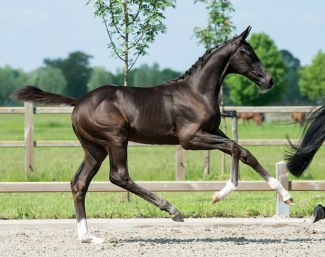 The first foal collection of Global Dressage Auction is live!
Ten exceptionally talented dressage foals and two exclusive embryos are part of this collection. Bidding starts on Saturday the 19th of June and the auction closes on Tuesday June 22 from 20.00hrs onwards.
What about offspring from the direct damline of Jazz, Vivaldi, Don Schufro or Franziskus? Or a direct descendant of Hermès, that won the bronze medal at the Dutch National Dressage Championships in a spectacular fashion and is in the race for an Olympic ticket?
Legendary Jazz
The granddam of For Romance I-son Romance, Urmante (s.Jazz) is none other than the half-sister of the dam of the legendary Grand Prix stallion and top progenitor Jazz. This damline constitutes of mares that were invited to the National Mare Championships, besides Kamante D (s.Negro) the dam of Romance, her half-sister Gamante was crowned National Champion as a three-year-old.
Dressage horse producer Vivaldi
The fantastic Jameson RS2 sires the particularly elegant filly Raveena van de Keihill. Dressage horse producer Vivaldi is the half-brother of Raveena van de Keihill's dam. Subsequently, the damline features among others the Grand Prix-horse Interfloor Next One (s.Jazz), the former top horse of Edward Gal.
Olympic Don Schufro
The alluring Escobar S, a son of the top progenitor and Grand Prix-stallion Escolar, comes out of the direct damline of the Olympic bronze medalist Don Schufro. Ridden by Andreas Helgstrand, he was successful at the highest level for years and he is still of great value to dressage breeding. He is the sire of among others Weihegold, the top horse of Isabel Werth.
Olympic prospect
Hermès came, saw and conquered! Together with Dinja van Liere he achieves one top result after the other. Two weeks ago they obtained bronze at the Dutch National Championships where they crossed the 80% barrier. His daughter Rinette Zelma seems to possess as much quality as her sire. This charming filly comes out of Blue Hors Zack-daughter Julinette Zelma. She is the full sister of the at Oldenburg approved Zakuro.
Embryos out of full sister Johnson
This is just a glimpse of the entire collection. Global Dressage Auction has a worldwide first with two sexed frozen embryos that can be exported to America. Both by the total package that is Blue Hors Zackery and the full sister of the Olympic medalist and top progenitor GLOCK's Johnson TN!
"Great future"
Find the entire collection online, one that has been carefully selected by Global Dressage Auction team member Koos Poppelaars. "I think we can be very proud that we have been able to compose a collection of such a high level. We are still a new player in the auction industry, and it is fantastic that we gained the confidence of breeders. Each of these foals is very talented and they all seem to have a great future ahead of them, both in breeding and sport."
Photo: Ramses Shaffy (GLOCK's Toto Jr. x Kennedy)