The Netherlands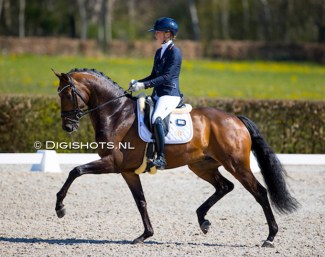 Dutch young horse rider Kirsten Brouwer will not appear in the second Dutch selection trial for the 2021 World Young Horse Championships. She is recovering from an injury.
Stable Accident
Brouwer is one of the most decorated riders at the World Young Horse Championships. She won gold and bronze in 2014 (Dancer, Eye Catcher), bronze in 2015 (Eye Catcher), silver in 2016 (Five Star) and silver in 2017 (Sultan des Paluds).
A few weeks ago she injured herself in a stable accident. 
"it was super stupid, but a horse dragged me and I simply twisted my ankle severely," Kirsten told Eurodressgae."The ligaments were torn and a muscle. But fortunately I'm back in the saddle. It's nothing serious, but just very inconvenient."
Two Horses
Brouwer qualified two 5-year olds - Lightning Star Rr (by Ferguson) and Lennoxwaard (by El Capone) - for the second Dutch team selection trial to be held on 21 - 22 June in Ermelo. 
"I'm still not 100% but it's getting much better," she further stated. "So I will not compete in the selection for the World Championships for the young horses coming Monday. The next selection in July I'll be there again."
She has been excused and can ride her two horses in the third and final trial on 19 - 20 July. 
Photo © Digishots
Related Links
Eurodressage Coverage of the 2021 World Championships Young Dressage Horses
Horses Picked for Second Dutch Trial for 2021 World Young Horse Championships