Great Britain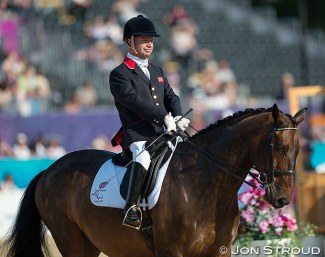 British Paralympian Lee Pearson had to say goodbye to his career making Paralympic ride, Gentleman. The gelding passed away on 20 June 2021.
Gentleman was a 20-year old Hanoverian gelding by Gullit (Grozzo Z x Gourmet) out of Wonne (by Weltruhm x Galapagos x Wohlan). He was bred by Aenne Luttmann. 
The ten  Sydney and Athens paralympic gold medal winner Lee Pearson discovered him as a 6-year old in Germany. Gentleman became Pearson's leading horse from 2008 till 2012. 
Born with arthrogryposis multiplex congenita, which meant the muscles in his arms and legs grew as scar tissue in the womb, Pearson competes at Grade Ib level.
Aboard Gentlemen he won team and individual gold at the 2008 Hong Kong Paralympics, gold at the 2009 European Championships in Kristiansand, team and individual gold at the 2010 World Equestrian Games in Lexington. 
In an interview with The Guardian, Pearson talked about Gentleman in 2010, saying, "he was awkward, trying to get me on the floor every day and not playing ball (in 2008). But in Kentucky he was brilliant, really settled and happy, doing everything I asked. I was really pleased with him."
At the 2021 London Paraympics on home turf, Pearson and Gentleman got team gold, but 'only' individual silver and kur bronze. One of the judges went on record that Gentleman was not entirely level in the freestyle, which resulted in a lower than expected score. 
Gentleman was retired from sport after the London Paralympics. The past five years he spent with Lorna Harvey. 
"You were unbelievably powerful and majestic for your size," said Pearson. "You let everybody know around if you didn't like something or even somebody. I will be forever grateful for the successes that we gained together. I'm crying as I write this but I hope that you're up there big man dancing and prancing along with Blue Circle Boy."
Photo © Jon Stroud