2021 Bundeschampionate Qualifier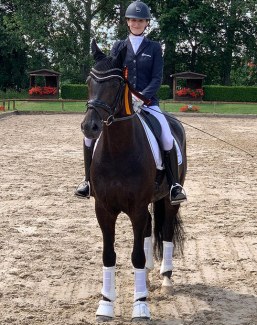 The 5-year old Dark Sugar and the 6-year old Gaitano OLD became the winners of the Bundeschampionate qualification classes held at the regional show at equestrian centre Niershof in Mönchengladbach on 20 June 2021. 
5-YO: Dark Sugar
Twelve combinations contested the L-level dressage horse test for 5-year olds, which was judged by Andrea Schmittert, Rolf-Peter Fuss, and Dieter Scheermann. 
Professional Laura Blackert topped the board on Kristina Raskop's Hanoverian mare Dark Sugar (by Dante Weltino x Sandro Hit) with an 8.6 total score. The black mare earned 7.5 for walk, 9.5 for trot, 8.5 for canter and submission and 9 for general impression. 
Portuguese Ana Teresa Pires and Fabian Scholz' Hanoverian stallion Van Damme (by Vivaldi x Hertog) tied in second place with Heiner Schiergen on Silke Nicolaus' Hanoverian gelding Dragon George (by Dragon Hill x Fidermark). Both scored 8.4 points. Van Damme received 8.5 for walk, trot, canter and general impression, and 8 for submission, while Dragon George got 8 for walk, 8.5 for trot, 9 for canter, 8 for submission and 8.5 for general impression. 
6-YO: Gaitano OLD
The M-level dressage horse test for 6-year olds counted 9 pairs battling for an entry ticket to Warendorf.
Professional Beatrice Hoffrogge won the class aboard Keo Pty Ltd's Oldenburg stallion Gaitano (by Goldberg x Rohdiamant). They scored a total of 8.0 after earning 8.5 for walk and trot, 8 for canter, 7 for submission and 8 for genera impression.
No less than three combinations placed second with 7.7, but that score did not suffice to make it to Warendorf. They were Jochen Bender on Sonnenbrink's Libero (Livaldon x Worldly), Carina Scholz on Rock my Dream (by Rock Forever x Fidermark) and Eva Julia Haubert on Emilia Galotti (by Escolar x Fidertanz). 
Results - 2021 Bundeschampionate Qualifier - Mönchengladbach
5-year olds
1. Laura Blackert  -  Dark Sugar (by Dante Weltino / Sandro Hit) - 9.5 7.5 8.5 8.5 9 --- 8.6
2 Ana Teresa Pires  - Van Damme (by Vivaldi / Hertog) - 8.5 8.5 8.5 8 8.5 --- 8.4
2 Heiner Schiergen - Dragon George (by Dragon Hill / Fidermark) - 8.5 8 9 8 8.5 --- 8.4
4 Stefanie Wittmann  - Diafys (by DeLorean / D-Day) - 8.5 8 9 7.5 8.5 --- 8.3
5 Maik Schemmann  - Francesca Rose (by Follow Me / St. Moritz) - 9 7.5 8 8 8.5 --- 8.2
6 Kim Sophie Kubla  -  Sanntino (by Sir Donnerhall I / Junior STV) - 8 7.5 8.5 8 8 --- 8
6 Insa Ettwig  - Fiorella (by Fürsten-Look / Fidermar) - 8 8 7.5 8.5 8 --- 8
8 Patricia Gehre  -Valdividan W (by Veneno / Fidertanz) - 8.5 7.5 7.5 7.5 7.5 --- 7.7
9 Sophie Jamar  - Venecio (by Veneno / Riccione) - 8 7.5 7.5 7.5 7.5 --- 7.4
10 Martin Sander  -  Bonito de Baccardi (by Baccardi / Amper) - 7 7.5 7 7 7 --- 7.1
11 Shannon Ajdini  - Vendaval (by Vivaldi / Rohdiamant) - 6 7 6.5 6 6.5 --- 6.4
Carina Scholz - Fienchen F.S.(by Fürstenball / San Amour) - RET
6-year olds
1 Beatrice Hoffrogge - Gaitano OLD (by Goldberg / Rohdiamant) - 8.5 8.5 8 7 8 --- 8
2 Jochen Bender  - Libero (by Livaldon / Worldly) - 8.5 8 7.5 7 7.5 --- 7.7
2 Carina Scholz - Rock my Dream (by Rock Forever / Fidermark) - 8 8.5 7.5 7 7.5 --- 7.7
2 Eva Julia Haubert  - Emilia Galotti (by Escolar / Fidertanz) - 8.5 7 8 7.5 7.5 --- 7.7
5 Eva Julia Haubert  - Farrell Junior (by Farrell / Lord Loxley) - 8 7.5 7.5 7.5 7.5 --- 7.6
6 Stefanie Frieß  - Sugar (by Stanford / Fürst Heinrich) - 8 8.5 7.5 6.5 7 --- 7.5
7 Lena Backes  - Millenniums Little Lady (by Millennium / Rubinstein) - 7 8.5 7 6.5 7 --- 7.2
8 Maximilian Felten  - Black Barolo (by Bordeaux (NLD) / Münchhausen) - 7 7.5 7 6.5 7 --- 7
Lena Backes - Sir Q (by Scuderia / Quaterback) - RET
Related Link
Eurodressage Coverage of the 2021 Bundeschampionate and qualifiers