Ekestrian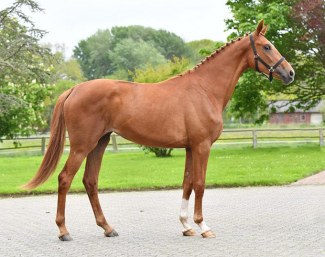 The Ekestrian dressage auction is now open! Take a look at some of the lots carefully selected by our teams.
All these lots have excellent dressage ability and outstanding genetics. Romanov, Millennium, and Jameson RS2 are among the stallions you will find in their exceptional pedigree!
The auction is 100% online and will end lot by lot, minute by minute on Wednesday 23 June  at 9pm (French time).
Some Highlights in the Collection
Lot 3 : 2 years old - Female - So Unique with Fuerst Heinrich
Der Clou's damline, World Equestrian Games and European championship with Filip de Cantelas Pinto, damline of approved stallions
This mare with 3 excellent gaits has exemplary genetics. Her sire is none other than So Unique, the phenomenal stallion of Andreas Helgstrand, world champion of the 4 years old with 9.64! The dam is a sister to the approved stallion Frederick and the damline includes Der Clou, who took part in the World Equestrian Games in 2014 and the European Championships in 2015 with Filip de Cantelas Pinto, as well as the stallion San Bernardino.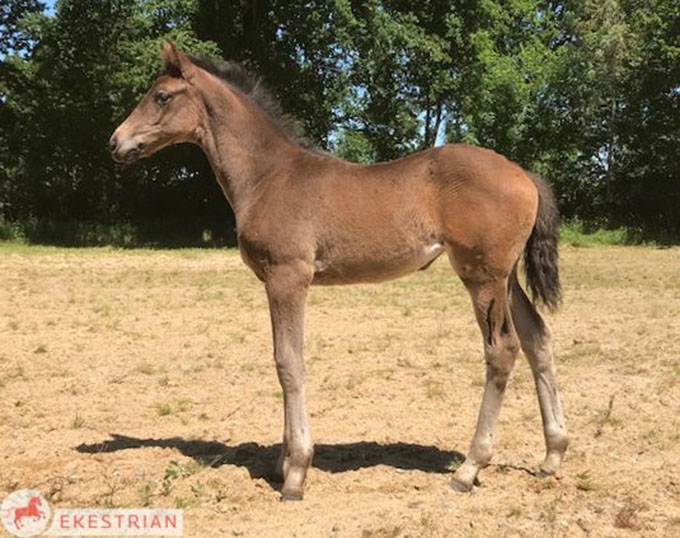 Lot 14 : Filly - Granddaughter of Millennium, out of Galaxie's damline!
Line of performers
Lowland is a young son of Millennium who has made a name for himself with his ease and facility under saddle. He is associated here with Kir Royal's full sister, 4th in the final 4 year old competition with Julien Vincent in Saumur. We also find the stallion Galaxie in the damline. This filly has all the assets for sport or breeding.
Lot 17 : Broodmare in foal 
Niece of the famous stallions and GP performers Rubin Royal and Romanov GP with Hans Peter Minderhoud in foal to Sir Donnerhall
Great opportunity with this broodmare in foal to Sir Donnerhall. Her dam is a sister to the stallions Rubin Royal and Romanov. Romanov was successful in Grand Prix with Edward Gal and Hans Peter Minderhoud. Rubin Royal with 90 state prize-winning mares and 50 approved stallions is a pillar of dressage horse breeding.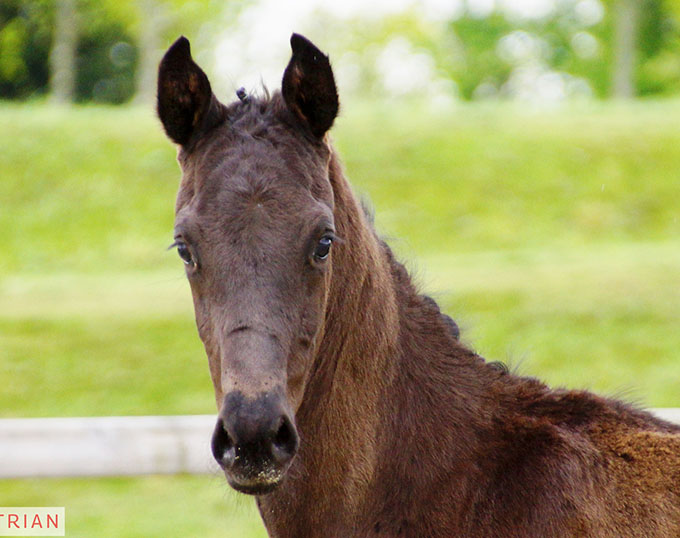 Lot 6 : Colt - Black eye catcher colt by the rising star, Jameson RS2!
Jameson RS2 is the rising star of dressage breeding. He is also the sire of this superb black male who has all the qualities for the big sport. He is the first offspring of Viva-Gold by Lipas, a Trakhener mare who was named Elite as a foal. Viva-Gold's dam is Vienna, who won her performance test at 3 years old. She was awarded Elite status for the quality of her offspring.
Lot 12 : Colt - Oldenburg awarded foal, by Goldberg, 74% in St Georges with Hubertus Schmidt
The stallion Goldberg performs under the saddle of Hubertus Schmidt. This stallion was the top price at the Dronten foal sale. He is the sire of this elegant bay colt who won a prize at the Oldenburg show in early June.
Easy Bidding, Just Register for Free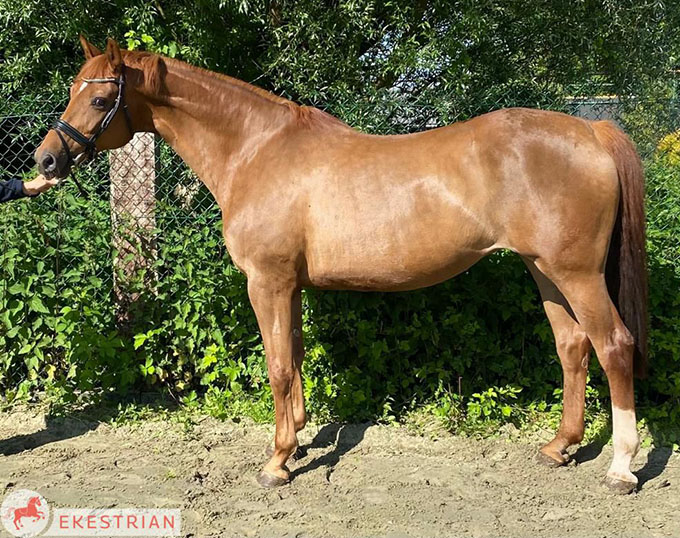 Don't forget to create or update your account on the Ekestrian website to be able to access the catalogue and bid on the evening of the auction.
If you have any questions, please contact the Ekestrian team by phone at +33 6 86 88 42 97 or by e-mail at charlotte.ekestrian@gmail.com or contact@ekestrian.com.