Australia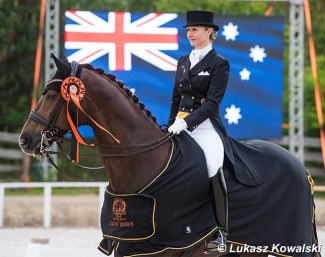 Multiple Olympian Kirsty Oatley has announced that she has withdrawn from Australian Olympic team consideration for the 2021 Olympic Games in Tokyo. 
This is already Australia's third short listed Grand Prix rider to have pulled out of the race. Her cousin Lyndal Oatley and Danish born Lone Jorgensen pulled out before Kristy. 
"Following careful consideration I have decided to withdraw myself and DuSoleil from Tokyo 2020 team nomination," Kristy announced. "The ongoing Covid-19 situation has provided significant challenges throughout our Tokyo 2020 preparations, and while DuSoleil and I have achieved our qualifications and have worked hard to ensure we are in peak form, I do not feel it is the right time for us to travel to the Games."
MER Scores Achieved
Oatley and her 17-year old Hanoverian gelding Du Soleil (by De Niro x Caprimond) represented Australia at the 2018 World Equestrian Games, 2017 World Cup Finals and 2016 Olympics in Rio.
The pair had achieved its MER score for Tokyo in 2019 and made a come back to the arena after a 1.5 year break at the CDI Zakrzow in Poland where they achieved a confirmation score of 72.174%. They also competed at the CDI Verden in May, where they earned a 71.565% in the Grand Prix.
Family Time
"As a mother my priority is always my children, and my daughter Rose is currently pursuing her goal of being selected for the European Championships in August. I am committed to supporting Rose in achieving her dreams in the dressage arena and I am taking this time to enjoy the journey with her, and my family," Oatley concluded. 
Who Gets to Go for Australia?
This leaves Australia with Simone Pearce, Mary Hanna and Kelly Layne as highest scoring team candidates.
Next in line could be Alycia Targa on CP Dresden as the highest ranked Australian rider on the FEI Riders' Ranking behind this trio.
Photo © Lukasz Kowalski
Related Links
Eurodressage Coverage of the 2021 Olympic Games
Lone Jorgensen Withdraws from Australian Olympic Team Consideration
Lyndal Oatley Withdraws from Australian Olympic Team Contention