PSO Online Auction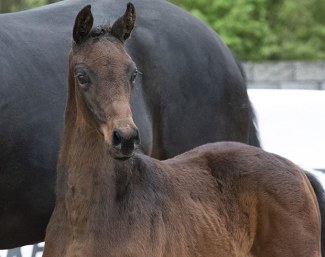 The Danish bred Brandtbjergs Fiji became the best selling foal in the 2021 Schockemöhle/Helgstrand online foal auction which closes on 22 June 2021. 
A German buyer paid 79,500 euro for colt Brandtbjergs Fiji (by Fynch Hatton x Farrell x Zack) after a long bidding duel with a Danish buyer. The "German" buyer turned out to be Austrian Sissy Max-Theurer, according to Ridehesten.
The second most expensive foal was filly Tonight's Symphony (by Totilas x Sezuan). She will stay in Germany for 30,000 euro. 
The third most expensive foal was the Danish bred filly Brix Fridaye (by Franklin x Revolution) who was secured by a Danish customer for 29,000 euro.
Filly She's Perfect (by So Perfect x Danone x Weltmeyer) sold for 22,500 euro and moves to Sweden. Colt Total Black (by Total McLaren x Furstenball) sold for 19,000 euro to a Serbian customer. Filly Such a Diva (by San Amour x Totilas) sold for 16,500 euro to Ireland.
Filly Fine Zone (by Furst Zonik PS x Hotline) and colt Dynamic Dress (by Dynamic Dress x Dresemann) both fetched 12,000 euro. The filly will move to Spain.
Colt Dreaming Violine (by Dynamic Dream x Vivaldi) found a new owner for 11,000 euro in Switzerland. The same price was paid for colt Fynndance (by Fynch Hatton x Diamond Hit) but he goes to the U.S.A. He will be joined stateside by Vancouver Pillekaer (by Vitalis x Danone II) for 13,000 euro.
Related Link
Concentration of Performance in 2021 Schockemöhle/Helgstrand International Online Foal Auction