Russia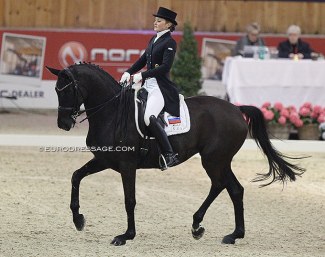 With only Spain and The Netherlands waiting until the final weekend before the 5 July deadline, Russia is the third last country to nominate its team for the 2021 Olympic Games in Tokyo. 
The Russian Equestrian Federation had nominated a short list of 10 combinations on the nominative entry deadline of 21 June, even though the outlines of the team had been clear for weeks. 
Riding under a neutral flag in Tokyo are:
Inessa Merkulova - Mister X
Tatiana Kosterina - Diavolessa VA
Aleksandra Maksakova - Bojengels
The reserve is Maria Shuvalova on Famous Cross.
Neutral Flag
Russia qualified a dressage team for the Tokyo Olympics but it will have to compete under a neutral flag.
On 12 December 2019, the World Anti-Doping Agency (WADA) voted unanimously to exclude Russia from sports for four years including the Tokyo Olympics. 
The ban comes after Russia was exposed to have run a meticulously planned state-supported scheme in which Russian anti-doping experts and members of the country's intelligence service surreptitiously replaced urine samples tainted by performance-enhancing drugs with clean urine at the 2014 Winter Olympics in Sochi, Russia. Russia's denials and manipulations of data continued well after WADA had gone public in September 2019. Even after the exposure, Russia's sports minister provided WADA with new data, which when studied revealed yet more manipulation.
Photo © Astrid Appels
Related Links
Eurodressage Coverage of the 2021 Olympic Games
Maria Klementieva Out of Olympic Race for Russian Team Spot
Russian Long List for 2021 Olympic Games in Tokyo Set