Horse Sales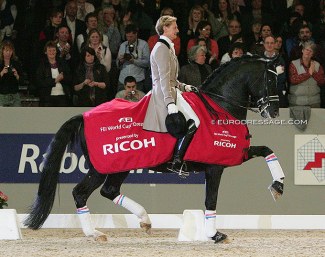 Jan and Anna Schuil, renowned dressage horse breeders and the breeders of the legendary Totilas, have decided to retire from the breeding business and relocate abroad. Their collection of six horses, which includes some fabulous sport horses and brood mares closely connected to Totilas' lineage, will be offered for sale.
Breeders of Totilas
Jan and Anna Schuil are highly decorated Dutch warmblood, Trakehner and Oldenburg breeders based in Broeksterwoude in Friesland.
They bred the legendary stallion Totilas out of their foundation mare Lominka (by Glendale). The stallion earned them the Nimmerdor Trophy for best KWPN Breeder of the Year two consecutive years, as well as the title of WBFSH Dressage Breeders of the Year in 2009 and 2010.
Jan has worked as a veterinary surgeon for almost forty years. The first decade he mainly did general veterinary work, "from cow to goldfish", the last twenty he spent in equine medicine and specialising in fertility and insemination.  He resigned from his vet duties twelve years ago to focus on his horses.
Good Horse Keeping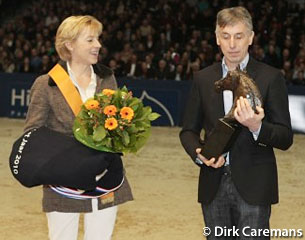 The Schuil couple upholds very high standards for horse management and animal welfare and applies this high standard to their own breeding programme.
They don't believe in rushing the growth of a young horse by pushing them in training at the age of three, but instead give them plenty of time to develop into physically and mentally healthy horses. They believe in variety in training, time in the field and good general care. Until the horses are six years old, they are only lightly trained for them not to mentally burn out. This is also why Totilas was never presented at the KWPN licensing as a 3-year old but only slowly developed as a dressage horse.
The Schuils ran a boutique style breeding programme and were hands on in the breeding, rearing and training process of their own breeding products.
Retire from Breeding Business, Six Horses for Sale
Jan has now decided to retire as breeder and relocate abroad to take a new course in life.
The Schuil couple is selling its entire horse stock, which includes quality sport horses and mares that can be used for breeding. 
Offered for sale to the right home are:
Mackensen

Lominka (by Silvermoon II out of Uusminka, the only full sister of Totilas (by Gribaldi x Glendale). Born 2016, grey mare, 165 cm
Mominka (by Münchhausen out of Uusminka, the only full sister of Totilas (by Gribaldi x Glendale). Born 2018, bay mare, 163 cm
Goldregen (by Gribaldi x Glendale), full brother to Totilas. Born 2010, dark bay, 169 cm.
Mackensen (by Münchhausen out of Cleominka (by Gribaldi out of the grand dam of Totilas). Born 2018, black stallion, 174 cm
Kassandra (by Totilas out of Trakehner mare Karenina (by Buddenbrock). Born 2012, dark bay mare, 167 cm
Sir Paul (by Sir Donnerhall x Don Schufro). Full brother to Gesina, the dam of For Romance I and II, Don Romance and Furst Donnerhall II. Born 2013, bay. 173 cm
These horses are either recently saddle broken or trained up to schooling Grand Prix level. 
Contact Info
For more information about these horses, contact Jan and Anna Schuil at jkschuil@msn.com.