Danish Warmblood Foal Auction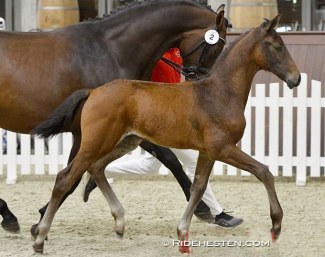 Livia became the price highlight of the first Danish Warmblood foal auction of 2021, held at Blue Hors stud on 26 June 2021. 
A collection of 17 foals was offered for sale in this hybrid auction and 16 of them found a new owner. The average price was approximately 15,000 euro per foal.  Haf of the foals stay in Denmark, but the other half sold to foreign buyers from Germany, Norway, Spain, Sweden, and the USA.
The auction price-highlight was filly Livia (by Vitalis x  Fürst Romancier x  Blue Hors Zack), bred by successful breeders Lena & Ulrik Kristensen. She entered the ring with an online bid of 8,500 EUR and left with the knockdown price of 30,500 euro, going to the Germany. 
The most expensive colt of the lot was Ribjergs Special Select (by Secret x  Chopin Dane x  Attention), bred by Anette R. Pedersen and Claus Nielsen. He was sold for 25,000 euro to Anne Lyngbye & Per Skjærbæk, who also purchased the filly Abkærs Vitalina.
The colt Marlon (by Blue Hors Monte Carlo x Blue Hors Rockefeller xWelt Hit II), bred by Annika and Kristen Kildegaard, sold for 18,500 euro to Blue Hors. Filly Domestica-WI (by Glamourdale x Blue Hors Don Olymbrio x Solos Carex), bred by Erik Iversen, moves to Germany for 17,000 euro.
Norwegian Kristin Andresen acquired two foals for 16,500 euro each: Lomus Family Guy (by Hesselhøj Donkey Boy x Revolution x Solos Landwind) and Javago Pilekær (by Jameson x Ferro x Davignon I).
The table of Per Sandgaard and Peter Markne purchased filly Terpling's Keeslie (by Knock Out x Furstenball) for 12,000 euro. Charlotte Hamilton secured Fairness Pillekaer (by Jameson x Furst Rousseau) for 11,000 euro.