Westfalian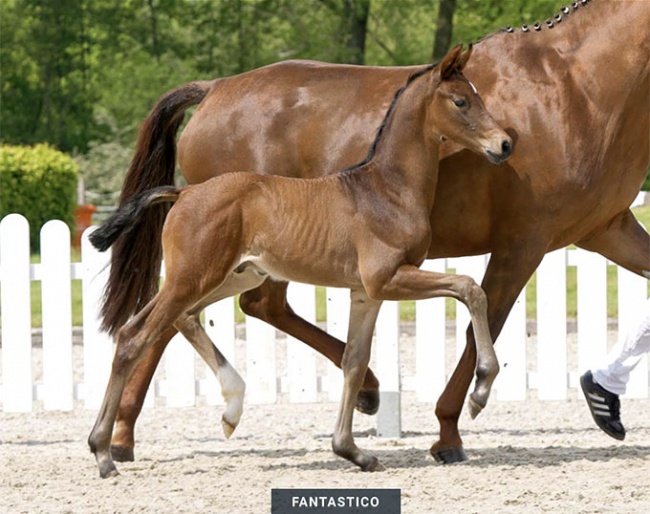 The Westfalian breed society keeps pumping out foal auctions non stop. In the past few weeks several were held and here are the price highlights. 
Fantastico
The auction which closed on 28 June 2021 featured a collection of 33 foals and 23 of them actually sold. They achieved an average price of 10,696 euro.
The best seller was Fantastico (by Franz Joseph Junior x Furst Piccolo), bred by Hubertus Hummelt. He sold to The Netherlands for 36,500 euro. The filly Famosa (by Franziskus x Desperados) sold to Denmark for 23,000 euro. The jumper foal Tarzan (by Tangelo van de Zuuthoeve x Cascari) sold to a Rhenish buyer for 22,000 euro. 
DAX Realtime (by Despacito x Dream On) sold for 14,000 euro, Valencio (by Valverde x Florencio) moves abroad for 13,000 euro and Drachenfels MB (by Dancier Gold x Franziskus) stays in Germany for 11,000 euro.
Danseur d'Amour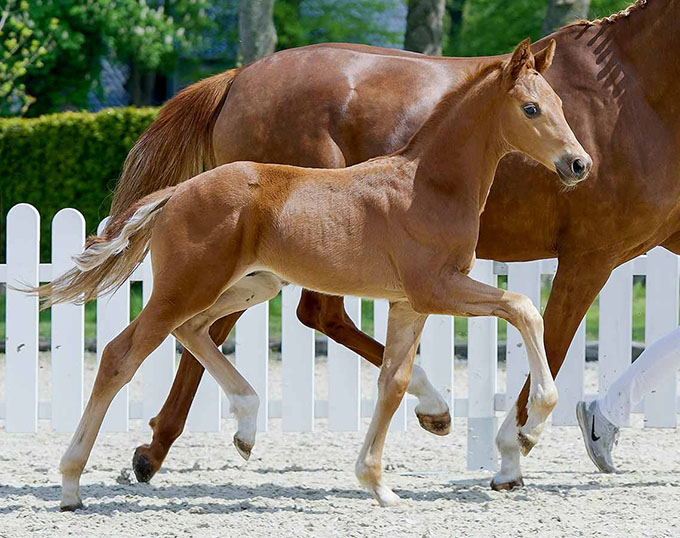 Danseur d'Amour (by Dynamic Dream x For Romance) was the best seller of the Westfalian summer auction, which closed on 14 June 2021. 
39 riding horses successfully changed owners. One day later, 32 foals were up for sale. Twenty five foals found a new owner. The average price for a foal was 9,590 euro. 
Danseur d'Amour, bred by Walter Niewerth,  sold for a whopping 46,000 euro.  A German trainer acquired him for his Austrian clients. 
Feiner Prinze (by Franz Joseph Junior x Florencio) fetched 14,500 euro, Super Bowl (by Sir Donnerhall x Zack) found a new owner for 14,000 euro. Tom Tom (by Taurus x Florenciano) sold for 12,000 euro. Valerie (by Vingino x Cordess) was knocked down for 11,000 euro. 
Vanilla W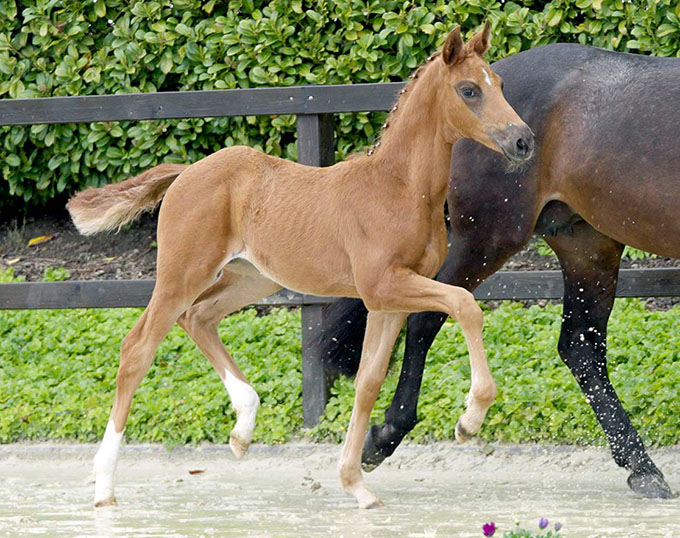 Vanilla W (by Vitalis x Rubinstern Noir) became the best selling foal of the Westfalen On Tour online foal auction, in which 19 Westfalian bred foals were offered for sale and 13 of them sold on 5 July 2021. The average price for a foal in this auction was 8,462 euro. 
Vanilla W's dam, St.Pr.St. Rubina, already produced Quiana by Quaterstern, a participant in the 2019 World Championships for Young Dressage Horses in Ermelo.
Three foals sold for 10,000 euro or more. The two other ones were both jumping bred foals: the Belgian bred Cornet's Chica (by Cornet Obolensky) went for 12,500 euro and Everglade PS (by Emerald van het Ruytershof (by Crowntano Z) sold for 10,500 euro.