Interview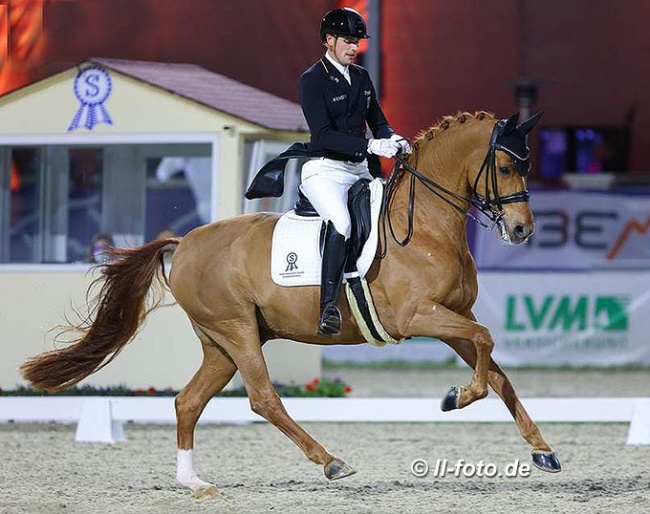 In a new interview series #RoadtoHagen the organizers of the 2021 European Under 25/Senior Dressage Championships in Hagen want to present the potential candidates for the Championships. 
One of them is home-side hero Frederic Wandres, who has been reserve-listed for the German Olympic team and who will aim for a German team spot for the 2021 European Championships hosted by his employer, Hof Kasselmann in Hagen. 
2021 is a special year – do you think about it when you saddle Duke of Britain every morning?
Frederic Wandres: In a year like this, with two championships, which is never the case otherwise, and with my horse in the Olympic squad – I would be lying if I didn't admit that I am flirting with a place in the team. But that's not the first thing I think about every morning – neither Tokyo nor the European Championship. First of all, I check that Duke is well and quietly enjoying his food. That is very important for him. One of the horses always has to draw the short straw and be the first to be ridden. Duke is only first on rare occasions. He has a special status there, of course.
The path to the championship squad is a long and difficult one – and it can be very rocky. But you have made it. What has been Duke's role along the way?
FW: The main role! He opened the doors to my championship dream. Without Duke, I wouldn't have made the Olympic squad. A championship would just be the icing on the cake. Whether it works out or not, I am already very proud of him. When it counts, he is always there. His consistency is impressive. That's the big plus about him: you can rely on him.
A place on the team at the European Championship and then at your 'place of work', too, that would be…
FW: … the ultimate! I started riding when I was a little boy. Since I was eight years old, I've been in the stables every day – except for the one-off annual holiday. From the age of 15 I have been riding every day. I became a professional rider at 20 and since then I ride between 10 and 15 horses every day. Everyone can work out how long I have been working towards the goal of competing for Germany. That is a dream that every professional rider would like to fulfil at some point. And I have never been as close as I am now.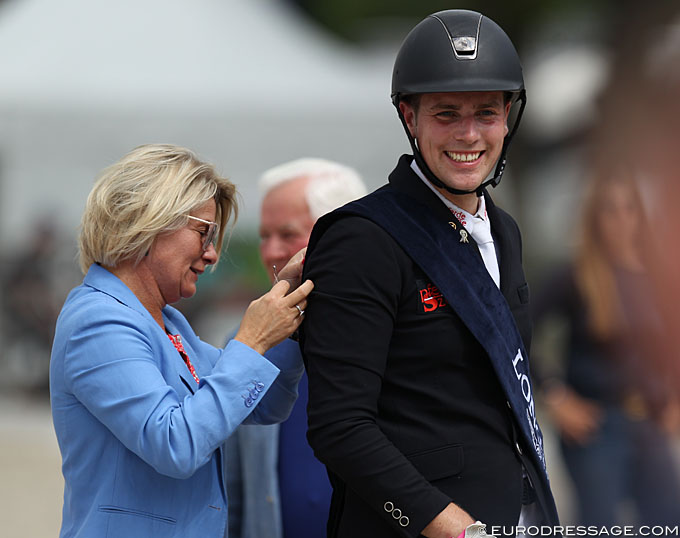 'So close' in the truest sense of the word. The European Championship will take place at Hof Kasselmann, you live and train here every day. Is it even possible to get into a 'championship mood' or would it be easier if the event was further away?
FW: I think it's great: the European Championship at home! Everyone who knows Hagen and the Kasselmann family knows that they have all the experience and can organise special events at a top location. Being able to help with the preparations is also great. I'm looking forward to it, whether I take part or not. And I have already ridden a few CDIs here with Duke. At the beginning I was worried whether he might need the whole shebang of travelling and all that, but the show atmosphere at home is enough for him and he is 'on'. And after the test I can just duck up to my house and water the flowers (laughs).
Competing for Germany in a dressage championship team – that means a very real chance of winning a medal, but also a certain 'medal pressure'…
FW: Of course you have a certain responsibility, especially when the Championship takes place in Germany. But I think I have shown often enough that I can keep my nerves together and perform well.
Give us an example, where the pressure you felt was particularly high?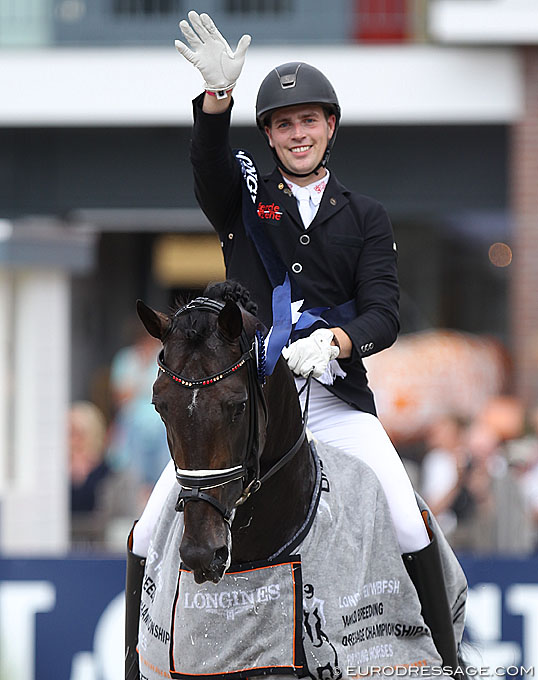 FW: The first one that comes to mind is the World Championship final for young dressage horses with Zucchero. I was the last rider, Andreas (Helgstrand) was in front of me with Revolution and I heard the 9.4 and the applause of the Danes, the stadium was on fire! I knew that if I made a mistake, the gold would be gone. It was not for the faint-hearted. But I kept my nerve and won gold. Or I remember some World Cup competitions with Duke where I saw the entry list and thought, 'Oh God, should I go home right away?' In Lyon, for example, that was an incredible field. And suddenly I was third behind Isabell Werth and Charlotte Dujardin. They all have to ride first after all.
The evening before, the hours before – what do they look like when you have a particularly important show – such as a European Championship – ahead of you?
FW: The night before I like to treat myself to light food, tomato mozzarella for example. Or I don't eat anything at all, that can happen when I'm excited. And the last hour before I get on the horse, I have to have my peace and quiet and be alone. Then I turn on ClipMyHorse and look at the riders ahead of me. I have to keep track of what's going on, even though everyone always tells me not to do that. I need this. Then I turn the pressure into something positive. With Zucchero, for example, I kept telling myself, "I have the best horse. There are no buts!" I brush any doubts aside and then I'm off!
-- Hof Kasselmann PR - Photos © LL-photo - Astrid Appels
Related Link
Eurodressage Coverage of the E021 European Dressage Championships - U25/Seniors