Opinions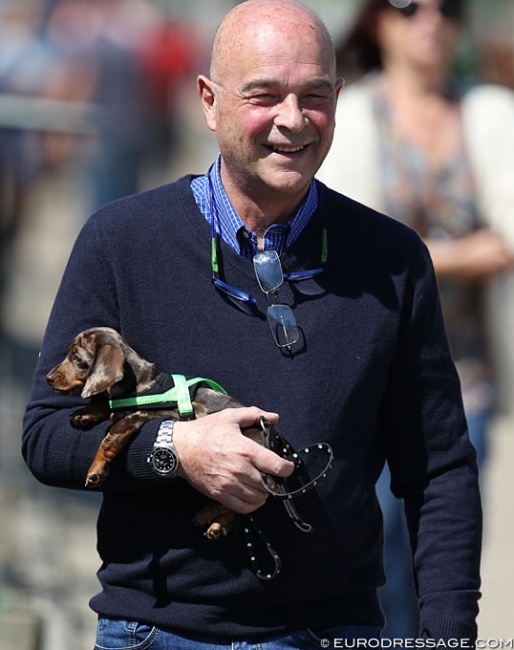 Guest columnist of this week is former Italian eventing team trainer Michele Betti.
As of the 1990s Betti has been an Italian junior/young rider team trainer, a selector and chef d'equipe with countless medals won at the European Championships to his credit. He was the vice senior team trainer for the Olympics Games in 1992 and 1996 and senior team trainer and selector for Italian eventing since 2001, having won bronze at the Europeans in Pau and Pratoni del Vivaro and fielding Italian riders at the 2004 and 2008 Olympic Games.  FISE awarded him the title of Master of Excellence for his exceptional skills as a trainer and for his high-level technical preparation. Known for his very human character, kindness and  helpfulness, Betti now lives in Germany, where he deepened his knowledge in dressage. 
Allow Teams of Growing Nations to Compete at Championships
I would like to report some of my thoughts about the methods of selection and the whole policy for the selections for various championships and the Olympics.  For this, I refer to my experience of almost 25 years as a team trainer,  team selector and team manager of Italian Eventing.
I am well aware that Eventing, Dressage, and Show Jumping are different disciplines of equestrian sport, but I am convinced that the selection methods are common and follow fundamental principles that are the same for any discipline. We also must always keep in mind that the team selector or the team trainer has in his hands not only the selection for a specific competition, but in truth - and this is much more important - he has in his hands the future and the growth of the entire equestrian movement of a nation. I have always taken this into account first and foremost. 
Leading and Growing Nations
First of all, we must consider that there are teams that have been at the top of the rankings for years, while there are teams that I call "growing teams." 
I have never felt comfortable defining A or B teams.  I am more interested in talking about the selections that concern the teams that we define as growing, since it is much easier, obviously, to select teams in those countries where there are many top level riders which have been leading the world rankings for years. When it concerns those top riders it is quite obvious that it will be enough to decide selection competitions, to establish a minimum score that will depend on the level of the riders available to the selector, and obviously the form and fitness of the various combinations. 
Minimum Score
For growing nations, on the other hand, establishing a minimum score to be achieved, which can be 68% or 69% or 70%, is a simplistic policy in my opinion, and one that will certainly not allow riders to grow both quantitatively and qualitatively.
It can sometimes be observed that the tendency of some selectors is only to raise the bar of this score as if this would be the key to raising the riders' technical level. This is another strategy for a selector to take away a certain amount of responsibility for his choices, relying exclusively on numbers and not on a personal, honest and competent observation of the level reached. 
Allow Room for Growth
Ever since I was a selector and technician of the Junior and Young Riders teams, I have always tried to work together with the riders, even in the preparatory work, to keep everyone involved as much as possible, not only the riders, but also the owners, the personal trainers , in short, all the protagonists involved in this journey.
I have never applied different parameters other than those required by the FEI. I have presented a team at all European and World championships as well as the Olympics even when in some cases I knew clearly that we could not aspire a team or individual medal. However, at the same time I have always thought that "staying at home", which I see as retiring before trying to compete, was never a good idea. I always thought that "staying home", i.e. retiring before trying, would only be frustrating for the whole movement and development of the sport.
For my part, I provided the riders with all the assistance I could, making it clear that I was working for them, that their success would be my success and that their failure would also be my failure. I have also been very fortunate because often, not always, the sports managers of my federation have followed this strategy. 
Over the years, all this has led to a considerable increase in the number of high level riders and, with calm and patience, the results have improved a lot. Now there have been many medals at the junior and young riders' championships and two medals at the European senior championships in eventing.
Build a Very Large Team
I have always tried not to concentrate on only a few riders who individually could have obtained good results, but as Team Trainer and Selector I have always tried to build a very large team. 
It fills me with joy today to see that three quarters of the Italian Eventing team that will go to Tokyo comes from this wonderful experience that we started together at the Junior-Young Riders level and has taken him to various Senior Championships with great results.
To conclude, the team trainer and selector must never become a judge of the performance of his riders but must, with a serious and honest program, transform himself into a driving force for the whole team. S/he should instil in everyone the feeling that with work and proper planning it will always be possible to represent their country with honour.
In some people's eyes this might look as too romantic a concept, but I have experienced down my belt that it works.
- Michele Betti