Hanoverian Auction News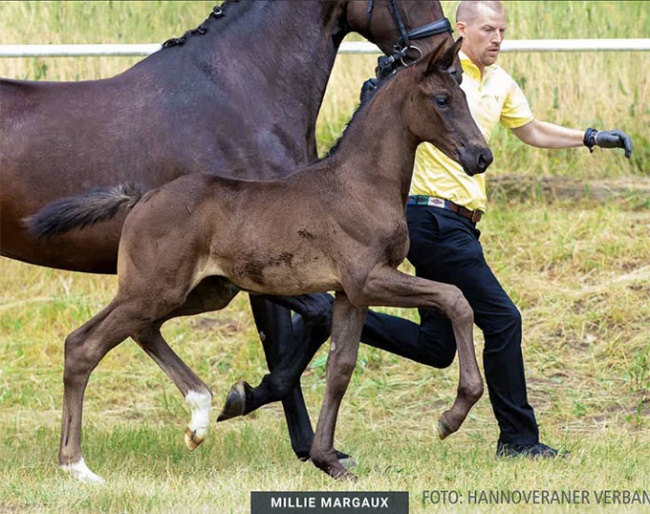 The Verden Foal Spring auction series ended on 1 July 2021 wit Millie Margaux becoming the price highlight of the last online foal auction of this spring. 
Thirteen interested parties placed online bids for the Blue Hors Monte Carlo  x Fantastic daughter Millie Margaux. At 41,000 Euros, the virtual knockdown was made for the paint-black filly with strong movements. She found a new owner in Brandenburg.  The first Verden auction sale was a bull's eye for breeder and owner Tina Ströh from Hamburg.
A dream came true for a customer from North Rhine-Westphalia who bought the Total McLaren x Benetton Dream son Total Dream (breeder and owner: Jacqueline Tenambergen) for 26,000 euro. This made the bay the second most expensive foal of the auction.
Together with Dingdong (by Dancier Gold x Florenz), bred by Reiner Scharnhorst and sold by Dr. Constanze Bötel, he will join colt Sir Beverly Hills (by Secret x Christ), bred by Dirk Hoffmann, Wolfsburg) in his new home. Total Dream, Dingdong (13,00 euro) and Sir Beverly Hills were all bought by the same buyer. The latter he purchased as the third best seller in mid-May.
Sir Rubi (by Sir Donnerhall x Rubin-Royal) sold for 17,000 euro to Germany. Via Con Dios (by Viva Gold x Fidertanz) fetched 11,000, while Senorita (by Sir Donnerhall x Bordeaux) sold for 10,000 euro. 
Brits bought Freak Like Me (by Franklin x Hotline) fro 9,500 euro. Ukrainian customers secured Heraquest (by herakles x Quaterback) for 8,750 euro
Managing Director Wilken Treu was generally satisfied with the results of the six online auctions of the Verden Foal Spring. At the last auction, the average price was 9,167 Euros. Eleven times, customers from abroad got the final bid. Two foals each will start their journey to Belgium and Great Britain.
The Verden auction calendar continues with the riding horse auction on July, 17. As early as next Monday, the 38 dressage and 25 show jumping horses will move into their boxes at the Training and Sales Centre of the Hannovernaner Verband in Verden and can then be observed in daily training and tried out by appointment. The first bids can be submitted from July 11 onwards, before the bidding starts on Saturday, July 17, at 2 p.m. CET at www.verdener-auktion-online.com.