2021 European Children, Junior, Young Riders Championships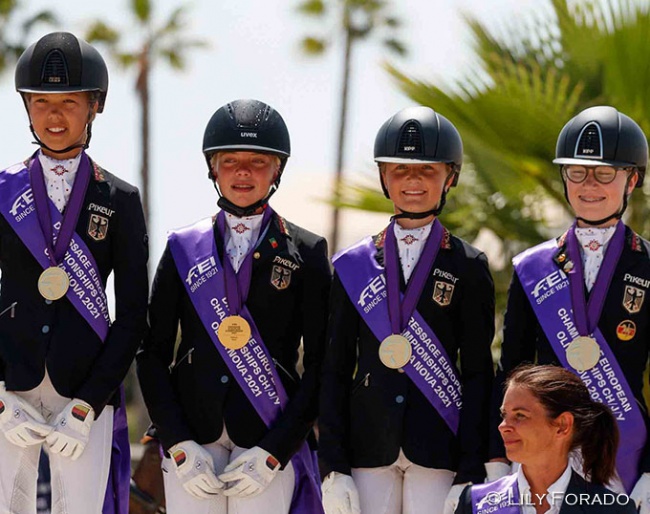 Germany dominated the Children's podiums in a week of great sport at the 2021 European Children, Junior and Young Riders Championships in Oliva Nova, Spain, on 5 - 11 July 2021. 
German team members Lara Lettermann (Soleil de la Coeur H), Lotta Plaas (Balsamico), Clara Paschertz (Danubio OLD) and Martha Raupach (Jack Sparrow) produced the best four rides in the Children's Team competition to put the result beyond doubt. 
Team Gold for Germany
Lattermann, age 14, led the way with 85.034 from her nine-year-old Oldenburg mare while Plaas, who will turn 13 next month, scored 82.844. Paschertz, also 14, was the veteran of this side having taken Team gold at the Children's Championship at San Giovanni di Marignano (ITA) in 2019 and Team gold and Individual silver at last year's event in Hungary where, together with Danubio, she also topped the Preliminary competition. 
Their mark of 82.534 ensured Germany was unbeatable when the best three scores were counted for a final tally of 250.452. And the quality of the German side was underlined by the 79.692 achieved by fourth team member, 13-year-old Raupach and her 7-year-old Dutch gelding. 
The Netherlands Flore Woerts (Vlingh), Fleur Kempenaars (Armano), Kyra Jonkers (Eyecatcher) and Lize van den Heuvel (Hilton-S) claimed silver medal spot on a combined score of 228.08 and bronze went to the Russian Federation when Ksenia Silyutina (Simfonia), Sonya Romanova (Skyfall), Polina Trofimova (Jerome vd Anjershof) and Agata Zakhrabekova (Ein Champion ZS) put 221.118 on the board. A total of eight teams competed.
Lattermann Wins Individual Gold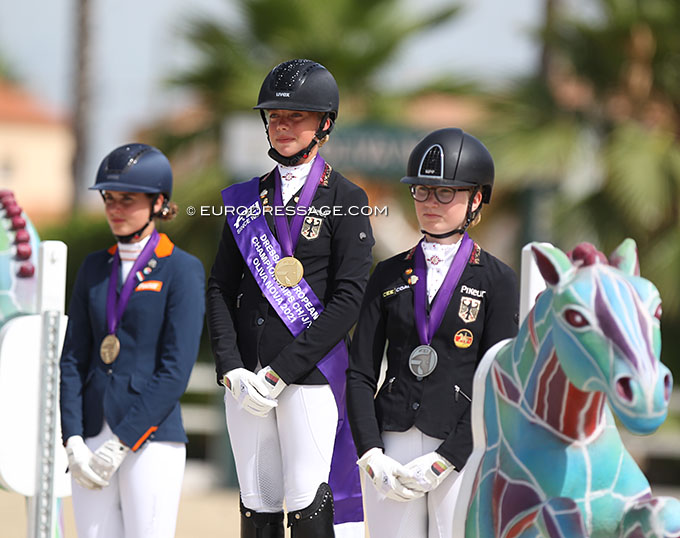 In the Children's Individual Championship some marks are allocated for the quality of riding, and with a strong 9.5 for both Effectiveness and General Impression, Latttermann had the edge in the battle for the title when scoring 85.548. Team-mate Paschertz was not far behind in silver medal spot on 83.834 and it was Dutch team-member Lize van de Heuvel, silver medallist at this year's Dutch Dressage Championships, who clinched the bronze when racking up 81.570 with Hilton-S.
Judge Elke Ebert (GER) was full of praise for the organisation of this year's Championships. "It was a wonderful event run by friendly, helpful people and the atmosphere was great. The conditions and facilities were fantastic and we got only positive feedback from everyone involved", she said.
Photos © Lily Forado - Astrid Appels
Eurodressage was on the scene at the 2021 Europeans and photographed almost (!) all riders. If you are interested in prints or photos for social media, send us an email with your name. 
Related Links
Scores: 2021 European Children, Junior, Young Riders Championships
Eurodressage Coverage of the E021 European Children, Junior, Young Riders Championships