Denmark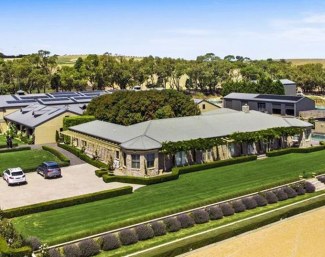 After buying a barn and a stake in the entire Wellington show grounds in the U.S.A, the Danish dressage entrepreneur Andreas Helgstrand has turned his gaze down under and partnered with businessman Bruce Dixon. 
Statene Park
Dixon is the owner of Turnberry equestrian centre, formerly known as Statene Park in Macedon on the Bellarine Penninsular near Melbourne, Australia. The property was formerly owned by Australian Olympian Mary Hanna.
Hanna (née Sutherland) moved to Statene Park 15 years ago after selling her first yard to Maher Algadrie and Rick Dodd. Ine the summer of 2020 Hanna sold Statene Park to Dixon. The estate was listed for  $7 - $7.7 million AUD. 
"We still live there," Mary Hanna told Eurodressage. "They don't settle till the end of September. Then we move back to the area where we used to live to be closer to my family and be able to help Gitte (Donvig, Mary's daughter). She is still recovering from her accident. Our new property is not far from the original one."
Dixon and Helgstrand
Dixon, who is a former executive of Healthscope and Spotless, recently sold his pubs business to KKR's Australian Venue Co. He has now partnered with Helgstrand Dressage, which is owned for 49% by Waterland Private Equity. 
The Australian magazine Financial Review wrote that "Dixon's plan is to bring world class equestrian horses into Australia and New Zealand, starting from next month, in what he no doubt reckons should provide a big boost for equestrian in Australia."
Eurodressage interviewed Dixon and he added that, "we (Dixon and Helgstrand) have joined as partners in Australia in relation to the horses, not real estate. We plan to concentrate on breeding but also offer top line horses for sale into the Australian market." Andreas Helgstrand confirmed the collaboration as well, adding that the partnership is "just in a small scale."
Related Links
Mary Hanna Sells Her Statene Park
Gitte Donvig Moves to Rehabilitation Center after Sustaining Head Trauma in Fall
Gitte Donvig Hospitalized with Head Trauma After Fall from Horse