Spain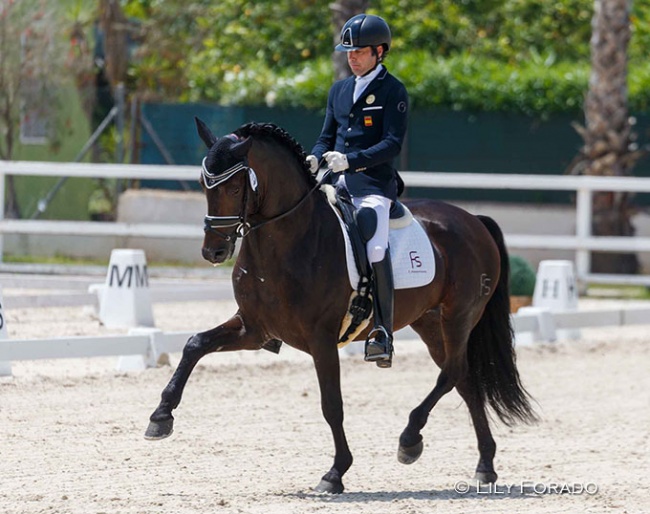 The Spanish PRE breed society (ANCCE) and Spanish equestrian Federation have announced the horses that will compete for Spain at the 2021 World Championship for Young Dressage Horses in Verden, Germany, 26 - 29 August 2021. 
Following selection competitions in Spain as well as a two-day training seminar with selector Jose Daniel Martin Docks, the final list of Spanish horses for Verden has been announced. 
Spain explicitly chooses to send purebred PRE horses or Spanish Sport horse bred ones (CDE). This year it will be an all-PRE team. 
5-year olds
Brio de Centurion, owned by Jose Maria Anguas Medina, bred by Yeguada Centurion and ridden by Jesus Pascual.
XO Giraldes MOR, owned by Las Morerias and ridden by Carlos Bayo.
The first reserve is Diego Gonzalez on Zeo de Pena; the second reserve is Juan Manuel Galeano on Brilliante de Centurion. 
6-year olds
Fuego TG, owned by Yeguada Teresa Goode and ridden by Pedro Hernandez.
Trapalo de Indalo, owned by Yeguada Indalo and ridden by Alejandro Sanchez del Barco.
The first reserve is Alejandro Sánchez del Barco on Tintineo Nadales, the second reserve is Alejandro Cadenas on Santanderino Nadales
7-year olds
Norteno FS, owned by Yeguada Arroyomonte and ridden by Alberto Garcia-Briñon.
Banduendo, owned by Yeguada Río Grande, bred by Andrés Cabrera Montero and ridden by Gustavo Artillo.
The first reserve is Joseph Robert Hunt on Teatrero de Centurion, the second reserve is Alejandro Sánchez del Barco on Quadrigo Nadales V
"All of the horses included in the Team have passed the veterinarian examination by Federation authorities and may be subject to later and mandatory examinations prior to the actual commencement of the event," ANCCE stated.  "We greatly appreciate the efforts of all those involved in this selection process: breeders, riders, grooms and the Royal Equestrian Federation."
CDE for Cuba
The Spanish based Cuban dressage rider Jose German Martinez has qualified the CDE Spanish bred Slaughter JB (by Santano x Quaterback). The 5-year old chestnut is bred by Javier Bolao and owned by Only Dressage Horses (Only Entredecora). This is the first time ever that Cuba will be represented at the WCYH. 
Photo © Lily Forado
Related Link
Eurodressage Coverage of the 2021 World Championships Young Dressage Horses