Exquis Foal Auction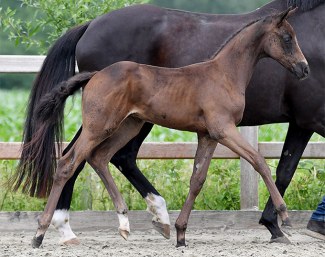 Exquis Horse Auction, a new upcoming auction-platform, presents their new collection with both jumping and dressage foals, added with some very rare embryos.
Taking a look at the dressage foals in the collection, there are some true gems.
Vasco van de Kasteeldreef (by Glamourdale x Hohenstein)
With VASCO VAN DE KASTEELDREEF there is a son of the amazing Glamourdale available. Vasco inherited his fathers looks and excellent attitude. He has a great walk, an uphill trot and an impressive canter. On mother's side we see Lady Rose, a daughter of Hohenstein and Lady-Sunshine out of Sunny-Boy.
Lady Rose's dam line is one with a golden edge. Her dam is not only a half-sister of the Grand Prix stallion Dreamcatcher, who is licensed by the KWPN, NRPS and OLD, Rubin Noir (ZZ-heavy), but also, among others, of stallion dams Sanrubina (Hauptstutbuch) and Lady Devinja (Elite) and Elite Staatspremie mare Lady's Nice. Taken together, these stand at the foundation of a string of approved stallions: Reserve sire Franklin's Love PS, Touch of Love, Decamerone 5, Furst of Love, Jazzmate, Froschkönig, Sansibar AK (out of elite state premium Lady's Flavia) Fürst Wilhelm, Fendi, Ampero, and Hot Story as well as the Light Tour horses Severo BD, Figaro de Hus, Duty Free 21 and Best Friends.
Vasco is undoubtedly a promise for the sport, but also interestingly bred. In other words: a future breeding stallion.
Fay van de Waalehoeve (by Fontaine TN)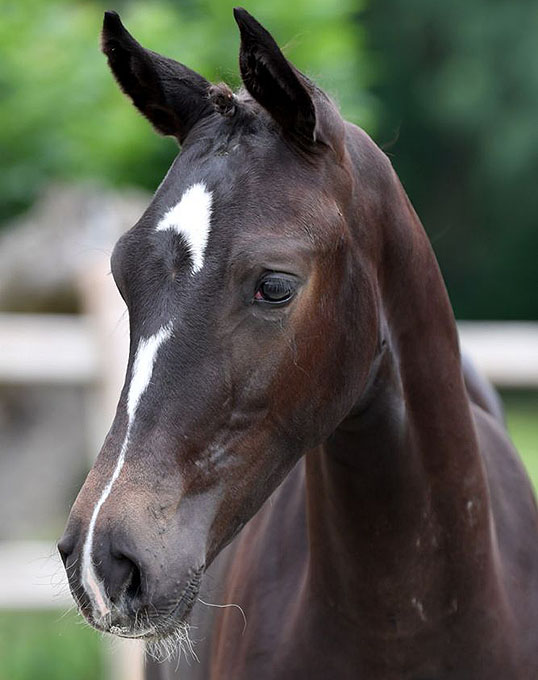 FAY VAN DE WAALEHOEVE, a beautiful, long-legged filly with a special pedigree in which performance and a good, cooperative character are the common denominators, based on the successful Nuberta mare line.
Her sire Fontaine TN is a modern stallion with a "free" bloodline, who is considered a true promise and added value for Dutch breeding. She is out of Jubertha is a descendant of the stallion Netto, out of the Elite IBOP mare Zubertha, a Son de Niro daughter. Further down the line follows an accumulation of preferent premium mares, each with very successful offspring to the foundation dam Helga.Fay is a close relative to Hubertha (IBOP-winner), Narok R (candidate stallion selection), Pertha (Van Olst Auction), Gubertha V, Bee Gee, Cadans (Int. DR) and Cote d'or (Small Tour), ZZ-heavy mare Wubertha and Elastico, candidate for the Olympic Games with the Japanese Akane Kuroki after having been trained by Saskia Van Es.
Venuur (by Fidertanz x Jazz)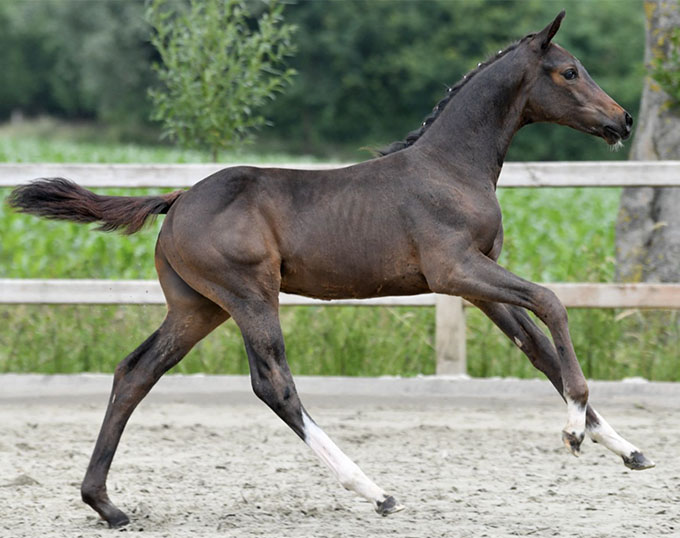 Also the expressive VENUUR is out of a very succesful ELITE/IBOP-mare, with only 8's on her test report, Field Rush (by Jazz and Rousseau).
Venuur himself is a very typical son of the stallion Fidertanz. Fidertanz has developed into one of the leading stallions in Germany and is consistently ranked in the highest legions of the dressage rankings based on the performance of his offspring like champions Flanagan, Feedback, Foundation, and Franziskus.
Vienna d'Edouard Joly (by Raven x Londonderry)
With VIENNA D' EDOUARD JOLY there is a descendant from the first crop of the trendsetter and premium stallion of the 2019 Westphalian Stallion Show, the promising Raven available. Raven is in this case combined with the mare Happiness, out of Londonderry and Lux Z.
Bidding starts the 23 July at 8:00h AM and close the 26th of July. Grab your chance to get your next sports- or breeding partner!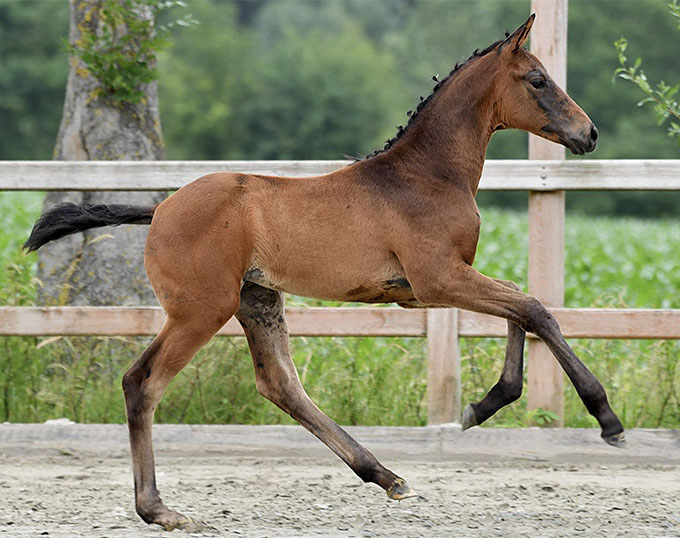 Vienna d'Edouard Joly