The Netherlands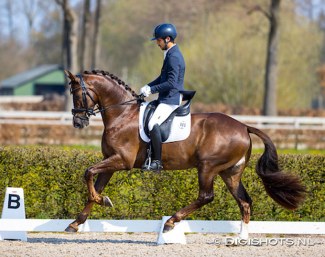 The KWPN society and Dutch equestrian federation announced the names of the horses that will represent KWPN and The Netherlands at the 2021 World Championships for Young Dressage Horses in Verden, Germany.
Following three selection trials and training sessions, selectors Floor Dröge, Monique Peutz, Johan Rockx and Johan Hamminga chose 18 representatives for Team Holland. 
They are:
5-year olds
Benedek Pachl - Hexagon's Luxuriouzz (by Johnson)
Curro Benitez Sanchez - Lord Platinum (by Ferguson)
Dinja van Liere - Labarron (v.For Romance) and Leonidas (by Trafalgar)
Franka Loos - Las Vegas (by Ferdeaux)
Kirsten Brouwer - Lightning Star Rr (by Ferguson)
The first reserve is Kirsten Brouwer on Lennoxwaard (by El Capone), the second reserve is Gerdine Maree on Levinus (by Dream Boy).
6-year olds
Charlotte Fry - Kjento (by Negro)
Femke de Laat - Kind Pleasure (by .Governor)
Hans Peter Minderhoud - Kardam's Whisper (by .Toto Jr.)
Jeanine Nieuwenhuis - King van het Haarbosch (by Spielberg)
Marieke van der Putten - Keano RS2 (by .Governor)
Thalia Rockx - Koko JR de La Fazenda (by Toto Jr.)
The first reserve is Bart Veeze on Kyton (by Ferguson), the second reserve is Marieke van der Putten on Kuvasz RS2 (by Glamourdale).
7-year olds
Andreas Helgstrand - Jovian (by Apache)
Kimberly Pap - Turfhorst Jersey (by Vivaldi)
Marieke van der Putten - Jameson RS2 (by Blue Hors Zack)
Nicky Snijder - Jongleur Sth (by Expression)
Renate van Uytert – van Vliet - Johnny Depp (by Bordeaux) and Just Wimphof (by De Niro)
The first reserve is Eva van der Linde on Jerenzo Texel (by Enzo Ferrari Texel), the second reserve is Kim Noordijk on D'Joep (by Desperado).
Photo © Digishots
Related Link
Eurodressage Coverage of the 2021 World Championships Young Dressage Horses