Westfalian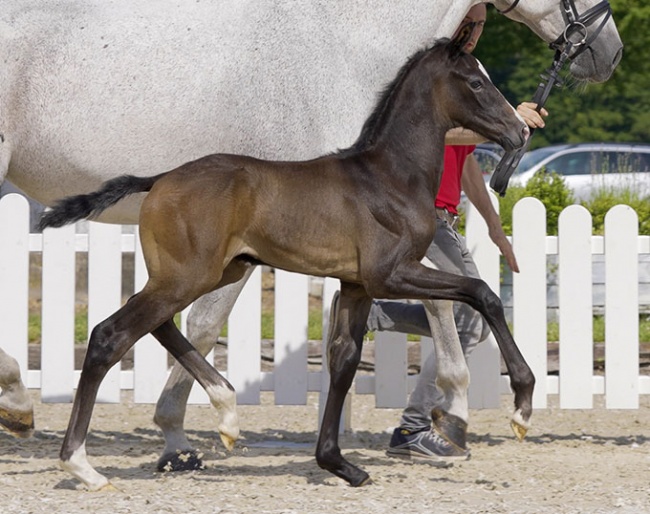 The colt Veuve Clicquot (by Blue Hors Viconte x Warkant) and the filly Filia HW became the best sellers of the 2021 Westfalian Online Foal Auction which concluded on 12 July 2021 and 19 July 2021.
Veuve Cliquot
On 12 July 2021 a collection of 27 foals was on offer, 21 of them sold at an average price of 9,940 euro. 
Veuve Clicquot - named after the famous champaigne but the wording however is feminine (veuve = widow), yet a male foal has been named this - sold fpr 46,500 euro. Bred by Michael Menke, the bay sold to a German buyer from Oldenburg. 
The second most expensive foal was Valdobbiadene RAK (by Viva Gold x Fidermark), bred by Rebekka Aicher Koch from Switzerland). He sold for 19,000 euro to a stallion owner from Lower Saxony.
Eduouard (by Escolar x Vivaldi) fetched 15,000 euro, Dynamic Girl (by Dynamic Dream x Comme il Faut)  10,500 euro. 
The most popular filly was Vive ma Belle (by Vitalis x Sir Heinrich), bred by Thomas Schulze-Austrup-Streyl, Senden. She sold to a Westfalian buyer for 10,000 euro.
A Swedish buyer secured Louisiana (by Lord Europe x Florestan) for 9,750 euro. The same price was paid for another champagne named foal, Don Perignon (by Dynamic Dream x Foundation), who also moves to Sweden.
The best selling jumper foal was Costa Brava (by Cornet Obolensky x Toulon), who  sold for 12,000 euro to an international show jumping stable in Bavaria. 
Filia HW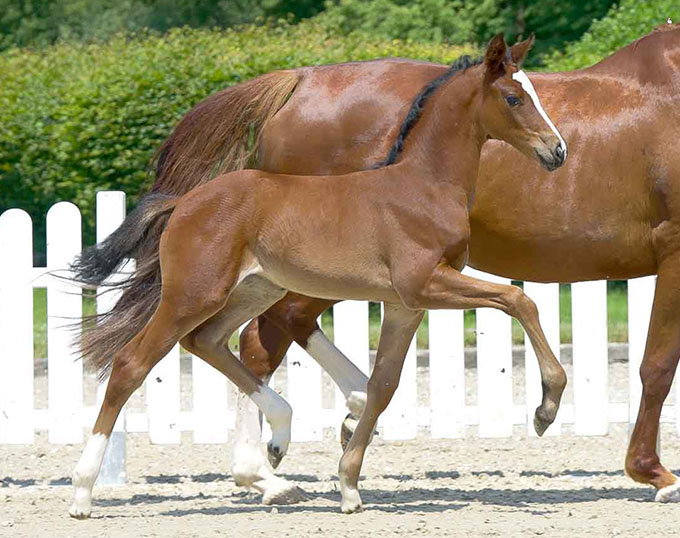 On 19 July a total of 24 foals changed hands at an average price of 10,010 euro.
Filia HW (by Franziskus x De Niro), bred by Henrik Wassmann, was the price highlight. Parties from Germany, Denmark, Ukraine and Austria were involved in the bidding duel but in the end, customers from Denmark were successful. Filia HW sold for 59,000 euro.
The most expensive jumper was Clementine (by Comme Il Faut x Diamant de Semilly) which sold for 20,500 euro to Hungary.
Colt St. Pauli (by Sir Heinrich x Vitalis) fetched 12,000 euro and moves to Luxembourg.  Filly Ravenna (by Raven x Zack) moves to Hungary for 9,500 euro. 
Filly Vision Gold (by Viva Gold x Belissimo M) found a new owner in Germany for 9,000 euro. Filly Tausendschon (by Taurus x Romanov) sold for 7,250 euro to The Netherlands.