2021 Olympic Games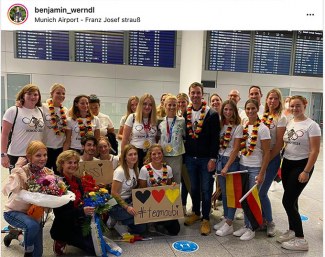 Olympic Dressage came to a conclusion at the Baji Koen equestrian centre on 28 July 2021. As horses fly home on 30 July, the mass exodus of the dressage riders from Tokyo has started. 
The homecoming of the riders has been highly celebrated in many countries, which riders honoured at home with barns decorated and welcoming parties at the airport. 
Olympic champion Jessica von Bredow-Werndl had a whole welcoming party at Munich airport. 
Portuguese individual finalist Rodrigo Torres was greeted by a guard of Lusitano horses at Lisbon airport
Steffen Peters' freestyle, starting with his old Safety Dance music but then transforming to rave/dance music, was made by electronic music producer Taylor Kade, who is amazed by how well received Peters' freestyle was. Check out his video: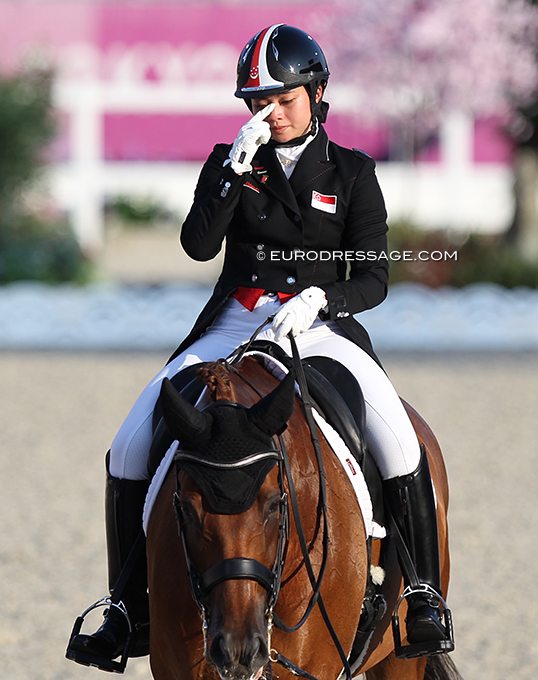 Singaporean Caroline Chew reflects back on her tumultuous Olympic Games, which went from an unexpected qualification to the unfortunate elimination as her horse Tribiani bit his tongue. She writes: "Our Olympic journey didn't quite go as planned - unexpectedly qualifying for a place on the biggest sporting stage as the first ever Singaporean equestrienne, and then equally unexpectedly being eliminated from that stage, all within the space of two months, has been a lot to take in. I expect I'll be processing this one for some time yet. I always knew though that regardless of the outcome, seeking these new adventures with my best friend Joey, backed by the best team of people ever, has been the greatest privilege. Joey has carried me to no less than 4 championships, from advanced medium to Grand Prix level, Singapore to Tryon USA, and finally here to the Olympics in Tokyo. I couldn't imagine a more talented, generous and kind partner and, in my eyes, there is no equine athlete more deserving of the title of an Olympian. Coming to Tokyo together was a true gift and I'm so proud of Joey and the dream team for getting us so far."
German Dorothee Schneider also admitted great disappointment after placing fifteenth in the individual finals despite being a clear favourite for a medal. "It was not meant to be," she shared on Facebook. "The Olympic kur final is over and for Showi and I, I have to say, it ended in disapppointment. Before my ride I decided to go full risk. Everything or nothing, but it turned out to be nothing. It can happen. Showi was fit, very motivated and felt super relaxed. This strengthened me that risk was the right strategy. But in the end it might have been a bit too much. At this moment I can't really analyse it, my emotions are too strong. I had wished I was able to show grandiose highlights in this incredible kur finals. I console myself with yesterday's team gold."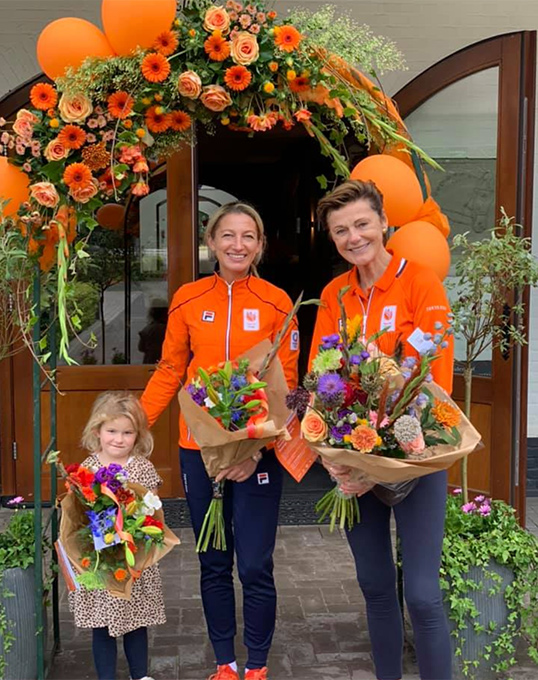 Dutch team member Marlies van Baalen and her mother and trainer Coby van Baalen got a very floral welcome home. Van Baalen rode as third member on the Dutch team and had to face a bit of criticism from Dinja van Liere fans on social media. After her Grand Prix in which she made a few unwelcome mistakes, Dutch social media went ablaze with Dinja fans demanding Marlies to be replaced on the team. Fortunately Dutch team trainer Alex van Silfhout stood by his guns and did not let the pressure get to him. In an interview with De Hoefslag he said, "they are all sitting home with an idea. Maybe they are people who like Dinja very much, or something like that. Then they start shouting what needs to be different. It's the same with soccer. We have 17 million team trainers. With us it's exactly the same, but maybe a bit less in numbers. The goal is to get out of this as well as possible. I don't leave a stone unturned. I will always go for the highest possible, but it has to be possible," Alex commented referring to the fact that a combination swap can only happen if a rider or horse are ill.
My homecoming conclusion is that the Baji Koen equestrian centre is such a state-of-the art equestrian facility that it would be a tremendous pity if it will no longer be used to full potential. I therefore hope that the Japan Racing Association would consider hosting the 2026 World Equestrian Games / World Championships for dressage, show jumping and eventing at this venue ! We want to come back, experience Tokyo without covid-restraints, and see top level sport at one of the world's best equestrian centres.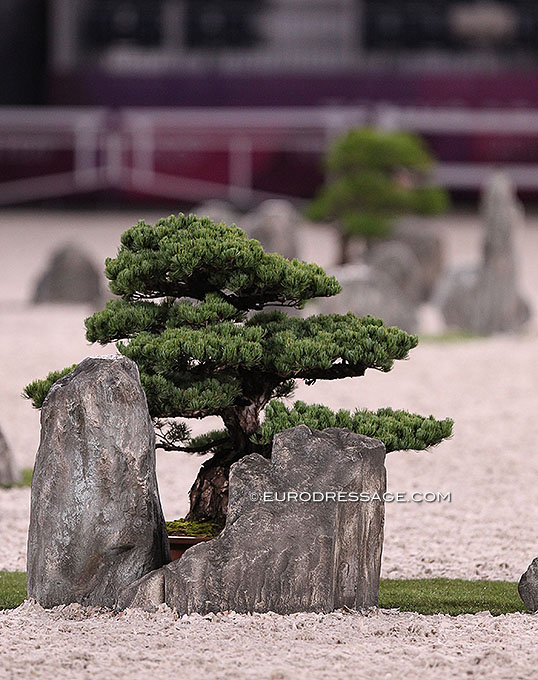 For the Bonsai lovers amongst our readers: these were real !! I walked into the stadium and double checked
Text and Photos © Astrid Appels - No Reproduction Allowed!!
Related Link
Eurodressage Coverage of the 2021 Olympic Games