Oldenburg Auctions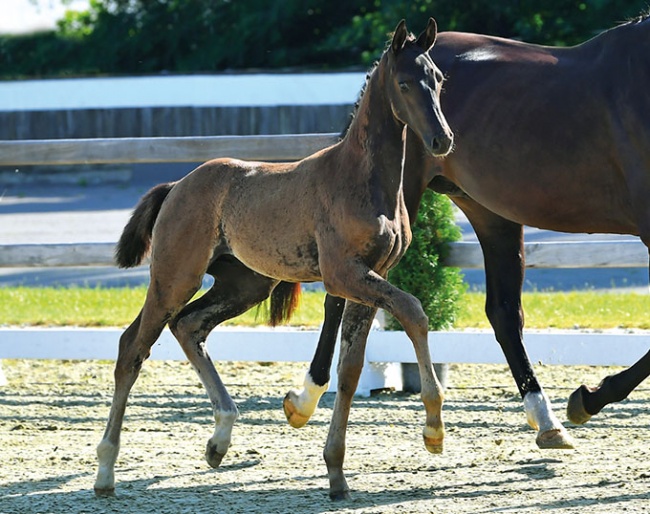 Oldenburg horse lovers had the chance to bid on their favourite foal live at the 22nd Elite Foal Auction on 31 July 2021 as a guest in the auction hall, but also the options of phone and online bidding are still available. The Oldenburg Elite foals are sought after all over the world.
The 22nd Elite Foal Auction at the Oldenburg Horse Centre in Vechta achieved a successful result. Der Hit (by Dynamic Dream - Fürst Romancier - Sandro Hit) triumphed as the price highlight. With a hammer price of 80,000 euro, the strong moving colt received the top bid. Der Hit changed to renowned stallion owner Paul Schockemöhle in partnership with Danish Lone Boegh Henriksen. The strong type stallion prospect is bred by Marion Menck from Großderschau, Brandenburg. His granddam S-Warthe M is the sister of the licensed Grand Prix star Santa Cruz (by Sandro Hit) under Heike Hamel. Out of the dam line: The stallion Landgraf I (by Ladykiller xx).
Vermeer (by Vitalis - Fürstenball - Donnerhall), bred by Dr. Rolf-Peter Schulze, became the second most expensive foal of the collection. For 61,000 euro, the movement artist moved to Oldenburg friends in Great Britain. His dam Fine Lady is sister to the licensed Sandig (by Sandro Hit). Granddam Donnerlady is sister to the Grand Prix successful Lord of Loxley (by Lord Sinclair I/Hans Peter Minderhoud), NED, and to the licensed Charme (by Condor M).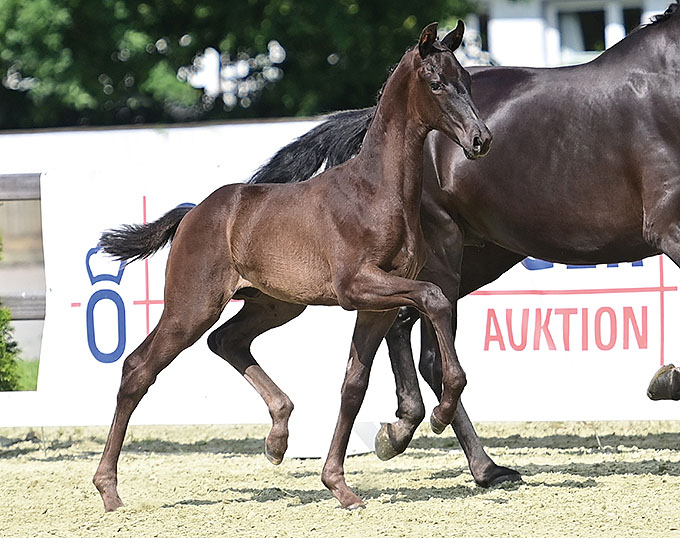 Also moving to Great Britain is Furst Oldenburg (by For Romance x Detroit) for 46,000 euro, and Dante's Peak (by Dante Weltino x Don Schufro) for 42,000 euro. 
Varianz (by Vivaldos x Furstenball) fetched 32,000 euro and Viva Rossi (by Vivaldos x Sergio Rossi) 27,500 euro. She will be moving to Luxembourg to join Fie Skarsoe's string.
Fred Astaire (by For Romanc x Sezuan) fetched 23,000 euro. Brazil (by Bon Courage x For Romance) sold for 23,500 euro to Henrik Brinkmann of Gestut Hulsdau.
Dressage rider Mandy Zimmer from Luxembourg bought Venus (by Vitalis x San Amour) for 28,500 euro, while Spectacular (by Sezuan x Furst Romancier) moves to Denmark for 25,500 euro.
Deep Impact (by Dynamic Dream x Stedinger) sold for 17,000 euro. Five Star (by Fynch Hatton x Sir Donnerhall) sold for 16,000 euro, Liebling (by La Vie x De Niro) for 15,500 euro, Duc de Normandie (by Dynamic Dream x Sandro Hit) for 14,500 euro. So Sweet (by So Perfect x Escolar) went for 14,000 euro. Furst Dormello (by Furst Zonik PS x Dormello) moves to Sweden for 10,000 euro.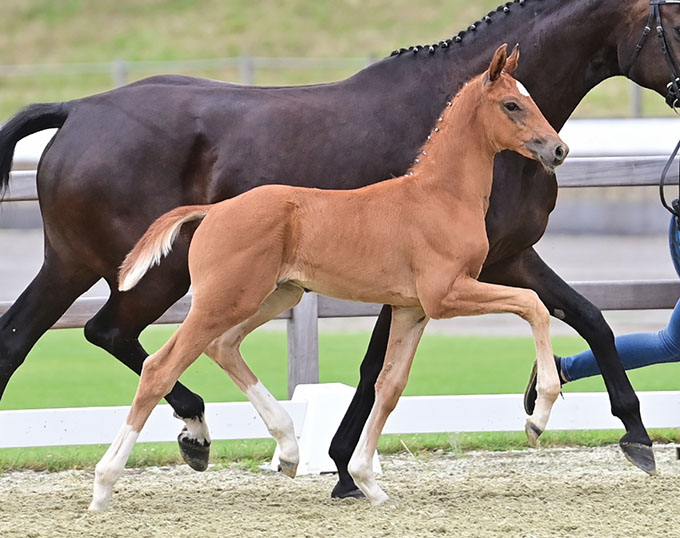 The enchanting Copacabana (by Comme il faut - Carrico - Lavallo) was the best selling jumper foal. For 32,000 euro she moved to a top-class stud in Lower Saxony.  The second most expensive foal in the jumping collection was Chicago Blue (by Chacco-Blue - Carthago - Landfriese II). He sold for 26,000 euro to  Sweden.
"The Oldenburg breeders have again set a new standard with the highest quality level this auction summer. The foals were optimally presented and staged by auctioneer Thorsten Castle and his team", said Managing Director Heiner Kanowski.
Oldenburg friends from all over the world secured their offspring in Vechta: 14 of a total of 57 foals sold at the auction went to Great Britain (5), Hungary (3), Denmark (2), Sweden (2), Luxembourg (1) and Austria (1). A turnover of 1,009,000 Euros was achieved at the Oldenburg Elite Foal Auction. The average price settled at around 17,700 Euros.
Please find here the price list of the 22nd Elite Foal Auction.